Hamilton on the warpath: 'Alonso pushed me wide quite deliberately'
David Tremayne
Monday 17 September 2007 00:00 Comments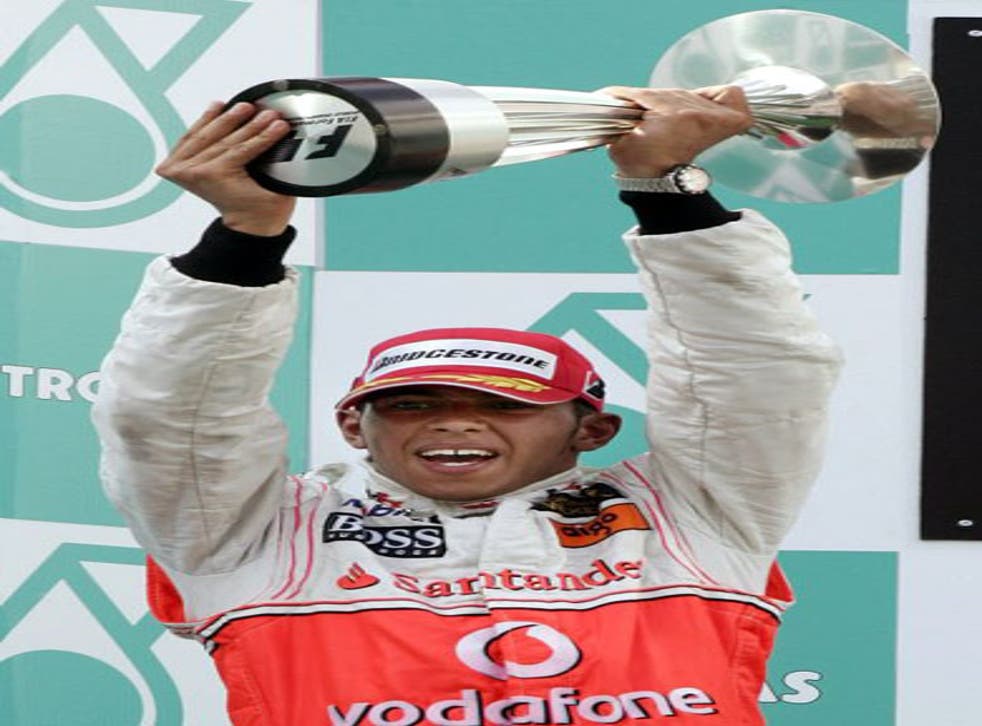 Lewis Hamilton did not win yesterday's Belgian Grand Prix here – he finished fourth behind the rampant Ferraris of Kimi Raikkonen and Felipe Massa, and his team-mate Fernando Alonso – but he was not shy about speaking his mind after a race that reduced his drivers' world championship lead by a further point to just two.
"For the last few years I've been watching Formula One and Fernando is always complaining about other people being unfair," Hamilton said. "But he pushed me wide quite deliberately. For someone who looks up to someone who is trying to set a status and someone for a youngster to look up to, he's not really standing up to his position."
It was the start about which Hamilton felt aggrieved. The Ferraris had taken off from the front row, leaving Alonso, on the inside, and Hamilton ducking into the La Source hairpin side-by-side. They avoided touching, but on the exit, Alonso appeared to push his team-mate wide, on to the run-off area, as they battled for third place.
"I outbraked him into turn one, I was on the outside, there was enough room for him to get round," Hamilton said. "But he really cut across and pushed me wide. It was quite deliberate. I could see it. If I had held my position we would have collided. In fact, I think we did touch. I was just really lucky there was a run-off area so I could take that."
A little later , once he had had a chat with a McLaren official, his tone was more conciliatory. "It was a racing incident, I guess," he said. "I didn't feel it was fair. I felt there was room for all of us, but somehow I ran out of it."
Hamilton lost a bit of traction on the dirt but was still alongside Alonso as he regained the track and they sped down the hill to Eau Rouge, still one of the most majestic and challenging corners in F1, especially when a gridful of cars is heading its way. There, he finally conceded the place that Alonso would then hold, apart from during the various pit stops, to the finish.
"The first incident was the difficult one," he said. "I'd hoped to come back on and get in the slipstream of one of the Ferraris. But at Eau Rouge it was just common sense to ease off a fraction. Fernando had the momentum and was quicker going into it. It would have been stupid of me to keep it flat, but I was tempted! That worked in Formula Three in the wet, but I'm not sure it would in a Formula One car..."
Team principal Ron Dennis is used to his drivers – "competitive animals" as he described racers earlier in the weekend – battling it out. "We give them the opportunity to race themselves," he said. "I was not concerned. They were racing. If it were two different cars, you wouldn't think twice about it. It was absolutely no problem."
So Alonso kept the place, but the manner in which he did it revealed a little of the desperation that has at times characterised his season But neither he nor Hamilton had any answer to the red cars this weekend.
Raikkonen burst into the lead and stayed there all the way through apart from the two occasions when he refuelled. By the end Massa was coming at him like gangbusters, but it was window dressing and you knew there would never have been a serious inter-team challenge. Not the way F1 is these days. Nobody was ever going to throw away a 1-2 finish, especially as Raikkonen's score of 84 points brings him within 13 of Hamilton and 11 of Alonso.
The fight is far from over, even if the FIA have made sure that Ferrari have won themselves another glorious constructors' crown of which they can be proud.
"A great day!" Raikkonen said, his neck strain from Monza forgotten. "I had some doubts about the car's handling after yesterday's qualifying, but everything went well. I was quick enough in the first part to control the race after that. It's nice to win here on my favourite track for the third time in a row."
"Unfortunately, Ferrari was just too quick for us ," Alonso admitted. "I tried quite hard to keep pace with Felipe in the first stint hoping that I could make up a position in the pit stops, but they were slowly moving ahead. After the first stop it was impossible to catch them."
Hamilton's candour was not confined to his thoughts about Alonso. He was also hard on himself. "The car wasn't perfect but neither was I. I did the best job I could but I need to improve. What I always find when I'm behind Fernando is that he's very fortunate when he catches a backmarker. He catches him at the right time and just slipstreams past on the straight, whereas I catch them midfield.
"To be honest, my race was frustrating and quite boring. It was just one of those races you need to bring it home and finish."
Sadly, everyone else seemed to feel the same way. Only upcomers Heikki Kovalainen and Robert Kubica, in Renault and BMW Sauber respectively, kept things on the boil throughout with a nip-and-tuck battle in which the Finn just kept the Pole under control, by half a second at the flag.
Hamilton remained philosophical about his dwindling points lead, with three races left. "I don't believe the last three races are going to be like this race," he declared. "Anything can happen. But I need to improve. I will go away this week and figure out how to do that.
"I don't fear anyone. I hope you can see that. I've just to keep on pushing. For sure it is not going as well as we planned and the gap is closing but there's still three races left and they are still three races we can win.
"It's been a tough week, for sure a lot tougher week for me than for Fernando because... I won't say any more."
When pressed on the matter, he said: "I feel more attached to the team, I guess, and I care a bit more."
Spa details
1 K Raikkonen (Fin) Ferrari 1hr 20min 39.066sec
2 F Massa (Bra) Ferrari 1:20:43.761
3 F Alonso (Sp) McLaren 1:20:53.409
4 L Hamilton (GB) McLaren 1:21:02.681
5 N Heidfeld (Ger) BMW Sauber 1:21:30.945
6 N Rosberg (Ger) Williams 1:21:55.942
7 M Webber (Aus) Red Bull 1:21:59.701
8 H Kovalainen (Fin) Renault 1:22:04.172
9 R Kubica (Pol) BMW Sauber 1:22:04.727
10 R Schumacher (Ger) Toyota 1:22:07.640
11 J Trulli (It) Toyota 1:22:22.702
12 V Liuzzi (It) Scuderia Toro Rosso +1 lap
13 R Barrichello (Bra) Honda +1 lap
14 A Sutil (Ger) Spyker +1 lap
15 T Sato (Japan) Super Aguri +1 lap
16 A Davidson (GB) Super Aguri +1 lap
17 S Yamamoto (Jpn) Spyker +1 lap.
Not classified: 18 J Button (GB) Honda 36 laps completed; 19 A Wurz (Aut) Williams 34; 20 D Coulthard (GB) Red Bull 29; 21 S Vettel (Ger) Scuderia Toro Rosso 8; 22 G Fisichella (It) Renault 1.
Fastest Lap: Massa 1min 48.036sec on lap 34.
Overall constructors' standings: 1 Ferrari 161pts; 2 BMW Sauber 90; 3 Renault 39; 4 Williams 28; 5 Red Bull 18; 6 Toyota 12; 7 Super Aguri 4; 8 Honda 2
Remaining grands prix: 30 Sept Japan (Fuji Speedway); 7 Oct China (Shanghai); 21 Oct Brazil (Sao Paulo).
Register for free to continue reading
Registration is a free and easy way to support our truly independent journalism
By registering, you will also enjoy limited access to Premium articles, exclusive newsletters, commenting, and virtual events with our leading journalists
Already have an account? sign in
Join our new commenting forum
Join thought-provoking conversations, follow other Independent readers and see their replies