Jenson Button brands Kamui Kobayashi 'idiotic' and attacks Sergio Perez for forcing him out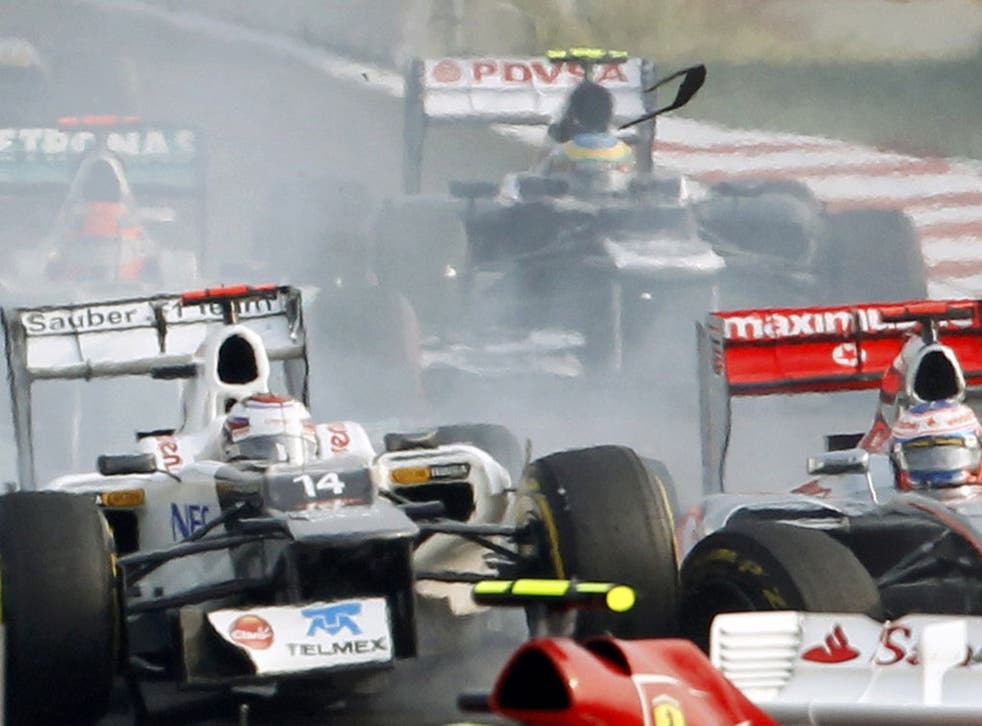 It's not often that Jenson Button loses his cool, but the former world champion let his incoming 2013 team-mate Sergio Perez, and the Mexican's partner Kamui Kobayashi, have it with both barrels after the two Saubers collided with him on the opening lap and forced him out of the Korean Grand Prix.
"It seems they think the first lap of the race is the only lap," said the Englishman. "I don't know what they were doing. I got a really good start and was alongside Nico [Rosberg] at turn one when Perez came from nowhere, chucked it up the inside, outbraked himself and hit the car in front. I had to run wide and push Nico off the circuit to avoid an incident, so then Nico and I had a drag race down the back straights, Saubers all over the back of us.
"I braked very, very late, as I'm sure Nico did, and then suddenly got a big bang on the right-hand side and Kamui came flying past. I don't know how he hit two of us, which was pretty special."
Over the radio, Button described the hero of the recent Japanese Grand Prix as "idiotic," and later added: "It's very poor driving standards, considering this is the pinnacle of motorsport."
Register for free to continue reading
Registration is a free and easy way to support our truly independent journalism
By registering, you will also enjoy limited access to Premium articles, exclusive newsletters, commenting, and virtual events with our leading journalists
Already have an account? sign in
Register for free to continue reading
Registration is a free and easy way to support our truly independent journalism
By registering, you will also enjoy limited access to Premium articles, exclusive newsletters, commenting, and virtual events with our leading journalists
Already have an account? sign in
Join our new commenting forum
Join thought-provoking conversations, follow other Independent readers and see their replies