Kevin Garside: Paranoia or not, the truth is that money and Mercedes now call the shots, to the detriment of every other team – and of F1 itself
Comment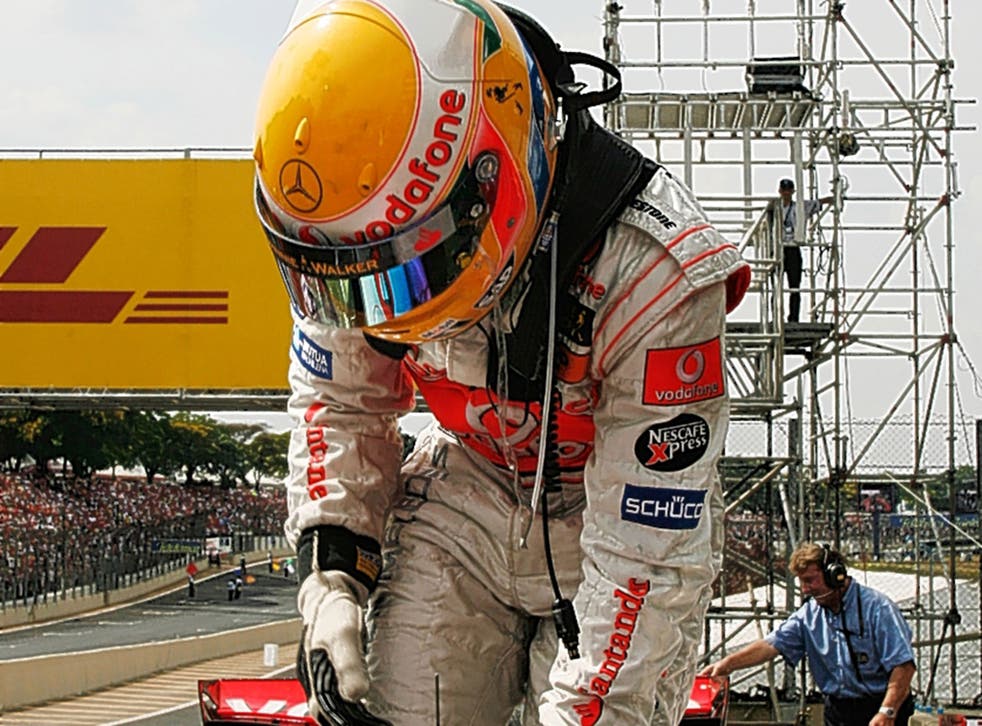 You have to have a paranoid mind to imagine Nico Rosberg was nobbled from within at Monza, says Mercedes chief Toto Wolff. Eh?
Paranoia is a defining characteristic of Formula One, irrational fear its lifeblood. That would be why teams erect huge screens around the garage doors to prevent prying rivals clocking their wares, as if by scrutinising another's car anecdotally the secret of their speed might be discovered.
That the question was put at all reflects how deep mistrust runs in F1. When Rosberg missed his braking point a second time to allow Lewis Hamilton into the lead, I was immediately transported back seven years to the Brazilian Grand Prix, where, needing to finish fifth or higher to claim the world championship on debut, Hamilton's McLaren suddenly conked out down the back straight before, some 13 seconds later, mysteriously firing up again.
A glitch said the engineers, offering high-powered expertise that was impossible to counter. It was the bad back of injury excuses, plausible but beyond the reach of proof. It was handy for Ferrari's Kimi Raikkonen, however, since it allowed a stream of cars to file past Hamilton on a part of the track where a malfunctioning car would present little risk to others, and take him out of the championship equation.
F1 Monza Grand Prix: in pictures

Show all 20
This was the year, you might recall, when McLaren had been hit by a record £50 million fine for receiving and disseminating among key engineers a dossier of Ferrari technical secrets. The sport could do without a team penalised for cheating on an industrial scale winning the championship, thank you very much. But try putting that explanation in a match report and see how quickly the lawyers jump on the copy.
And so it was that Raikkonen, 17 points adrift with two races to go, ran off with an unlikely maiden championship. The circumstances surrounding Hamilton's pit-stop calamity at the penultimate race in China were even more outlandish since he was left out for five laps on shot tyres, losing buckets of time to his main rival, who went on to win the race.
Rosberg's error yesterday was ascribed to the pressure applied by Hamilton, the kind of pressure he has proved beautifully adept at handling hitherto. There is a calculating quality to Rosberg's work and a ruthless cynicism that has prompted dubious behaviour but rarely the kind of rookie error that befell him on Sunday. Pressure? He was sitting on a lead of 29 points before he went off. At that juncture he could afford to see Hamilton rattle off four wins in a row and still lead the championship. As it is he has a 22-point cushion with a maximum six races to go, five if Russian aggression in Ukraine forces Sochi off the schedule.
Well that's the case for paranoia. Taking events at face value, Hamilton's victory sets up the long-haul finale brilliantly and of course masks the structural weakness that might in other circumstances see F1's audience run for the hills.
The provisional calendar for 2015 sees Mexico return to the sport, taking the number of races to 20. Meanwhile the teams at the back of the grid are dying a slow death in penury without a hope of contesting victory.
Former Williams principal Adam Parr speculated that the sport will reduce to just eight teams next season, with the big teams running three cars to make up the deficit on the grid. At least there will be three drivers with a chance of winning the title.
Here's an idea: let Mercedes build all the cars, with teams adding their own livery. That way we might not know the identity of the winner before the lights go out.
The reality is Formula One is too expensive in its present format. Too many great drivers are rendered uncompetitive by a mad arms race that swallows cash to the benefit of too few. Nobody is moaning at Merc, but elsewhere they are screaming.
Sunday's race was effectively decided in Hamilton's favour after 29 laps. For the rest it ended when the Mercedes drivers decided not to take each other out in the first corner. The once mighty Williams are reduced to celebrating a podium finish. McLaren are nowhere and better not mention Ferrari at all.
Only one finisher, Raikkonen in a lowly ninth, at their home grand prix is about as abject as it gets.
Register for free to continue reading
Registration is a free and easy way to support our truly independent journalism
By registering, you will also enjoy limited access to Premium articles, exclusive newsletters, commenting, and virtual events with our leading journalists
Already have an account? sign in
Register for free to continue reading
Registration is a free and easy way to support our truly independent journalism
By registering, you will also enjoy limited access to Premium articles, exclusive newsletters, commenting, and virtual events with our leading journalists
Already have an account? sign in
Join our new commenting forum
Join thought-provoking conversations, follow other Independent readers and see their replies