Kevin Garside: Schumacher still driven by primal need
The Way I See It: Many F1 fans were never comfortable with the marriage of freakish speed and shifting morals
Kevin Garside Comments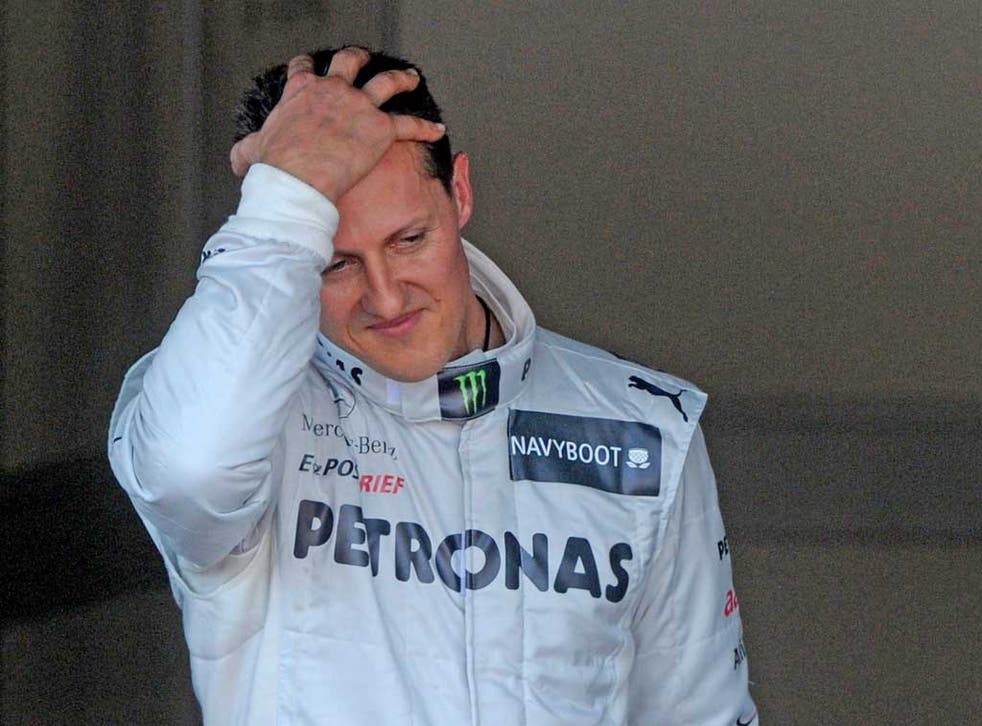 If Michael Schumacher were ever to treat us to a flying cameo before he quits the Formula One big top it had to be at Monaco, that sacred Mediterranean pearl where the contrasting attributes that defined him are etched so graphically. It was here that Schumacher's insane talent claimed his first pole 18 years ago, where he has taken five victories, and where in 2006 he revealed his diabolical core, parking his Ferrari at Rascasse to block Fernando Alonso in qualifying.
It took Formula One's ruling body, the FIA, 10 hours to rule on Schumacher's guilt and cast him to the back of the grid for the start of the race. Most of the sport's retinue had repaired to the yacht parties and received the news via the waterfront telegraph, jarring against the gentle tinkling of champagne flutes. Ferrari's general manager, Jean Todt, now the FIA president, was having none of it, shaking his head by the motorhome door and proclaiming his man's innocence.
Schumacher's need to win in the elite years was probably pathological. It might be the case that so deep and dark are the forces that drive him they can never be acknowledged outside the theatre of combat. A lusty proportion of Formula One fans were never comfortable with the marriage of freakish speed and shifting morals. It did not do much either for Formula One writers of a certain vintage, or Schumacher-wins-again correspondents as they became known, compelled to sell to the boss on a fortnightly basis news of another Teutonic sweep to the chequered flag.
Until Saturday's qualifying peak, Schumacher's return had left the purists untroubled. That he was denied the chance to start from the front row courtesy of a penalty handed down for smashing into the back of Bruno Senna in Barcelona a fortnight ago neatly reinforced their haughty sense of heroism.
In that great parlour game "who is the greatest driver ever?" the disturbing character flaws rendered inadmissible whatever genius he might possess. No matter how good Schumacher was behind the wheel, it was cancelled out by the bad stuff. Thus he often lost out around the dinner table to Juan Manuel Fangio, Jim Clark, Ayrton Senna, Alain Prost; and to Gilles Villeneuve and Stirling Moss, neither of whom won a World Championship but who laced their deeds of derring-do with Corinthian spirit.
The Schumacher psyche has never bothered about that. There is something primal about him, which you might argue places him closer to our natural state than the aforementioned rapiers. If we are civilised to the degree that we control our base appetites, as Sigmund Freud claimed, then, in his race suit at least, Schumacher exists in a pure state of human nature, a raging amalgam of all that is good and bad about the species.
It is this intimacy with his instinctive drives that allowed him to park the emotions gnawing at his grieving soul on the weekend of his mother's death in 2003.
Schumacher had endured the worst start to his career at Ferrari and arrived in the Scuderia's heartland of Imola, an hour from the Maranello factory, needing to do something big at the San Marino Grand Prix. The crowd knew nothing of his personal distress. They cared little about the glory he had brought them with three successive world drivers' crowns. That was yesterday. Schumacher stuck it on pole on Saturday before flying north to Germany to say a final farewell to a mother he had been told was entering her last hours. He learnt of his mother's death on the morning of the race. But you would not have known it as he went to the grid. He then tabled Ferrari's first win of the season, a telling detail en route to his fourth successive World Championship, his sixth in all.
Arguably he left one of his finest drives until last, his final race for Ferrari at Interlagos in 2006. An engine failure while leading at the previous grand prix in Japan left him needing to win in Brazil and hope Fernando Alonso would finish outside the points if he were to win the world title for an eighth time.
He was ridiculously quick all weekend but a fuel pressure problem meant he could not set a time in final qualifying, so he started from 10th. A puncture incurred while overtaking Giancarlo Fisichella in the opening laps dropped him to 19th, 70 seconds behind the leaders.
That might have been the time to call it a day. The world title was gone. Not Schumacher. He bolted from the pits to give one of the great demonstrations of the driver's craft, taking Fisichella a second time before finishing fourth. In defeat he proved his value as a racing man as emphatically as he ever had in victory. Pele honoured him with a lifetime achievement award before the race. His detractors turned their heads, soon to be rid of the evil baron.
And then he gave us that wicked lap on Saturday, a kind of haunting to remind the sport that greatness like his is with us for ever, good or bad.
Register for free to continue reading
Registration is a free and easy way to support our truly independent journalism
By registering, you will also enjoy limited access to Premium articles, exclusive newsletters, commenting, and virtual events with our leading journalists
Already have an account? sign in
Join our new commenting forum
Join thought-provoking conversations, follow other Independent readers and see their replies