Lewis Hamilton claims he wouldn't want to win in the same way as Sebastian Vettel following his cruise to Singapore victory
Vettel won by over half a minute to claim his fourth win in five races and edge him closer to title number four
Jack de Menezes
Monday 23 September 2013 15:26 Comments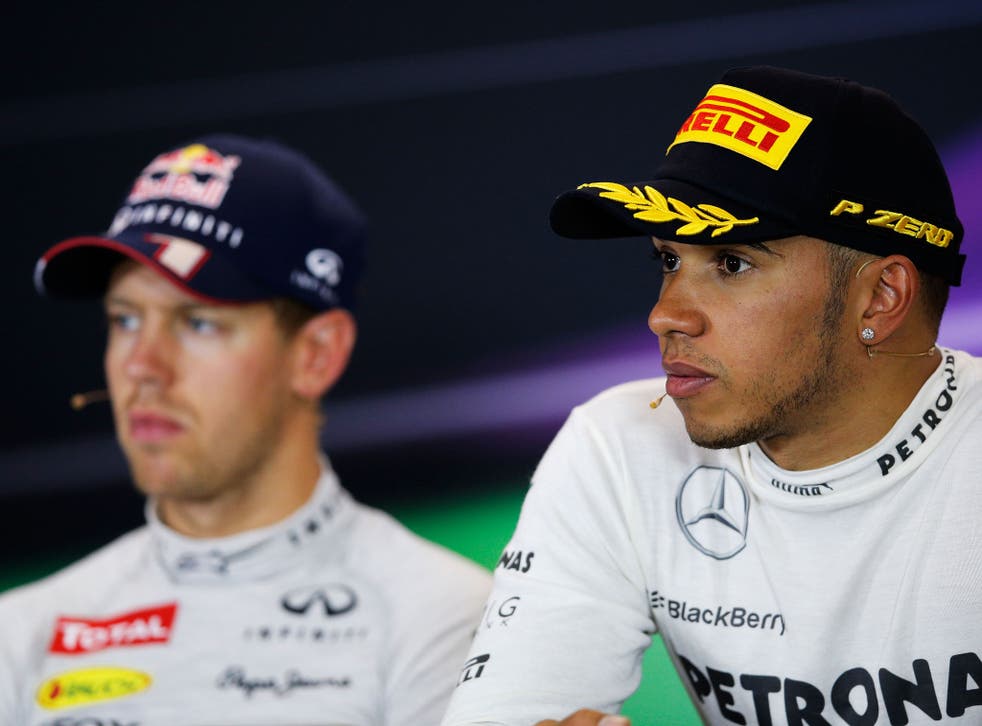 Lewis Hamilton has defended Sebastian Vettel over his negative reception on the podium after he raced to victory in Singapore, but he has admitted that if he was in the same position he would not want to win in the same way.
Vettel took his third consecutive Singapore Grand Prix win – and a fourth success in the past five races this season – when he finished over half a minute ahead of second-placed Fernando Alonso. His stranglehold on the sport has led many to criticise Formula One as boring, and some have even taken to booing Vettel when he steps out on the podium.
The 32-second gap Vettel finished with was the largest by any winner since Hamilton's Silverstone victory in 2008, when he drove gave an exemplary display in the wet in his title-winning season.
By taking the chequered flag on Sunday, Vettel claimed his 33rd career victory in just 114 starts, moving him ahead of Ferrari rival Alonso in the all-time winners list with just Michael Schumacher, Alain Prost and Ayrton Senna ahead of him, although his fellow German's record of 91 victories remains a long way off.
Although Hamilton says it is wrong to boo him for being successful, he has admitted that personally he wouldn't want to win in such an easy fashion as it would provide him with very little satisfaction.
"I saw a glimpse of him on the podium and I was happy for him," Hamilton said after the race on Sunday.
"I tried to imagine what it would be like if I was winning races the way he is winning races. Me, I don't want to be able to be that far ahead, I want to be able to fight with him or whoever. But this is the way it is, and it's definitely not a positive thing to hear that he has been booed.
"He's on his way to his fourth World Championship and he needs all the credit if he wins it."
Hamilton finished nearly a minute behind Vettel in the sole-night race on the F1 calendar, and he admits that any hopes of mounting a title fight back have "totally gone out the window".
The 28-year-old remained defiant though, saying he is used to seeing Vettel dominate the race and that he will not give up in his effort to win the final six races, starting with the Korean Grand Prix in just under a fortnight.
"It's not depressing because it's nothing new. I look at his on-board laps and it doesn't look or appear as if he is on the limit like some other drivers are," Hamilton suggested.
"When you have that much in hand sometimes it makes it so much easier. But at the end of the day, he does the job that he needs to do and they've made a step somewhere because their car was rapid this weekend. But I still feel we can fight at some points through the rest of the season."
Vettel now leads Alonso in the Drivers' World Championship by a staggering 60 points, with Hamilton a further 36 points behind in third. With his current run of form, Vettel could win his fourth title as early as the Indian Grand Prix in three race weekend's time, although he is more likely to secure championship in either Abu Dhabi or the United States, such is his advantage.
With Vettel looking unstoppable at present, he is on-course to become just the third driver ever to win four consecutive driver titles, matching Schumacher, who dominated between 2000 and 2004 in claiming five-in-a-row, and Juan Manuel Fangio, who claimed the feat from 1954-1957.
Register for free to continue reading
Registration is a free and easy way to support our truly independent journalism
By registering, you will also enjoy limited access to Premium articles, exclusive newsletters, commenting, and virtual events with our leading journalists
Already have an account? sign in
Join our new commenting forum
Join thought-provoking conversations, follow other Independent readers and see their replies