British Grand Prix 2015: Lewis Hamilton's tirade against 'terrible' Formula One trophies backed by designers
Hamilton says he even complained to Bernie Ecclestone over the prizes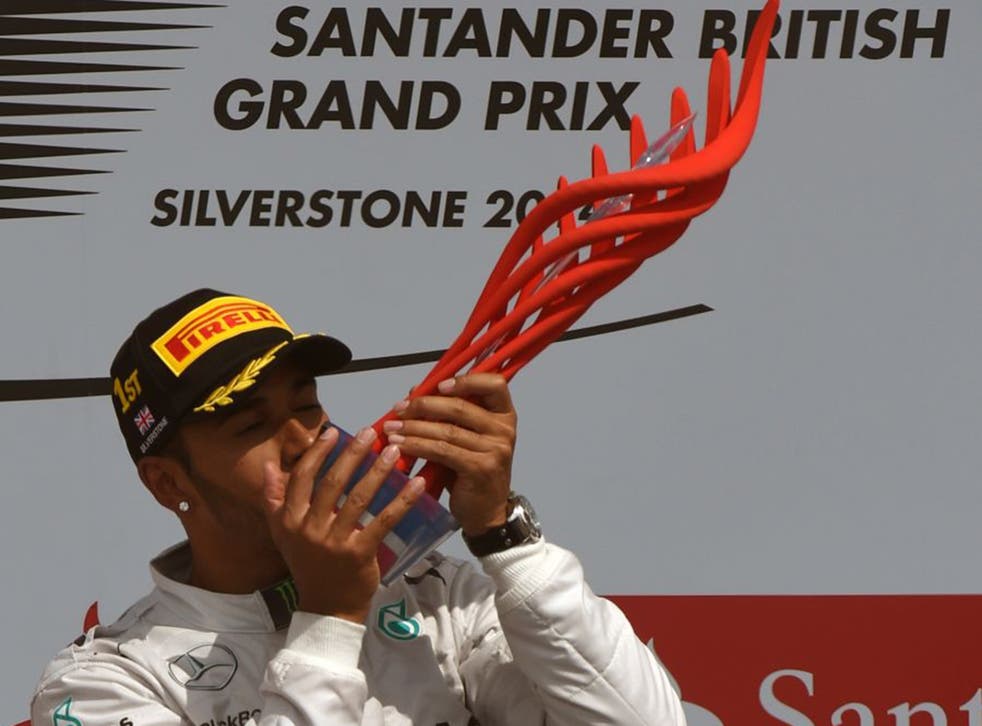 British Formula One fans will hope to see home favourite Lewis Hamilton on the podium at Silverstone tomorrow holding the winner's trophy aloft. Yet after the star racing driver launched a tirade against the "terrible" quality of winners' prizes he has been handed on podiums over the past year – with garish plastic awards often being used instead of traditional gold cups – some offended statuette designers could not be blamed if they were rooting for him to fail.
However, it seems many professional trophy creators have sympathy with Hamilton, with one leading designer telling The Independent that it's the sporting authorities who commission the gongs with strict and strange requests who are to blame.
Hamilton this week made clear his displeasure at being given the Santander trophy rather than the historic golden RAC Cup, first awarded in 1948. "Last year they gave me this weird plastic thing and I'm like, 'this is not the trophy', it's like a GP2 trophy, not the Formula One trophy," Hamilton said, adding that he even complained to the sport's supremo, Bernie Ecclestone.
"The gold one [the RAC Cup] is really special. It would be great if each country had a real trophy like that, with character that grew over the years because of the history. I don't know why they don't make them the same any more."
Jack Carr, design and production manager at Creative Awards, said the two-time world champion "does have a point" and Hamilton should take it up with the race organisers who commissioned the eclectic statuettes. While the briefs sent by clients to specialist awards makers can range from the "impossibly vague to astoundingly detailed," those commissioned by sporting bodies are usually the most comprehensive, he said.
British Grand Prix in pictures

Show all 11
"They have the most detail and are the least flexible to amendments because of branding link-ups and broadcasting considerations such as glare, legibility and on-screen scale," said Mr Carr. "On one occasion we were sent a drawing of a glass sphere suspended in mid-air. When we asked the designer how this would be supported, his earnest response was 'invisible string'."
The design of a trophy from drawing board to presentation normally takes about a month, and the most commonly used materials tend to be those that are easily adapted but "still impressive if correctly worked with; like glass, aluminium, wood and acrylic," he explained. Trophy makers have experience in product design and manufacture as well as jewellery making, electroplating, machining, glass blowing "and everything in between," the Creative Awards manager said, adding that often digital-only designers who provide the plans fail to appreciate complexities in productions.
Mr Carr said: "We've had some designs proposed to us which have made us wince, usually by people who proudly announce that they have Photoshop and hence they are designers, which is not the case. You have to understand the process, techniques and materials to keep ahead in what we do." The best awards are "recognisable, idiosyncratic and sum up the spirit" of the event, he added, pointing to the MTV Awards. "It's bolshy and instantly recognisable," he said. The price can range from anything for a few hundred pounds to make an award to "tens of thousands, once you're looking at high end trophies for things like tennis and Formula One," according to Jo Monger from Gaudio Awards, which makes the Pride of Britain statuette.
Join our new commenting forum
Join thought-provoking conversations, follow other Independent readers and see their replies