Lewis Hamilton takes fresh interest in car he's leaving
David Tremayne
Saturday 06 October 2012 01:50 Comments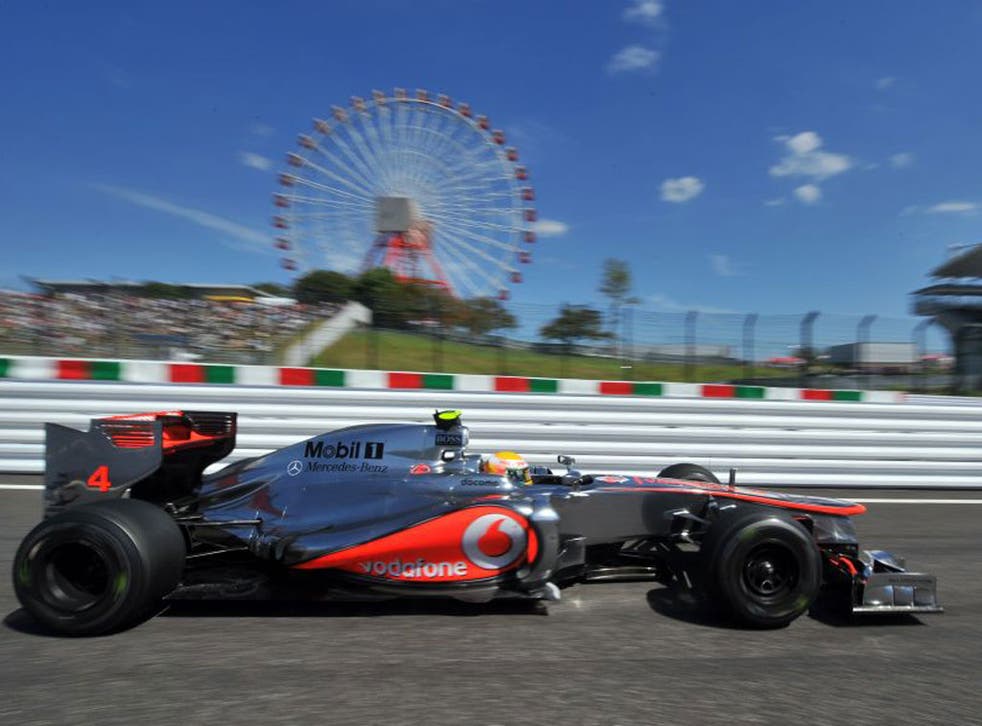 While Lewis Hamilton has pledged to fight to the finish for the 2012 world championship, despite being 52 points adrift of Fernando Alonso and preparing to jump ship for Mercedes in 2013, insiders at McLaren have been wryly amused by what they have described as "newfound interest" in the technical aspects of his current car.
"He's been very interested in the exhaust system and the telemetry," one observed.
And he has joked with his intended replacement, Sergio Perez, that he knows exactly what will go into the car that the Mexican will drive next year alongside Jenson Button. The inference is that he is perfectly at liberty to take that knowledge himself to Mercedes. But team boss Martin Whitmarsh, habitually averse to confrontation and controversy, was at pains yesterday to play down the situation.
"I think Lewis has been part of the team for a long time, I think he knows the people and what we're trying to do, but I don't think there's any great secrets in that, so I don't think it's a concern," Whitmarsh said. "I think if I was pursuing intellectual property from other teams, I'd probably go for engineers not drivers. But I think, again, Lewis is respectful of the team and what it's doing, and I think he knows we're going to do everything we can in the remaining six races to try and win, and try and win some championships. The best way to do that is to work together, be open and carry on as you ordinarily would."
Having dead-panned his way through a tortuous press conference here on Thursday as he studiously avoided making further comment on his forthcoming change of team, Hamilton was more enthusiastic yesterday after he made a strong start to a weekend in which McLaren look set to go head-to-head with Red Bull and Ferrari on one of the toughest and most challenging tracks on the calendar.
"The first lap out of the pits felt great," he gushed. "Just driving through the first couple of corners and feeling the acceleration, it takes a few laps to get warmed up, but you keep getting faster and faster as you push the limits. But you need to be careful. At the Spoon Curve we saw a few people making mistakes today. If you put a wheel on the dirt, it's very easy to lose the car."
Scottish sophomore Paul di Resta was the first to discover that. After running eighth in morning practice, the Force India driver put a wheel in the dirt and spun hard into the tyre barriers on the outside of the sixth-gear 143mph corner. Later the soon-to- retire Michael Schumacher did likewise in his Mercedes, his second undignified exit from its cockpit in a fortnight.
"As always, we'll be fine-tuning the car tonight ahead of tomorrow's sessions, but it looks very close between ourselves and Red Bull," Hamilton said. "I feel comfortable with our car – it's the best that it's ever been around here – and I think I could have matched Mark's [Webber's] fastest time with an optimal lap. For sure, it's going to be very close in qualifying."
It is inevitable that Hamilton's departure will hurt McLaren, since he is widely regarded within the paddock as the fastest man in F1. But again Whitmarsh adopted a careful stance.
"I think our current driver line-up is a very strong one," he said. "We'll see next year just how strong Sergio can be and we'll see then whether it's weakened us or not. But I think whatever happens, we've got a super-experienced guy in Jenson and we've got an exciting, fresh young talent in Sergio, so we're looking forward to it."
Register for free to continue reading
Registration is a free and easy way to support our truly independent journalism
By registering, you will also enjoy limited access to Premium articles, exclusive newsletters, commenting, and virtual events with our leading journalists
Already have an account? sign in
Join our new commenting forum
Join thought-provoking conversations, follow other Independent readers and see their replies