Malaysian GP 2015: Fernando Alonso reveals 'steering lock' caused his McLaren-Honda crash and dismisses teams 'wind' explanation
Alonso is said to have angered McLaren's senior officials after being cleared to return for this weekend's race in Malaysia
David Tremayne
Thursday 26 March 2015 14:04 Comments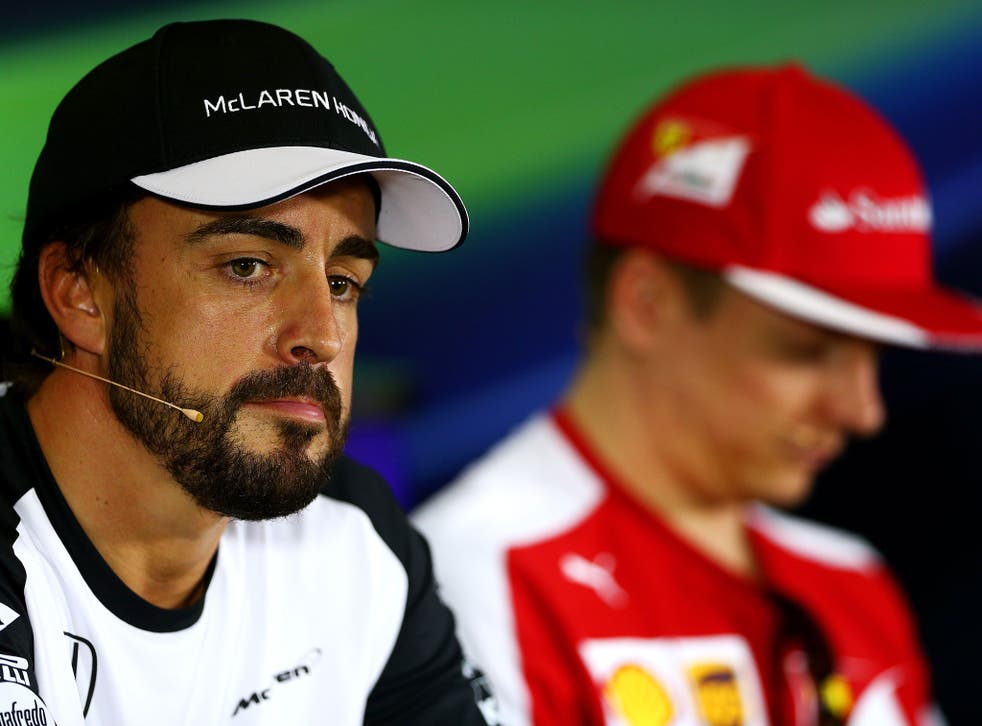 The press grilling that he underwent hours after the FIA cleared him to race will probably be the toughest part of Fernando Alonso's Malaysian Grand Prix.
The 33 year-old Spaniard, who missed the Australian GP a fortnight ago after sustaining a concussion in a testing accident in February, has never looked so uncomfortable in the spotlight since 2009 when he was accused of complicity in his Renault team's deliberate rigging of the 2008 Singapore Grand Prix.
What should have been the discussion that would end all speculation about the cause of his accident – which ranged from an electric shock from his McLaren's energy recovery system, to him momentarily blacking out or suffering steering problems - instead merely became the next chapter in a tangled story which left listeners convinced they had not been told everything.
F1 2015: Team-by-team guide

Show all 10
"Everything was more or less as a normal concussion," Alonso insisted. "I went to the hospital in good condition. There is a time that I don't remember from two o'clock to six o'clock, but everything again was normal due to the medication that they give you to go into the helicopter and to do some tests."
He specifically denied stories emanating from the Spanish media at the time, and which were allegedly confirmed in subsequent discussions with close friends in F1, that he had woken believing he was only 13 years old.
"I didn't wake up in '95, I didn't wake up speaking in Italian or all these things," he said. "I remember the accident and I remember everything that following day."
Things then began to wander from the script when he denied McLaren's version of events – that perhaps a gust of wind had blown his car off course – and averred that a problem with the steering suddenly locking had caused him to crash. Unfortunately, however, he said that the problem could not be identified in the steering telemetry traces.
Trying to explain that, he said: "There are some areas in the car that, instrumentation-wise, are probably not at the level to see this problem. I'm sure that we are missing something on the data acquisition that we will spot in 10 years' time or whatever, when the technology is available."
It sounded lame even as he said that, but he was adamant that he had "zero concern" about a possible repeat. And of the wind, he added: "Even a hurricane will not move the car at that speed. Also, if you have any problem or any medical issue, normally you will go straight to the outside, never to the inside [as he did].
"Definitely we had a steering problem in the middle of Turn Three. It locked into the right and as I approached the wall I braked in the last moment, and downshifted from fifth to third.
"And yeah, unfortunately on the data we are still missing some parts. The acquisition of data on that particular part of the car is not at the top so there are some new sensors here at this race and there are some changes we do on the steering rack and other parts."
It wasn't the most propitious public start to his relationship with the team he left under a cloud at the end of 2007, and his comments were said to have angered senior managers.
Asked what he felt about McLaren's present lack of pace and Ferrari's improvement, which coincided with him leaving, he smiled weakly and said: "I am the happiest man in the world."
How much simpler was it for Williams, who could put out a simple statement confirming that their driver, Valtteri Bottas, would be back at work after also missing the Australian race because of a back injury.
Register for free to continue reading
Registration is a free and easy way to support our truly independent journalism
By registering, you will also enjoy limited access to Premium articles, exclusive newsletters, commenting, and virtual events with our leading journalists
Already have an account? sign in
Join our new commenting forum
Join thought-provoking conversations, follow other Independent readers and see their replies