Malaysian Grand Prix 2015: Nico Rosberg reveals he sticks a sanitary towel to his forehead to cope with extreme temperatures
The Mercedes driver is taking extreme measures to avoid getting sweat in his eyes
Jack de Menezes
Thursday 26 March 2015 15:47 Comments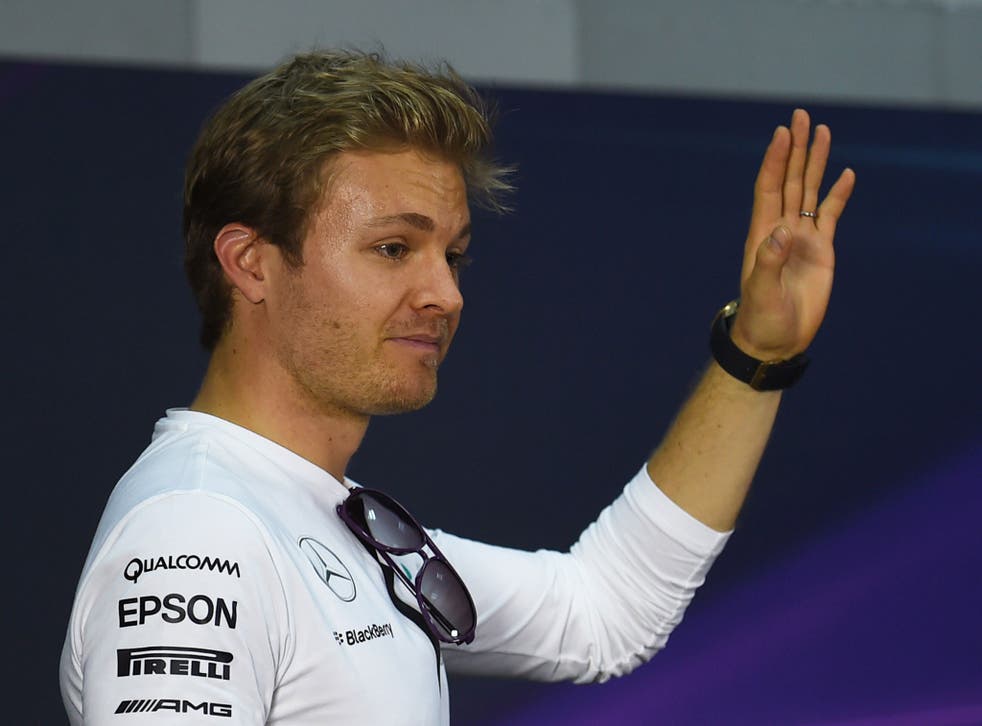 The world of Formula One is used to the strange and bizarre, having seen cheat and spy scandals, driver contractual disagreements and even Lewis Hamilton's dog Roscoe attending races in recent years. However, championship contender Nico Rosberg has trumped the lot.
The Mercedes driver, who finished as runner-up in last year's championship, has revealed that he wears a sanitary towel on his forehead during races.
Yes, you read that correct. The 29-year-old German made the startling revelation after today's drivers' press conference at the Sepang International Circuit ahead of Sunday's Malaysian Grand Prix, but while the measure can be described as ridiculous at best, he does have an explanation.
F1 2015: Team-by-team guide

Show all 10
"I have an issue with my eye when I sweat a lot," Rosberg told Sky Sports. "I do have a sort of headband in my helmet, but it is my trick.
"I put a women's… what do you call them? The thing you put in your underwear."
When Sky Sports reporter Craig Slater suggested "tights", Rosberg replied: "No, inside the underwear."
A bemused Slater then enquired: "A sanitary towel?"
A now smiling Rosberg answered: "Sanitary towel. Is that what it is called? Yes. I put that on my forehead in the helmet to soak up the sweat."
While Rosberg's "trick" is certainly one of the more shocking ones, it's a measure to protect himself from being blinded by sweat during the extreme conditions that the Malaysian Grand Prix poses. Drivers will have to endure temperatures in excess of 30 degrees Celsius, while the humidity in Malaysia will regularly top 70 per cent during the 90-minute-plus race.
As Rosberg highlights, drivers can lose up to four litres of sweat during the race, meaning that hydration and sweat prevention via cool vests are a crucial part of preparing for Sunday's event.
"The race is one of the toughest on the calendar because of the intense heat and humidity, so you have to be very fit," adds Rosberg.
"It is vital to stay hydrated, too because during the race I can sweat up to four litres which is massive and probably double the amount of a regular race.
"It will be very demanding. By the end of the grand prix, your concentration levels will not be as high as they were at the beginning."
Register for free to continue reading
Registration is a free and easy way to support our truly independent journalism
By registering, you will also enjoy limited access to Premium articles, exclusive newsletters, commenting, and virtual events with our leading journalists
Already have an account? sign in
Join our new commenting forum
Join thought-provoking conversations, follow other Independent readers and see their replies