McLaren's awful day leaves British duo in search of answers
David Tremayne
Sunday 22 April 2012 22:23 Comments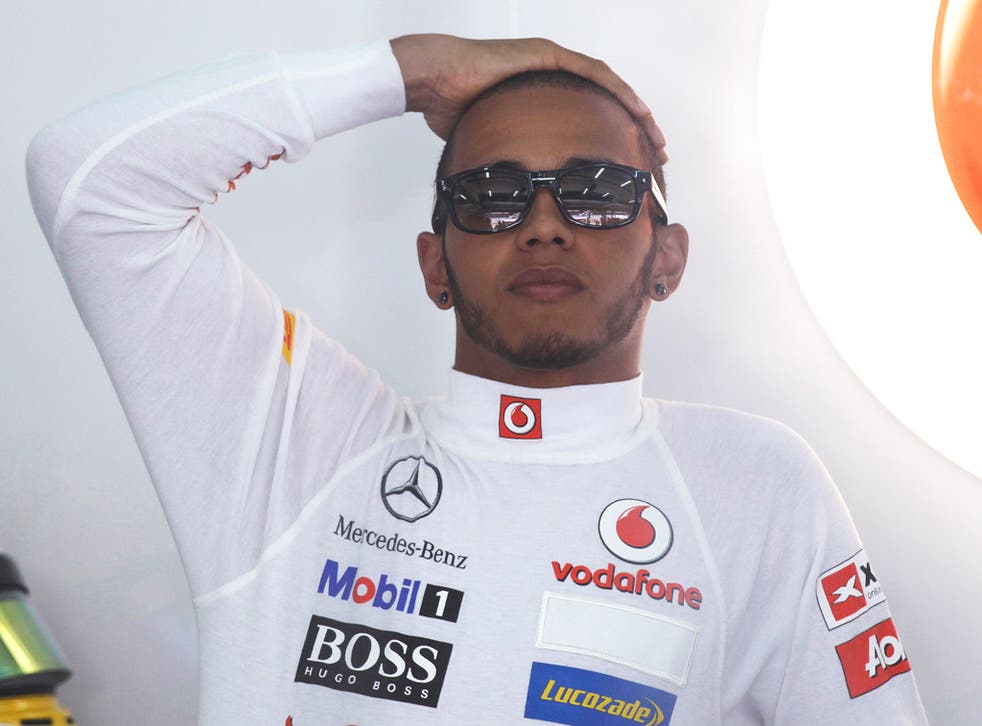 While things came good for their old nemesis Sebastian Vettel and Red Bull, and Lotus burst through to upstage them, McLaren's two drivers had a disastrous day in Bahrain as their pit-stop problems from China came back to haunt them.
"After I had a 9.7second pit stop there instead of the usual one of just over three seconds, because of a rear wheel problem, we talked things through and put things in place to make sure it didn't happen again," Jenson Button said with a smile, which must have taken a lot of mustering on a day of frustration and more time lost in the pits. The team came to Bahrain with their two drivers leading the world championship and a healthy points lead over Red Bull in the constructors' stakes, and left with neither.
Lewis Hamilton, who finished eighth, ran second initially to Vettel, but as the Lotuses of Romain Grosjean and Kimi Raikkonen closed in and then overtook, it was soon clear that McLaren did not have the pace for better than fourth or fifth place.
"Traditionally this year we've got two main strengths," said Button, who was forced to retire near the end. "Our starts and our race pace. Well, my start was terrible and the race pace just wasn't there. There was just no real positive from the day.
"We were in a different category from Red Bull and Lotus. Nobody added a second to their cars in just a week after China, where we had the pace to have won the race. But here we were a second off the pace and were fighting with Ferrari. For some reason our rear tyres were degrading really quickly, and I was struggling to balance my car."
He was fighting with Paul di Resta and Fernando Alonso for fifth place when he picked up a puncture with four laps to go, and then had to retire two laps later with resultant differential failure.
"I'd been playing with my brake bias, getting the rear tyres to work, and the Kers, and just seemed to have got everything right and to have Paul lined up ready to pass with the DRS, when I felt the puncture," he said. "Oh, and I also had a problem with the exhaust just before the puncture. This year it seems I have one good race, one bad one, one good one, another bad one..."
Hamilton's race came undone when he suffered a similar rear-wheel problem to the one that hampered Button in China. That cost him time and places in his first stop, and more once he had fought back when the threads on the left rear wheel cross-threaded in his second stop.
"It's soul-destroying when things like that happen and you have to sit there watching people go by," he admitted, "but I never gave up the fight. But at the end of the day we weren't quick enough here. I don't know whether that was down to our downforce level or a problem with wear on the rear tyres, but I was trying everything I could and was still dropping away. The ironic thing is that the front tyres weren't taking a beating at all, even when I was running close with other cars."
Hamilton also had an extraordinary experience on the ninth lap when Nico Rosberg swept across the track and pushed him into the dirt. "For a moment I actually thought it was Michael [Schumacher]," he said, but then he realised it was his friend and former junior level team-mate and sparring partner. "He forced me off the road and I went off into the dust. The car was bottoming out and was on the marbles so I had to lift off to maintain control. I kept my cool, even when that came on top of the first pit-stop problem, but I did wonder just what he was doing."
Rosberg later did the same thing to Fernando Alonso, but each time he was excused by the stewards.
Register for free to continue reading
Registration is a free and easy way to support our truly independent journalism
By registering, you will also enjoy limited access to Premium articles, exclusive newsletters, commenting, and virtual events with our leading journalists
Already have an account? sign in
Join our new commenting forum
Join thought-provoking conversations, follow other Independent readers and see their replies