'Mike the Bike' rides again: The tragic story of Mike Hailwood told in new documentary
Rated 'the greatest motorcyclist who ever lived', his feats and bravery are recalled for a new generation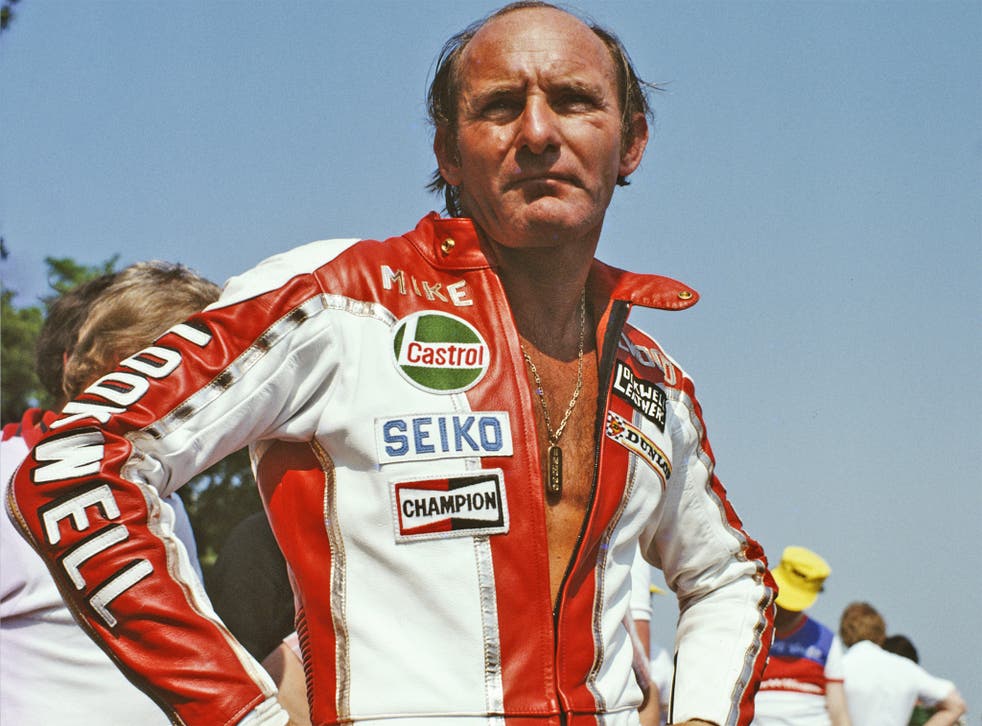 Mike Hailwood lies alongside his daughter, Michelle, in the churchyard of St Mary Magdalene in the Warwickshire village of Tanworth-in-Arden. A black gravestone records the names and age of the two, the nine-year-old girl and her father, aged 40. There is also an inscription for each. Hailwood's reads simply: "Too good in life to be forgotten in death."
For Murray Walker, Hailwood – "Mike the Bike" as he was known – was a good deal better than even that. According to Walker, Mike Hailwood is the "greatest motorcycle rider who ever lived". Walker was close to Hailwood but his judgement is not coloured by friendship – he is just one among plenty who hold up Hailwood as the best man on two wheels, indeed one of motorsport's greats, even if he remains unknown to many beyond his sport.
"Motorsport had lost a friend and one of the greatest people who has ever lived in it," said Walker, talking in a new film about Hailwood's life, An Ordinary Hero, that will re-introduce him to the sporting world.
Last Friday marked the 33rd anniversary of the road accident that killed Michelle and two days later took her mortally injured father too. Hailwood was en route with his two children – his son David survived – to pick up fish and chips for the family's dinner when a lorry turned suddenly into the car's path. The lorry driver was to be fined £100.
At his funeral Hailwood's pall bearers included James Hunt, John Surtees and Giacomo Agostini. His abilities on his bike can be measured in titles, 12 times a winner in the Isle of Man – "the scariest race in the world" – and nine times the Grand Prix Motor Cycling champion, as well as the less quantifiable but no less obvious esteem in which he was held by the sport. Hailwood revelled in the "here today, gone tomorrow" attitude that pervaded motorsport in the 1950s and 1960s. It was a dangerous game, and it was treated as a game. "He was a little bit wild," said his wife, Pauline. Walker put it another way: "He was a party animal." Legend has it Hailwood taught Hunt how to party.
For a time Hailwood swapped two wheels for four. He drove in Formula One, competing in 50 Grands Prix. He finished on the podium twice, as he did once at Le Mans, making a decent fist of driving for lesser teams, believed Jackie Stewart. It was a sport Hailwood never felt at ease in, thinking the other drivers looked down on this scruffy bike rider – Stewart said Hailwood felt more comfortable with the mechanics than the drivers – but in Formula One came the moment that stripped away the "playboy" exterior to reveal the man beneath via an act of selfless, unthinking heroism.
It happened in 1973 at the South African Grand Prix at Kyalami. On the second lap, Hailwood and Clay Regazzoni collided. Regazzoni was knocked unconscious and his car caught fire. Hailwood rushed to Regazzoni's car and tried to pull him out only for his own clothing to be set alight – footage of the incident shows Hailwood frantically waving his flaming hands around. A race marshal aimed a fire extinguisher at Hailwood, whereupon he went straight back to Regazzoni, whose car remained engulfed in flames. This time he managed to pull the Italian out.
Hailwood's actions saved Regazzoni's life and what is astonishing in watching the footage is his return for a second go – many acts of bravery happen when there is time only to act and not think.
When he later returned to the pits, where Pauline was waiting, Hailwood did not tell her what he had just done. The couple returned to their hotel and it was only the following morning when she saw the newspapers that she discovered he had saved a man's life at potential cost of his own. "That's the symbol of a brave man, of a great man," said Stewart, who won the race. "That's typical of Mike Hailwood."
Motorcycling was his true love and in 1978, after more than a decade out of the sport, he got back on his bike for another go at the Isle of Man TT, a race he had first ridden as an 18-year-old in 1958. He was unfit, "pot-bellied" Walker suggested, and out of touch with the sport and its developments. He was given no chance; sure enough he won. A year later Hailwood had one last go around the island before giving up his sport for good. Two years later he was dead.
'An Ordinary Hero - the Mike Hailwood Story', BT Sport 1, Wednesday 26 March 9.30pm
Register for free to continue reading
Registration is a free and easy way to support our truly independent journalism
By registering, you will also enjoy limited access to Premium articles, exclusive newsletters, commenting, and virtual events with our leading journalists
Already have an account? sign in
Register for free to continue reading
Registration is a free and easy way to support our truly independent journalism
By registering, you will also enjoy limited access to Premium articles, exclusive newsletters, commenting, and virtual events with our leading journalists
Already have an account? sign in
Join our new commenting forum
Join thought-provoking conversations, follow other Independent readers and see their replies