Cal Crutchlow ready to become Britain's first homegrown MotoGP winner after finding his ideal home at LCR Honda
Exclusive interview: Britain's leading MotoGP rider speaks to Jack de Menezes about why he's sticking with Honda and how his new family has made him more determined than ever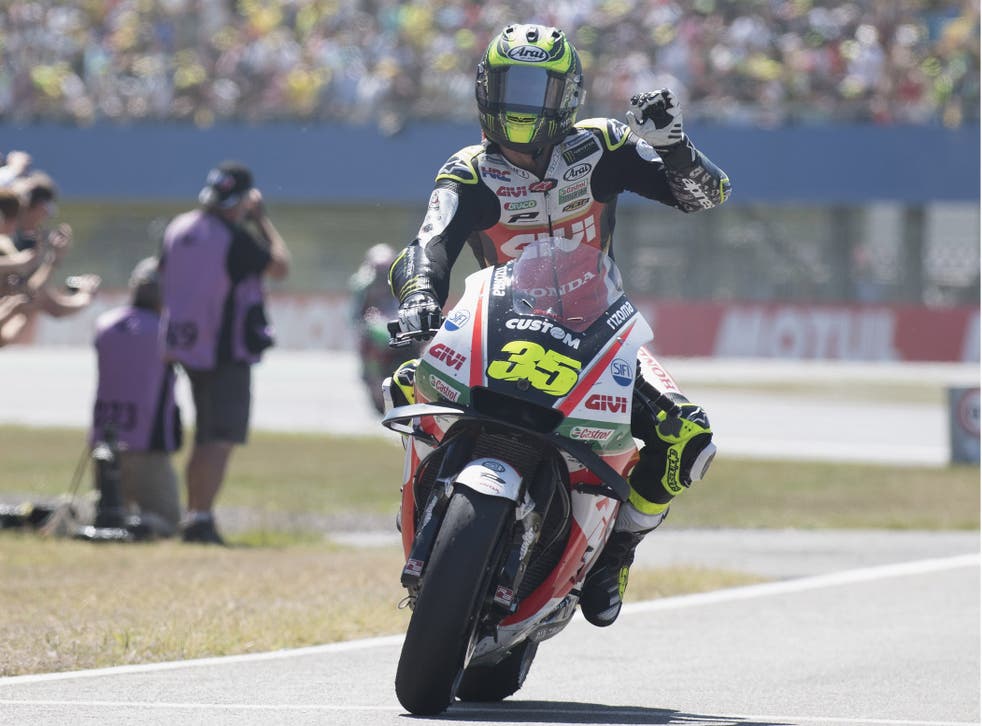 British race fans head to Silverstone this weekend determined to see one of their own on the top step of the podium, and for many that man is Cal Crutchlow. Perhaps not a household name like a Lewis Hamilton, but the Coventry-born rider is proving to be something of a trailblazer for MotoGP hopefuls of this and the next generation.
Crutchlow became the first British rider to win a grand prix in 35 years when he won in Brno two years ago, and has since added further successes in Phillip Island and Termas in Argentina - a victory that earlier this year put him into the lead of the world championship.
The problem for Crutchlow is that in this era of MotoGP, there has always been a Valentino Rossi or a Marc Marquez or a Jorge Lorenzo ahead of him, and when all three are thrown into the mix, that elusive world championship remains just out of arm's reach.
That's not to say that his talents have gone unrewarded though - far from it. The Isle of Man native arrives at Silverstone this weekend bidding to become the first homegrown winner since the inaugural race in 1977, and with a shiny contract extension to boot, keeping him with the LCR Honda team until the end of the 2020 season that will see hit MotoGP career stretch to a decade of service, and having tasted what's on offer with the factory side, he's quick to stress the grass isn't always greener on the other side - as he experienced first-hand with Ducati in 2014.
"I negotiated everything in Qatar, so that was at the start of the year," Crutchlow tells The Independent. "Then it obviously changed because I was leading the championship after Argentina and the races were good for me.
"I'm really pleased to re-sign with Honda but it was always looking like I was going to stay anyway. I'm happy with my team, I'm happy with the support I get, being a factory HRC rider is always a positive thing no matter what so I was very happy with that deal."
Crutchlow's deal ties him down to the factory Honda Racing Corporation outfit even though he rides for Lucio Ceccinello's team, yet it will be Lorenzo who partners reigning MotoGP champion Marquez next season when Dani Pedrosa heads off into retirement after 17 years with the Japanese manufacturer.
The choice between five-time world champion Lorenzo and Crutchlow may seem like an obvious one, but it's not. Lorenzo has taken the best part of 18 months to work out how to ride the Ducati quickly, and is already cutting his losses following 2017's frustrations to move to Honda.
It is no guarantee that he will be as fast as Marquez on the Honda - or even as fast as Crutchlow - and given the difficulties the Spaniard had with adapting to the Ducati, it could easily take him time he can ill-afford to waste to bed in while six-time world champion Marquez continues to clean up.
Crutchlow was considered for the ride, as was reigning world champion Jonathan Rea if rumours are to be believed, but another move to the big time isn't exactly what Crutchlow has his heart set on.
"It was discussed but I preferred to stay where I am," he adds. "I have a conflict with sponsors, I have a great situation with Lucio here, being in a factory team is not always cut-out, it's not always what it seems on paper.
"The reality is I'm very happy where I am and I don't need to change. I was happy with the deal that I got.
"Essentially it's the same [deal as the Honda factory team], it's very, very close. They have a few small differences with the bike but when there is something new we normally get it. If there is a limit on parts, the factory get it first and then we get it after but that's the same even in the factory garage, Marc gets stuff before Dani, that's the reality."
Away from the pressure of Honda's A-team, Crutchlow can focus on trying to win more races in a team that is incredibly happy to have him. "It's a privilege for us to work with Cal," says Cecchinello. "At the end of the day he's a strong and competitive rider, and it's not easy to find a competitive rider and especially as a satellite team, as an independent one, to keep such a high-profile rider, a rider who has been able to score seven podiums in the last three years of which three are victories and two pole positions. For an independent team normally it's not common. Normally the manufacturers poach these kind of riders.
"Every rider has a different personality. We've worked with many riders in our 23 seasons as a team. However, every rider has a common personality which is a very strong ego, and a very strong head, and Cal is probably together with Casey Stoner the most motivated and strong personality I have ever had."
That may not seem like high praise on the face of it, but comparing Crutchlow to Stoner is quite a statement to make. Stoner left the sport prematurely in 2012 having fallen out of love with it, despite winning the world championship twice in his seven seasons in the top class. That's very much the opposite to what Crutchlow has planned, given he's signed up for another year on the one he already has secured in 2019, and with his family also on the circuit with him in the form of wife Lucy and two-year-old daughter Willow, he admits he has it pretty good.
But adjusting to having a baby with them as they travel the globe could easily have changed Crutchlow's thinking. Suddenly the family comes first, racing no longer means so much and a rider's interest wanes until they leave the sport. It is a story that has been told many times before and will be told many times again, but not in Crutchlow's case. Willow and Lucy still come first, but he proves that by trying even harder out on the track.
"In the end I feel I work harder now," he says. "Sure I have Willow and I take care of her like a normal father of course, but I work harder now because I want her to inherit more when I stop racing and it gives me the motivation to keep working harder. I won't do it forever and I'm sure I can then spend more time with family but I think at the moment I do a pretty good job at finding a balance.
"We're very lucky to have that, there's not many jobs in the work that you can take your kids to work so we're really lucky to be in that situation.
"It helps that my wife's organised enough to let me do what I've got to concentrate on at a race weekend. Sure, that doesn't mean I do nothing, but she knows that it's important to be focussed at a race meeting. But there's nothing better than after a race or after a session than being with my daughter, it makes no difference. It's not going to make me go any faster or go any slower.
"People think you go and lock yourself in a room until the next day for the next practice but I don't, I change a nappy and all that as well and play with my daughter. We're lucky because she's good, she's really, really good, never cries, sleeps all the time and likes sleeping in the night so we've got the dream scenario!"
That focus will be needed if he's to become the first British winner on home soil. "I'll be in the mix", he says when rating his chances, but Sunday's forecasted rain is not really to his liking. If the rain holds off though, he could easily be the lead Honda after finishing Friday practice in second, and if he can find a way to take down the lightning-quick Ducatis, Britain may finally get back to the top step of the podium.
Join our new commenting forum
Join thought-provoking conversations, follow other Independent readers and see their replies