Never mind the dyed hair, tattoos and lifestyle, Lewis Hamilton is a genuine great
A day after his victory at the Italian Grand Prix in Monza, Hamilton was on the red carpet again at the GQ Awards in London
Kevin Garside
Monday 14 September 2015 01:31 Comments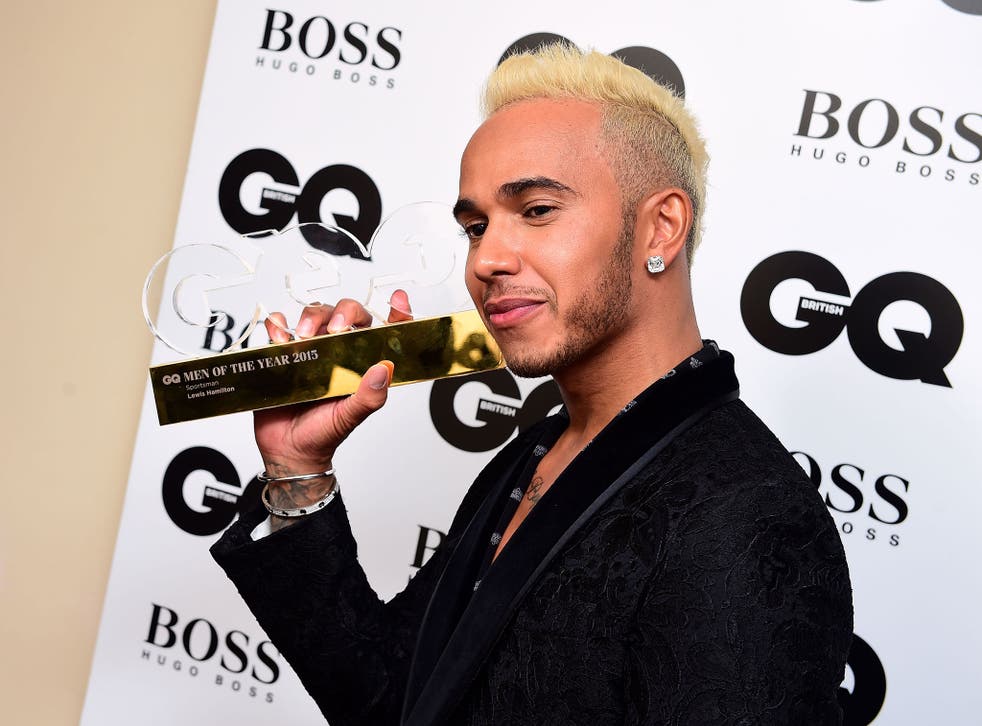 Another blast through the time zones for Lewis Hamilton this week, just the seven hours to Singapore. At least on this occasion work is involved.
Hamilton's mad travel itinerary is for some another notch in the "against" column, along with inked arms, celebrity girlfriends, dyed hair, sundry mates from MTV-land and tax dodging. For his detractors, it all adds up to a bad attitude, to "cocky little shit" material.
After Singapore, the Formula One carousel heads at fortnightly intervals to Japan, back to Russia, across to the United States, south to Mexico, down to Brazil and finally east to Abu Dhabi. This is meat and drink to F1's travelling community and no detriment to performance. Yet in Hamilton's case there is considerable agitation when he loads the air miles with non-essential trips to New York or Los Angeles clad in leather and upturned lid.
A day after his victory at the Italian Grand Prix in Monza, Hamilton was on the red carpet again at the GQ Awards in London. At least they like him, voting him Sportsman of the Year for the second annus on the spin.
Italian Grand Prix in pictures

Show all 8
Before that he was "hanging" in LA at another awards gig with one Gigi Hadid, who lists her occupation as "model". Believe it or not there were some who pondered the significance of that, wondering what Rihanna might have to say after filling the squeeze slot during carnival week in Barbados last month.
When he is not hedonistically engaged, Hamilton is winning races, seven this year already. It would have been eight had the algorithm monitors on the Mercedes pit wall in Monaco not seen ghosts in the machine to rob him of certain victory.
In 12 grands prix in 2015, only once has he not finished on the podium. Should he make it an eighth triumph in Singapore this weekend, Hamilton would ride alongside the great Ayrton Senna on 41 victories. Only two men in F1 history have tabled more: Alain Prost (51) and Michael Schumacher (91).
In the early days at McLaren, Hamilton was seen as some kind of privileged prodigy, overly packaged in the McLaren fashion, rolling out scripted drivel in the service of the team's blue-chip sponsors.
The second bit was right, and it killed him. His ethnicity, the cultural milieu of a mixed-race kid from Stevenage, was airbrushed out of the picture because it did not dovetail with the corporate message. They did not want a tattooed hipster from the hood parading around the margins after midnight with unsavoury deviants. They wanted him all shiny and new, uniformed, unblemished and compliant.
It was a huge risk to leave all this behind three years ago with none of the success he has enjoyed since detectable then. Indeed, Mercedes were the bog standard also-rans before the FIA ripped up the rule book to end Red Bull's distinctly unappealing domination. They are doubtless working out how to do the same, too, to Mercedes, but right now Hamilton is the alpha pilot making the most of serendipitous circumstance.
His joy is not only rooted in winning, but in expressing his essence in and out of the car. When he left McLaren he was not re-inventing himself but reconnecting with the inner dude that was always there but could never be acknowledged.
At McLaren there was always a palpable sense of Hamilton's disconnection with his essential self. He allowed himself to be pushed this way and that because his need was great. What choice did he have? Toe the line or wave goodbye to the opportunity?
Yes, he was a McLaren-sponsored driver from the age of 13, but owner Ron Dennis still had him on a string, refusing to confirm his elevation to the race team until late in 2006, a period of hesitation that almost drove him exasperated into the hands of a rival team. When he was confirmed after sealing the GP2 crown, he was still in a powerless state and did his masters' bidding. Now that the power is his, he can do as he pleases – as long as he continues to win.
So what we are seeing at 30 is a man at the top of his game and at peace with himself, much like the driver he is set to emulate next week, who left us so tragically 21 years ago.
Their records are remarkably similar. Senna contested 162 grands prix, winning 41 and posting 80 podium finishes in total. Hamilton has 160 races behind him, winning 40 with 81 podiums.
Senna is regarded as a genius, arguably the greatest of all time. Perhaps it's time to give Hamilton his due, to see him in the same light, as a genius at the wheel of a car, right up there with the very best.
Register for free to continue reading
Registration is a free and easy way to support our truly independent journalism
By registering, you will also enjoy limited access to Premium articles, exclusive newsletters, commenting, and virtual events with our leading journalists
Already have an account? sign in
Join our new commenting forum
Join thought-provoking conversations, follow other Independent readers and see their replies