Niki Lauda admits he wouldn't change a thing after reflecting on his horror 1976 crash as rivalry with James Hunt is to be shown in new movie 'Rush'
Film director Ron Howard has taken the 1976 battle for the Formula One World Championship in which Lauda claims he was 'really impressed' having seen it three times already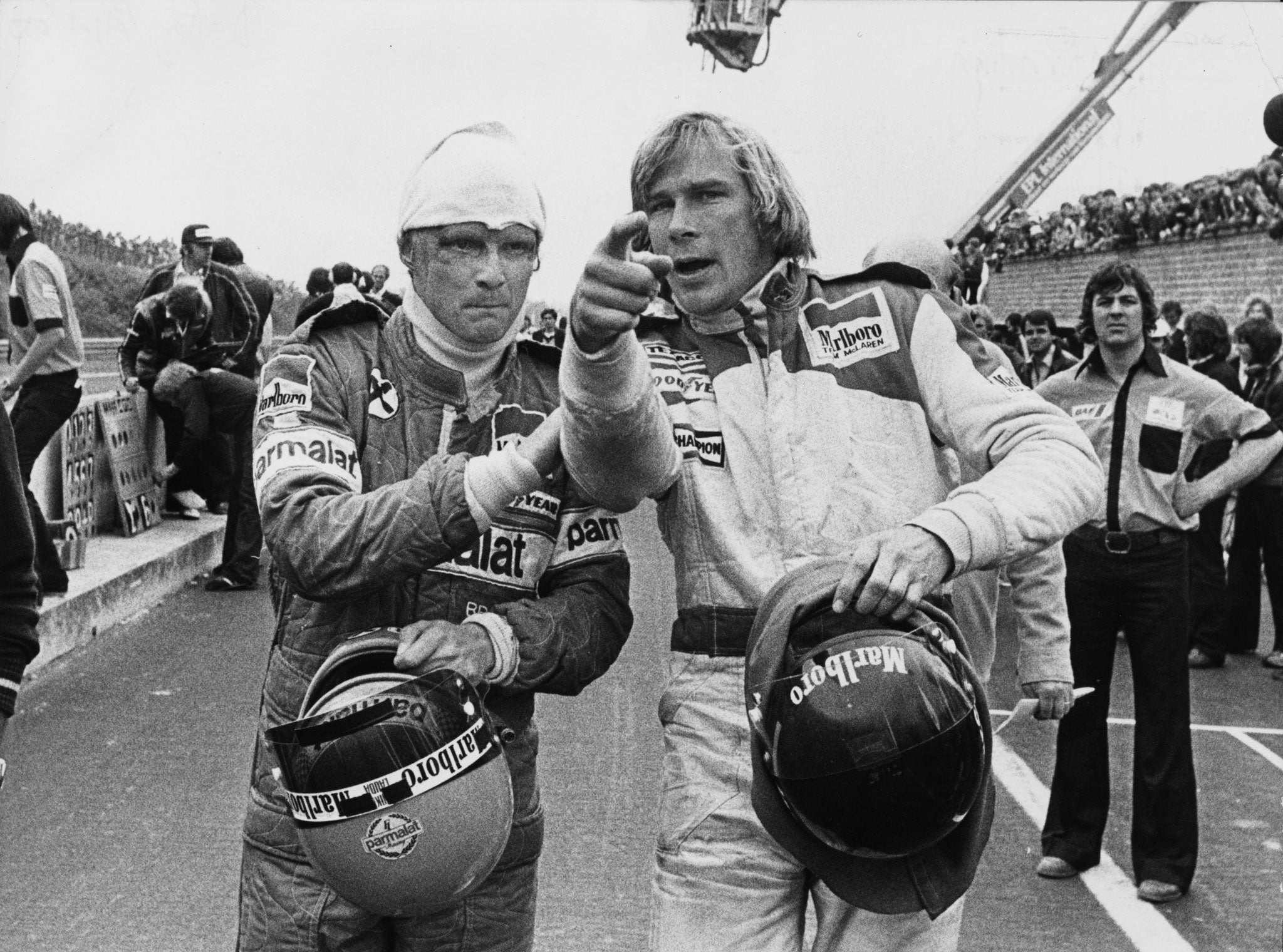 Niki Lauda laid to rest his horror crash that nearly took his life at the Nordschleife in 1976, but admitted that his physical scars will always be with him – although he wouldn't change it if he could.
The Austrian suffered a horrendous crash when his car burst into flames after colliding with the barrier, but despite suffering serious burns in the accident, he returned to contest Britain's James Hunt for the driver's championship the same year.
The 1976 season has been relived in Ron Howard's movie 'Rush', which chronicles the relationship and rivalry between Lauda and Hunt, in which Hunt eventually prevailed to claim the championship while driving for McLaren.
Lauda has admitted he has watched the film three times already, including at the gala premiere in London last week, and he has expressed his delight at the story being retold.
"It really came across very well... I was impressed. The first time (actor Daniel) Bruhl turned up I said 'He really talks like me'. I see myself there and he did a very good job," Lauda told Reuters in an interview.
"I am the bad guy in the beginning. There is a lot of swearing. But this is two different guys fighting for a championship. This is the real movie."
The film also allowed Lauda to look at the battle through a different approach than that of his own. Hunt, who died in 1993, embraced the playboy lifestyle that comes with being a professional F1 driver, while Lauda, very meticulous throughout his career, was seen as a much calmer, mature racer at the time.
Walking through the paddock now as a non-executive chairman with Mercedes, the only second glances towards Lauda are due to the admiration of seeing the three-times world champion.
But the story was different when he made his return at Monza in 1976, just six weeks after suffering burns to his face, scalp and lungs as well as losing an ear in the blaze.
Seeing Howard's depiction of Lauda's image upon his return led Lauda to admit his shock at what overs saw, something that he hasn't had to experience until now.
"The scene was shown when Hunt comes to see me (in Monza), and Bruhl turns around. I said 'S***, did I really look that bad?'. But I did. He's absolutely done it in a perfect way," Lauda reflected.
"For me it was pretty simple (at the time)... I had to accept it. And that was it for me. But for other people, they couldn't believe it," he recalled.
"At the time I got upset with those people when they never looked in my eyes... but in the movie, I was the spectator, on the other side. And I tell you, they were right."
Apart from having reconstructive surgery on his eyelids, Lauda refused to have cosmetic surgery having accepted that his burns would remain with him throughout his life.
"The other day I was asked again 'why did you never do an operation?' To the woman I said 'where the (expletive) do I find an ear?' It's a very simple answer," he said matter-of-factly. "It is the way it is and what can I do?
"It's the same when you are in a wheelchair. Nobody asks anybody to get up and walk. Sure, people change their tits and ass and whatever. In my case there could be something done but I wouldn't. Because this is a fact of life and that's it."
With today's Italian Grand Prix seeing Lauda return to Monza, the scene of one of the most courageous returns in racing history, is it an emotional experience for him?
"No. I've been here so many times, it's finished. I live today and think of tomorrow. Take the experience," he said.
Lauda was initially refused to take part at Monza until the Italian officials had confirmed that he was fit to race, but the 64-year-old would likely have had no chance of racing had the incident taken place today.
"It was the most terrifying weekend," he said.
"I got so upset I said 'listen, I am fighting my way here, I am fit, here is the proof from the doctors. I have eyesight and can hear, I can drive, I am fit.' And those Italian idiots start all over again. So this really broke my balls," he recalled.
"I couldn't work with the car, I couldn't get used to whatever, the pressure I had on me. Can he race? Is he allowed to race? All this b*******. Therefore on Friday, when I came here, I was stressed."
Lauda drove out of the pits and found he could not get his Ferrari car into second gear.
"I could not drive. But in Fiorano three days before I could. I said what the hell went wrong? I had to go back to the hotel, I left the circuit and the whole night I was thinking what did I do wrong?," he said.
"Then I made a simple decision. I came here on Saturday, it was qualifying, and I said I just drive. I don't want to know any other people's times. There was (Carlos) Reutemann and (Clay) Regazzoni in the team but I just kept on driving. I didn't care.
"I got going... and I was the quickest Ferrari."
He drove to an incredible fourth-placed, but eventually went on to lose the championship to Hunt by just a single point. He could well have taken the title had he elected not to pull-out of the Japanese Grand Prix at Fuji, which was hit by a torrential rain storm before the race.
"To me it was clear. It was simple. The circuit was flooded. Flooded," he said. "The rain did not stop for two hours and this idiot Japanese race director came and said the race is on now... this for me was the most stupid decision ever. I did one lap so that Ferrari gets the money and off I went.
"For me it was logical. I think I would do the same thing again today."
The film shows Lauda looking on as Hunt celebrates, but in reality Lauda was already on his way to the airport before the race was finished, hearing the outcome over the radio.
However, despite the on-track rivalry, the two had a camaraderie that he claims the film does justice in demonstrating.
"We were enemies in the way that he was in a competitive car, the most competitive driver. There was no question that James was quick. And this was my worry so we had to fight. But, sure, we respected each other," he said.
"I was more focused. I had to be to beat him. I had some fun too but not as bad as him. He always did everything before the race, I did it after the race," smiled Lauda.
"In the beginning of the season, when I was winning six races out of eight, I had a beer with him and I made jokes about him. But, after coming back here, there were no more jokes."
Join our commenting forum
Join thought-provoking conversations, follow other Independent readers and see their replies