Ron Dennis exclusive: 'This is one of the best McLaren teams ever – we are going to do it'
EXCLUSIVE: Ron Dennis shrugs off a poor start to the season and in an exclusive interview tells David Tremayne the glory days will come back
David Tremayne
Thursday 02 July 2015 00:16 Comments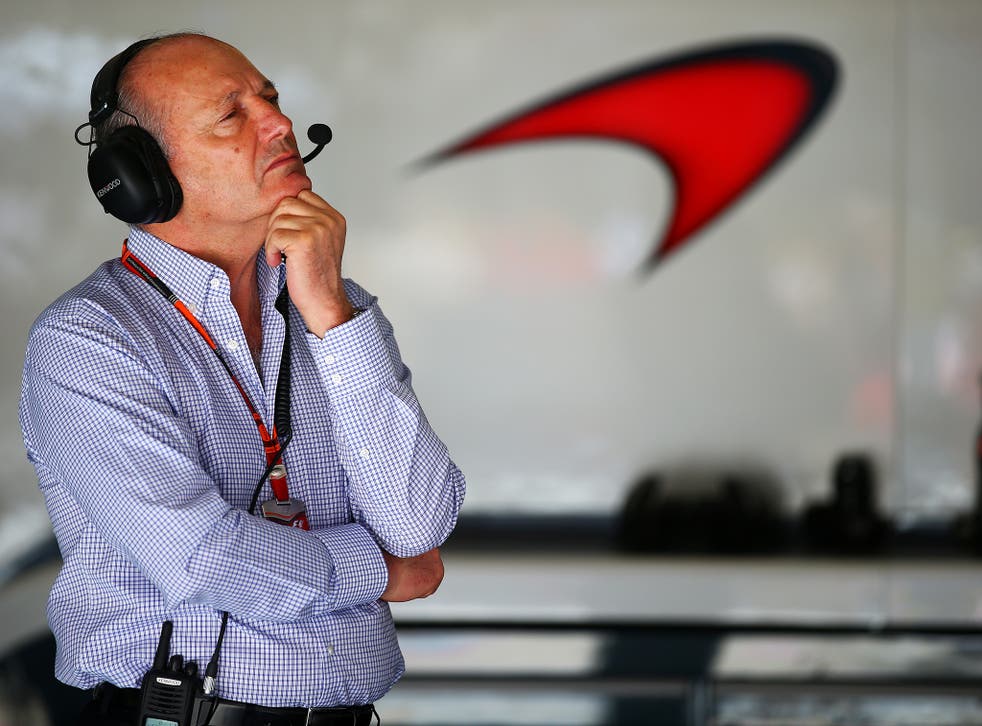 "The first thing I feel on the Monday morning after a race our cars haven't won is pain," Ron Dennis once memorably remarked. As the latest alliance between McLaren and Honda stumbles from one technical drama to the next, that pain has been starting earlier on many race weekends. The golden year of 1988, when McLaren Honda won 15 of that season's 16 races, it isn't.
On the face of it, Dennis's remark is arrogant, but while some teams would be happy with minor placings, McLaren are not. Going into this weekend's British Grand Prix, the nation's most successful team exist to win in a sport where survival is predicated on coming first and your enemies will consume you in a heartbeat. For McLaren, Mercedes, Ferrari and Red Bull, only victory is acceptable.
Things have been brutal at McLaren since 2013. By the end of a strong 2012 season, the team had won seven grands prix and been in the title fight. But Lewis Hamilton's success in the United States and then Jenson Button's end-of-season win in Brazil are McLaren's last victories.
Hamilton decamped for Mercedes at the end of the year, chief executive Martin Whitmarsh left suddenly in early 2014, obliged to carry the can for McLaren's downturn as Dennis came back to power, and last year the team's lengthy partnership with Mercedes ended as the legendary alliance of yore with Honda was rekindled for 2015. Much was made of the reunion of the two names that struck terror into rivals in the late 1980s and early 1990s, but so far the new deal has been fraught with embarrassing difficulties. Currently, McLaren are ninth out of the 10 teams with only four points.
Austrian Grand Prix 2015 in pictures

Show all 15
Just how tough is the situation? "Well, one of the things that surprises everybody except for myself, because I've seen it before, is that we have made steady and measurable progress," Dennis says. "And three or four races ago we knew that we would get to Canada and were going to at best plateau, because of the nature of the circuit.
"But virtually every step that we've taken has moved us forward as predicted by the team, and we're getting very good correlation with our calculations and our on-track performance, which is promising.
"Our commitment remains to win the world championship. That requires you to have laser focus on each aspect of the car, and everything has got to be the best of the best. Neither Honda nor ourselves expected the challenge to be quite as difficult as it has been. But they started with a clean piece of paper, not just in terms of the engine but also the research and development facilities, which are completely new.
"We know this is a very big challenge, but we are making good progress. Honda have made so many engines over the years that I know we will have one of the best, if not the best. But these hybrid powertrains with their energy-recovery systems are very, very complex and it doesn't matter who drives the cars, it takes you time to master it."
It does not help that McLaren Honda are up against teams effectively a year ahead of them on the learning curve. "Their mature engines are now relatively well developed because those manufacturers started in 2014 and were allowed to use five, and now in 2015 Honda has to do the same thing as they did but with one engine less. That to me is very unfair. The way to disincentivise any manufacturer is just to make a set of rules like we have."
That led to the ridiculous situation in Austria where Button and Fernando Alonso received penalties totalling 20 and 25 grid places apiece.
Dennis is also unhappy with the suggestions within F1's Strategy Group – made up of representatives of the leading teams, the FIA, Bernie Ecclestone's Formula One Management and CVC Capital Partners – that wind tunnels should be banned to cut costs. That's not surprising, since McLaren are about to invest $50m (£32m) in one at their new factory.
"I'm shocked at the somewhat cavalier nature of dialogue inside the Strategy Group," he admits, "especially as we are about to invest all this money. So when this committee decide what I can and can't have, that is absolutely one thing I am extremely vocal about, anything that's a rule or regulation that affects my ability to use the company's facilities to make us more competitive. That tends to be heavily supported by the have-nots. And again, frustrating.
"I've been involved in 17 world championships personally, and I think I understand what it takes to do it. And when you do participate in some of these Strategy Group meetings there is a phenomenal lack of experience in some of the teams. They bring forward things which I know have been tried not just once and failed but tried seven times and failed. But all you can do is voice your opinion at the appropriate time and in the appropriate forum.
"I get out of bed in the mornings feeling quite militant. The McLaren DNA is strong and I know very well our values. The people who decry the team just don't understand or have the roots we have. And it's so hard for people to get their minds round this statement, but right now we have one of the best grand prix teams that we've ever had. It's a cohesive, focused group.
"It's shouldering phenomenal pain, and in any situation like this there are people who will come close to cracking so everybody around them has to hold them up and say, 'Come on, we're going to do this'.
"At the same time you know as you're carrying this burden that you've just got to convince the sponsors, the investors, everybody you know, to believe in the team, because we are going to do it."
Register for free to continue reading
Registration is a free and easy way to support our truly independent journalism
By registering, you will also enjoy limited access to Premium articles, exclusive newsletters, commenting, and virtual events with our leading journalists
Already have an account? sign in
Join our new commenting forum
Join thought-provoking conversations, follow other Independent readers and see their replies