Spanish Grand Prix: Lewis Hamilton weary of Red Bull revival despite his imperious form
Hamilton has won three of the four races so far this season whereas Red Bull have only one podium finish between them
Ian Parkes
Wednesday 07 May 2014 15:43 Comments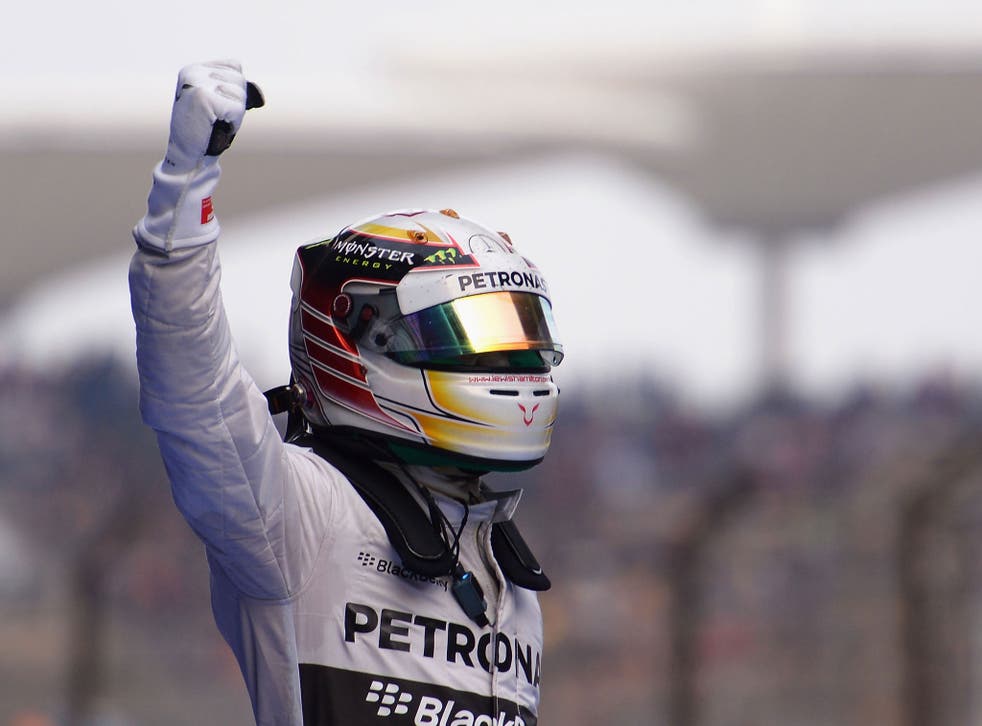 Lewis Hamilton has warned of a Red Bull revival in Spain, even though he feels he is at the peak of his career at present.
With the opening four long-haul races out of the way, and on the back of an additional week off in between events, Formula One resumes this weekend with the Spanish Grand Prix in Barcelona.
Traditionally, it is the race that sets the tone for the remainder of the season as every team will have bolted on major upgrades to their cars in an attempt to take a significant stride forward.
As reigning four-times champions, without doubt Red Bull will have spent the last fortnight throwing everything but the kitchen sink at their car in a bid to close the gap to a dominant Mercedes team.
Four straight pole positions, four successive victories and three consecutive one-twos have been the story of Mercedes' campaign to date.
In the drivers' standings, so far it has been a battle between Nico Rosberg and Hamilton, who are separated by four points, with nearest rival Fernando Alonso 31 points adrift.
As for the constructors', Mercedes are already 97 points clear of Red Bull, who have to make their move at the Circuit de Catalunya if they are to have any hope of making it five titles in a row.
As strong as Mercedes have been, Hamilton knows Red Bull have the ability to close the gap.
F1 Chinese Grand Prix - In Pictures

Show all 16
"So far, over the first four races, the car has been great," Hamilton said on the back of three successive wins for the first time in his F1 career.
"Now we head to Barcelona, which has always been a circuit where you can really test the car. It is a downforce-dominant track, so it will be good to see where we really stand.
"But I really do think the Red Bulls have as much downforce as us, maybe a little more, so we can still improve."
Hamilton, however, knows he could not be in better shape as he aims to become the first British driver since Jenson Button in 2009 - and only the second since Nigel Mansell in 1992 - to win four in a row.
"I just feel I'm at my best," Hamilton added.
"I'm very, very clear in my mind, and the procedure I'm going through is working very well, and I keep adding to it.
"As for the car, it's giving me an incredible feeling. I've never had a car like this, and a team like this able to give me that car. It's so unreal. It's hard to believe this is actually happening.
"When I look at what has gone on the past few years, the decision to come here (to Mercedes), the positive year I had last year and the exceptional start to this year... Wow! I'm blown away.
"I never thought for a moment it would be like this, although I knew on the engine side we would be strong because I could see the work that was going on, the facilities and the people.
"Of course, I thought the others would be closer on the engine front.
"With the car, when we tested at the first test it didn't feel good, and then at the second it didn't feel spectacular, but we were still quick and adjusting to the way the car is nowadays.
"Since then the car has been going from strength to strength at every race."
The only blemish has been an early mechanical failure in the season-opening race in Australia after starting on pole position.
That has cost Hamilton dear for, despite his run of three wins, he has been unable to overhaul Rosberg, who went on to triumph Down Under and who has been runner-up in the last three races.
"I can only really tell you at the end of the year whether I will rue what happened (in Australia)," Hamilton said.
"At the moment I'm glad I've closed the gap down, but Nico is still leading the championship.
"That shows how hard it is to get past, and that I have to keep on putting in performances like the one I had recently in China.
"After three great weekends in Malaysia, Bahrain and China, I'm obviously keen to get on to the next one and continue that positive momentum into the next leg of the season."
PA
Register for free to continue reading
Registration is a free and easy way to support our truly independent journalism
By registering, you will also enjoy limited access to Premium articles, exclusive newsletters, commenting, and virtual events with our leading journalists
Already have an account? sign in
Join our new commenting forum
Join thought-provoking conversations, follow other Independent readers and see their replies