Spanish Grand Prix: Nico Rosberg mulls clear-the-air talks with Lewis Hamilton as 'bitter' Ricciardo seeks answers
Hamilton feels the Mercedes team-mates' relationship is unchanged but an angry Rosberg admitted they may need to discuss the first-lap accident that took them out of the race
Jack de Menezes Comments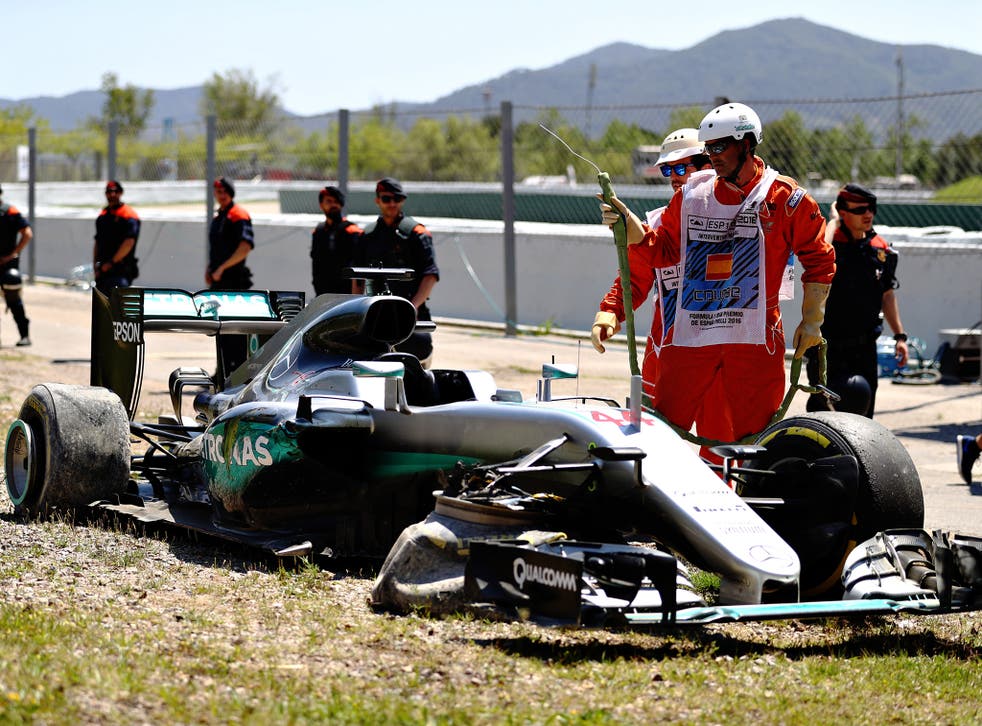 Nico Rosberg will decide if he feels clear-the-air talks are necessary with his Mercedes team-mate, Lewis Hamilton, after the pair took each other out of Sunday's Spanish Grand Prix, leaving the door open for Max Verstappen to clinch his first victory in his incredibly young Formula One career.
Both Rosberg and Hamilton blamed each other for the accident, which saw Rosberg slam the door shut on Hamilton heading into the turn-four hairpin after the reigning world champion had exited the corner at a much higher speed.
Rosberg has taken the lead with a brilliant sweeping move round the outside of Hamilton as they turned into the first corner, but Mercedes confirmed that Rosberg's engine had suffered a "de-rating" – essentially losing maximum power – due to being in the wrong mode as he exited turn three. That allowed Hamilton to close rapidly and launch his car to the inside of the corner, only for Rosberg to shut the door by moving to the edge of the track, forcing Hamilton onto the grass where he lost control and careered into his team-mate.
While Hamilton accepted he had let the team down, he refused to take the blame for the accident when he eventually appeared before the media after a long visit to the race stewards - who elected not to punish Hamilton or Rosberg as "the convergence of events led neither driver to be wholly or predominantly at fault".
"Firstly what's most important is I'm just gutted for the team. There's so many people in this team that work hard for us to be here and we had a chance of getting great points today and on the track we lost 43 points for them, so when I stopped that's all I could think of," he told Channel 4.
"I want them to know I'm deeply sorry for being a part of that and not bringing the points home for them, and I'll do everything I can in the upcoming races to make sure it doesn't happen again."
Spanish Grand Prix - in pictures

Show all 15
Asked if he would do anything differently, Hamilton answered: "I'm a racer, and I'm paid to race and that's my job. There was a small gap on the left and a bigger gap on the right and the natural thing for a racing driver is to go for the right one.
"Nico was in the wrong engine mode, he de-rated so I was 17kph faster at that point and so I as catching him and I was like 'I've got to go one way or another' and in a split-second decision I chose to go to the bigger gap and I got my wheel and my wing alongside within the white line and then I had to really avoid him."
Hamilton added that the accident doesn't change his relationship with Rosberg, but the championship leader hinted that he does not feel the same way.
"That is something I need to think about in the days to come," said Rosberg. "I can't tell you now as I am extremely gutted.
"It is very tough because it was my race to win. I am not just gutted for myself but I am gutted for everybody because we are one team and we are together in this.
"I know how much they work for these two cars and for us both to end up in the gravel trap is the worst possible thing."
The first-lap melee between the two championship rival set the grand prix up for a fascinating battle between Red Bull and Ferrari, with both teams electing to split their drivers on two and three-stop strategies. While the move allowed Red Bull to keep Verstappen ahead of Ferrari's Kimi Raikkonen, the move to switch Daniel Ricciardo to a three-stop strategy meant he needed to pass three drivers in order to win the race, having been leading at the time of the decision.
Ricciardo voiced a clear displeasure after the race at what he felt was a costly error, and his race was hindered further when he suffered a left-rear puncture two laps from the chequered flag, though he was able to hold on to fourth place.
"It's not hard to see Max on the podium but it's hard for me not to be on the podium, that's the biggest disappointment," Ricciardo said after the race.
"It didn't make sense. It's frustrating, I think we just threw the win away. "Sure, I'm bitter right now. Not with Max, not at all, just bitter at the situation."
Red Bull team principal Christian Horner was delighted after the race after witnessing Verstappen become the youngest grand prix winner of all-time in his first race for the team, though he did stress that Ricciardo could have been on the top step of the podium had they not been faced with responding to Sebastian Vettel's challenge.
"At that point in the race it was far from obvious which was the quicker route to go and we felt Vettel, as the biggest opponent, we would take him on with Ricciardo," Horner said.
However, had Red Bull made the decision to pit Ricciardo for his third and final planned stop within a lap of Vettel, he may have exited the pits in front of his former team-mate and had a chance of keeping the Ferrari behind. Instead, Red Bull waited for six laps before bringing the Australian in, and the wait allowed Vettel to utilise the undercut on the fresh tyres and move into third place behind Verstappen and Raikkonen.
Register for free to continue reading
Registration is a free and easy way to support our truly independent journalism
By registering, you will also enjoy limited access to Premium articles, exclusive newsletters, commenting, and virtual events with our leading journalists
Already have an account? sign in
Register for free to continue reading
Registration is a free and easy way to support our truly independent journalism
By registering, you will also enjoy limited access to Premium articles, exclusive newsletters, commenting, and virtual events with our leading journalists
Already have an account? sign in
Join our new commenting forum
Join thought-provoking conversations, follow other Independent readers and see their replies