The brains behind Brawn
Once a low-profile master of the pit lane, Ross Brawn is suddenly the team boss all the others want to catch. He tells David Tremayne how he left his rivals standing – and how he's learning to live with the consequences
Saturday 18 April 2009 00:00 BST
Comments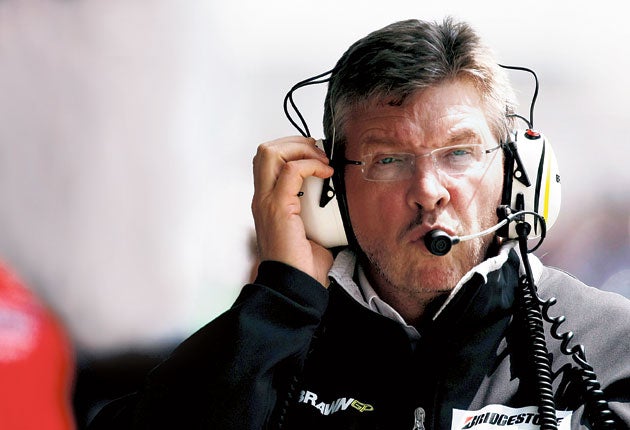 Flavio Briatore is among the critics. "It would be a tragedy if the world championship is won by a car driven by somebody who's slow as a roadside milepost, or a retired crock," said Renault's flamboyant team principal, disparaging the talents of Jenson Button and Rubens Barrichello recently.
But a third person would have also felt the graze of Briatore's barbed words: Ross Brawn. For many years a technician of great influence but low profile, Brawn masterminded the mid-Nineties success of Briatore's Benetton team. But not for nothing is Formula One known as "the Piranha Club", and the dramatic success of the Brawn team as it emerges, phoenix-like, from the ashes of Honda, has bruised many powerful egos.
Only last week, Ross Brawn had to listen to Ferrari's attacks in court. The spat surrounding Brawn's diffuser – an aerodynamic device at the back of the car – may sound dry, but it has revealed great depths about the characters involved with the sport. Brawn has used a loophole in the regulations to use a bigger, more effective diffuser. Ferrari interpreted the regulations differently.
The Scuderia's QC, Nigel Tozzi, pleading the case for banning the diffusers on Brawn's car, as well as the cars of Toyota and Williams, argued not only that Brawn had failed to act "within the regulations", but that "only a person of supreme arrogance would think he is right when so many of his esteemed colleagues would disagree". Personal? You bet.
So as the rivals vie for qualifying grid positions in Shanghai, does Brawn, the mild-mannered engineer who was also the architect of Michael Schumacher's tremendous run of success at Ferrari, feel vindicated by the decision handed down by five appeal judges, that Brawn's design is legal? "I don't think of it that way," he says equably. "It's unfortunate that this argument reached the extent that it did. We all need to learn how to handle these things. I can see it from both sides, but I really feel we have just got to accept the arbitrators' decision and get on with it. It's a bit like a football match and the referee's decision. Sometimes it goes with you, sometimes it doesn't."
He admits, though, he can understand the frustration of some team bosses, as they now face the expense of redesigning their own cars so they can compete. "But when we came up with the concept, we didn't think it was radical. We thought it was clever, but it wasn't a 'eureka!' moment. It was no surprise to us that other teams had it at the beginning of the season. In fact, the surprise was that there were not more."
He is also magnanimous about Tozzi's attack on his character. "I never took it personally, but my wife did! If it had been Stefano Domenicali [Ferrari's team principal] saying it, I would have been upset. But I was quite strong in my own presentation. Tozzi is just a hired gun and knows how it works, though I feel his style of argument has probably had its day. The mood was moving in an acrimonious direction, but if it was intended to put me off, it had the opposite effect. As soon as he started with the personal remarks I assumed he was struggling with the rest of his case."
Brawn has been around racing long enough to appreciate that what goes around comes around, and that today's heroes can be tomorrow's backmarkers. As a schoolboy in Manchester, his interest in engineering was fired when his father Ernie took him slot-car racing. Spells with teams such as Force, Williams and Arrows led him to Benetton and then to Ferrari, before he ended a year's sabbatical in 2007 by moving to technical directorship of the struggling Honda team. When that team folded last December, part of the Japanese car manufacturer's response to the global recession, Brawn, who lives near Oxford with his wife and daughter, found team ownership thrust upon him.
"It happened by happy accident," he recalls. "Being a team owner was not an ambition – it just evolved as the only solution to the Honda problem." He is also modest enough to admit he is as taken aback as anyone else by his nascent team's extraordinary success. "We have been very pleasantly surprised that we've been as competitive as we have."
Last season, as McLaren and Ferrari were hell-bent on their fight for the world championship, Honda was so far off the pace, the team decided to focus on this season's car – the one that team Brawn inherited. "We had the opportunity to put all our resources into the new car and to have more time to put into it. We had 15 months with the full effort of 700 people in the UK, plus more in Japan. They [McLaren and Ferrari] were in a nightmare situation where neither could give up their fight for the title, but they were doing that at a time when the regulations were going to change for 2009, so all the development they were still doing right to the end of the season took time and could not be rolled into a new car. Everything they did at the end had to be thrown into the bin.
"Now we have new regulations and more difficult constraints, such as a restriction on testing. In the future, it is quite possible that a team will have to accept that it might be able to fight for the world championship one year but not in the following season because of this."
Back then Honda, knowing the limitations of their engines, chose to work on aerodynamics to try to make up the performance gap. Now, Brawn has the same Mercedes engine as is found in Lewis Hamilton's car – Mercedes' power, plus Honda's enhanced aerodynamics, would seem to be a winning combination.
The key question is whether Brawn will still be the dominant team when it really matters, at the end of the season. "All the numbers stack up well for us. There is no reason why we shouldn't be there at the end of the season, but the other teams will develop their cars quickly."
When one Brawn employee learnt of the Court of Appeal's decision they said to a rival who planned their own version of the trick diffuser: "Well that should find you three-tenths of a second, then you'll just have to find the other eight-tenths." Brawn smiles as I tell him that. "That could be true," he concedes. "We have probably been working six to nine months longer on our car [left] and they are trying to catch up. We are working very hard to stay ahead. We have a useful upgrade coming for Barcelona. But it will be a tough challenge. We have 450 people trying to do what we used to do with 700," he says, referring to the redundancies the team had to make as Honda became Brawn, "but that's still more than Honda had in 2004, their last good season."
The main challenge is to manage the budget, and Brawn have thus far been very canny. "We don't carry a lot of spares," he reveals. "We might become exposed if we experience a particular chain of events. We don't have a spare car right now, for example, and if you look at it statistically, it wouldn't be good if we lost the world championship because of that. But I'd rather we spent the budget in the wind tunnel. Safety is paramount, of course, but our aero programme has been aggressive. That's more important to us than the number of sets of wings or bodywork we take to a grand prix. And we only take 55 people to a race now; in the past it would be 100. We prefer to keep our funds where they need to be to do the most work to make the car go faster."
Brawn recently attracted funding from Virgin and, this weekend, MIG Investments. "Anything we pull in this year," Brawn says, "will help us into 2010, too."
Not even Mercedes-Benz won their first two races, and it is just possible that Brawn could create another bit of history by winning the world championship at their first attempt.
"We didn't start out with such thoughts," Brawn says quietly, not sounding at all arrogant. "Normally you start the year, try to win as many races as you can, and just see where it goes. If we react the right way, we have a chance. We've done the painful restructuring, so who knows? I told the team recently that we are now as good as everyone else in the business, so why shouldn't it be us?"
Eat your heart out, Flavio, et al.
What diffusers do
A diffuser is located at the rear of the floor of the car, between the back wheels. It is crucial to aerodynamics, channelling air cleanly under and out of the rear of the car and creating maximum downforce. Small changes make a big difference to grip and speed.
My other life
"Fishing has been a lifelong passion, but I last fished last June, it's been so busy. In 2007 I spent my sabbatical fishing round the world, it was one of the things that I wanted to do before I got too old, but even that didn't sate my appetite. I went to Russia, New Zealand, Mexico... I had always wanted to catch a permit, and I finally got one in the Seychelles. When I was in Russia we had great adventures travelling in a military helicopter.
The authorities decided to confiscate our provisions, so for a while we just lived off the salmon we caught, and beetroot!"
Join our commenting forum
Join thought-provoking conversations, follow other Independent readers and see their replies