Vitaly Petrov has point to prove in Formula One
Ian Parkes
Monday 12 March 2012 12:49 Comments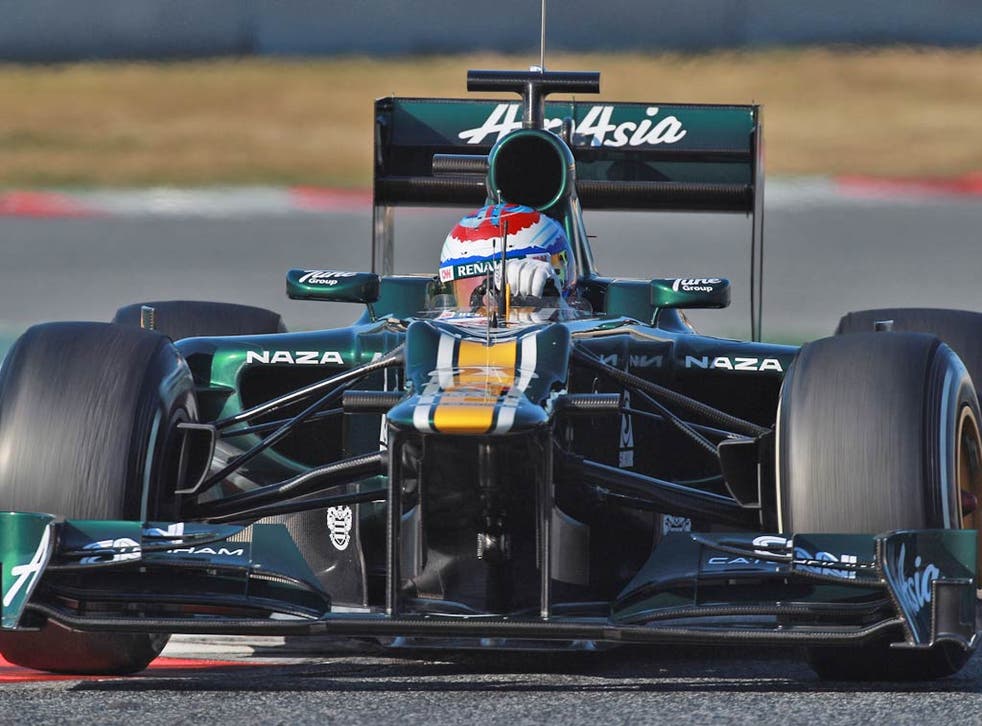 Vitaly Petrov heads into a new phase of his Formula One career this weekend with a point to prove.
Petrov appeared to be on Formula One's scrapheap at the end of last season after being ditched by Renault - now Lotus from this campaign - following two years in the sport.
Not even the welter of Russian sponsors he introduced to the team on the back of his arrival could spare him from the axe.
In the eyes of team owner Gerard Lopez and team principal Eric Boullier, his results were simply not good enough, leading to a parting of the ways.
With all seats taken heading into pre-season testing, the 27-year-old seemed destined to look on from the sidelines this campaign.
Caterham, however, were manoeuvring behind the scenes to replace Jarno Trulli with Petrov, a feat they achieved a few weeks ago.
Although given a shock reprieve, Petrov believes that after being unfairly dumped by Renault, he has a chance to show Boullier and Lopez they were wrong to get rid of him.
"It was a difficult winter because I was told quite late they no longer wanted me because I was quite sure before they had said they did," Petrov told Press Association Sport.
"But my head never dropped. I always thought something would happen. I was quite clear in my mind to prepare for this year.
"Obviously, I am grateful to Caterham helping me"
Petrov has naturally disputed strong accusations from Lopez who has suggested the Russian felt his seat was safe with the sponsors from his homeland on board.
Lopez has also claimed that in losing his seat at Renault, Petrov would now raise his game.
"No, but it has made me stronger inside," added Petrov ahead of this weekend's season-opening grand prix in Australia.
"And it's not right what he said about the sponsors. I thought he (Lopez) was quite happy with my driving, that he knew I had speed.
"But I can't look back. I know what I did well and not so well, and I have shown my career in Formula One is not finished.
"I now want to prove to a lot of people I am not just a driver, but a good driver."
Petrov appreciates, however, life at Caterham - who are yet to score a point in F1 - will not be easy as they aim to propel themselves towards midfield.
Far from contesting for points, as was the case during his two years with Renault, Petrov's brief will be to help the team grow and develop and hopefully break that points duck.
"I've two years of experience that I bring to this team, and they have been in Formula One for two years so they know what they are doing," said Petrov.
"We don't have to focus on trying to collect the first point this year.
"We just have to focus on working the same way as we have done the past two years, to continue to improve the car, like they have with KERS, moving to the new factory.
"This team is getting bigger and bigger, they have a big future, and they have to continue to work the same way towards that.
"Of course, I know how it feels to want to get that first point, and for this team it must feel the same.
"So if I could bring them one point I would be more than happy."
PA
Register for free to continue reading
Registration is a free and easy way to support our truly independent journalism
By registering, you will also enjoy limited access to Premium articles, exclusive newsletters, commenting, and virtual events with our leading journalists
Already have an account? sign in
Join our new commenting forum
Join thought-provoking conversations, follow other Independent readers and see their replies