WEC 2016: Aston Martin and Dunlop hope new partnership is the secret behind Le Mans 24 Hours success
A new technical partnership for 2016 sees Aston Martin run on Dunlop tyres for the WEC, Le Mans 24 Hours and Nurburgring 24 Hours
Jack de Menezes
Monday 25 April 2016 16:23 Comments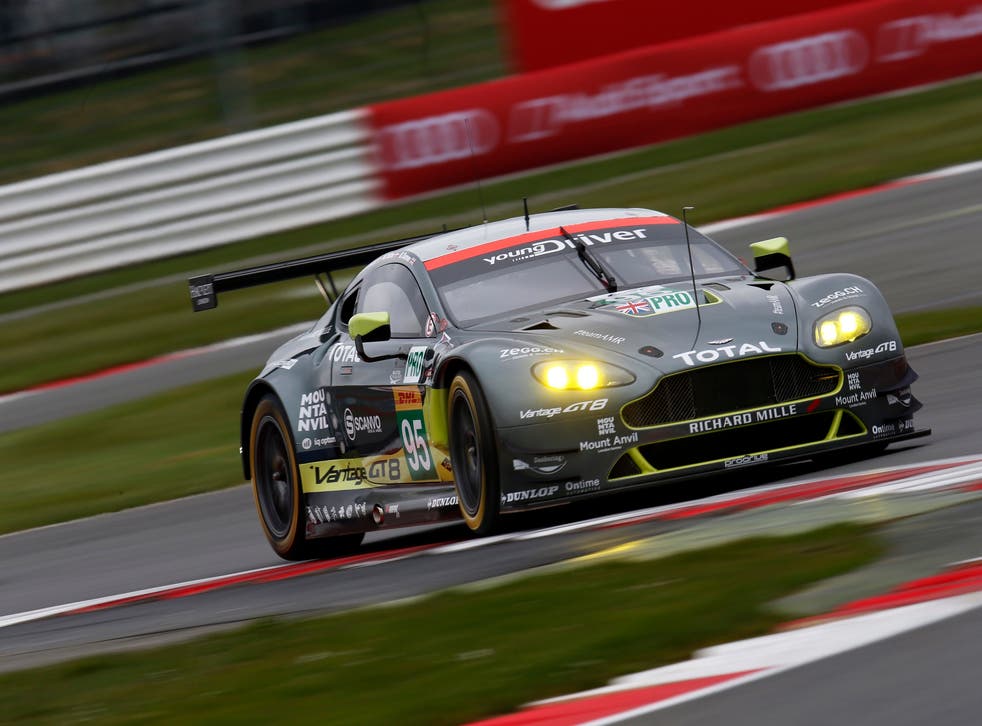 The World Endurance Championship kicked off the 2016 season at Silverstone in dramatic six-hour race that saw close battles throughout the field, multiple lead changes in all four classes and high-speed collisions – one of which took out the race-leading Porsche 919 that shook up the field.
The retirements at the top of the field ensured that Rebellion Racing picked up a maiden podium finish in WEC, with all three entrants in the LMP1 Private Team category choosing to run Dunlop tyres to give the supplier a surprise overall podium to celebrate.
However, 2016 sees an exciting technical partnership between Dunlop and Aston Martin take centre stage. The iconic British manufacturer finished 2015 testing on Dunlop tyres and decided to make the switch from Michelin due to the results they witnessed, with all three Aston Martin V8 Vantages running in the WEC this season using Dunlop tyres.
The technical partnership between the two sees them work much closer together in a bid to maximise success on the track – something that will come in the form of the Le Mans 24 Hours and Nurburgring 24 Hours as well as the WEC season. Dunlop bring around 1,500 tyres to each WEC round, raising that number to 2,500 when the support race programme includes the European Le Mans Series such as in Silverstone and a whopping 5,000 for the showcase race at the Circuit de la Sarthe.
Speaking to the Independent, director of operations for Dunlop Motorsport Jean-Felix Bazelin explained how each individual manufacturer – be it car of tyre – benefits from sharing what is normally confidential information in order to make the best products for each car.
"For years probably and still in some instances you had car manufacturers – or chassis manufacturers in pure racing manufacturers such as prototypes – and tyre manufacturers," says Bazelin. "Tyre manufacturers are the best engineers in tyres and chassis manufacturers are the best engineers in automotive and racing, and our thoughts came to a conclusion seven or eight years ago is that if the tyre engineers know a bit about the car and the car engineers know a bit about what the tyre is then it would be better.
"We have experienced that in a previous partnership with another car manufacturer and it was really, really exceptional because you can take the best car in the world, but if you don't have the best tyres – even if you have the best tyres – if they don't match, it won't work.
"Take the best food in the world and, as I'm French, take the best cook in the world and he makes you the best dish and you drink Coca-Cola with that. It will not work. The Coca-Cola in itself is good and the dish will be fantastic. If you take a McDonald's sandwich and a Château wine – a 1982 which is the best wine – it will not work."
But not everything comes from the car and tyre aspects, technology still has a huge part to play as it does so with everything in the 21st Century. Dunlop are just one of many tyre suppliers who are utilising digital modelling to perfect tyres before they are made.
"It was a long process of training our engineers first to teach them what their product will do on the car, how it will interact on the car and with the track and driver and a big long discussion to agree with our partner that we would start to unveil some of our secrets, and the tyre business is a very secret business," continues Bazelin.
"I can tell you that this has given us excellent results, this is the type of partnership we want with Aston Martin, it's at a very early stage but we are agreed on that philosophy of 'yes we will give you a lot of confidential data and we will need from you a lot of confidential data' and that comes also from the race of computer science because now with computers we are able to do modelling.
"The modelling in itself is nothing if it doesn't represent what will happen in reality and if you want to have a good model then there are a lot of parameters and not only tyre parameters, you need the car parameters."
He adds: "The models are really coming close from one to the other, and when we put the tyre on the car on the track, generally it works quite well."
The presence of Aston Martin and Dunlop is a given in the WEC paddock, but they can also be spotted at each other's base throughout the weekend, such is the close proximity that the technical partnership provides. Before the six-hour race, Aston Martin Dunlop engineer Matt Butler can be spotted at the Dunlop tyre trucks in order to ensure everything goes off during the race smoothly, while he is also the first to get his hands on the tyres as soon as they come off each Vantage as they enter the pits – his tyre gauge revealing that they are still at incredibly high temperatures when they are taken back into the garage.
But the communication continues away from each race weekend. In fact, every day somebody from Dunlop is in contact with the British marque in order to try and improve performance and reliability on both sides.
Bazelin adds: "We live with them. When we signed the contract with Aston Martin, someone asked their technical engineer Dan [Sayers] 'how often are you working together?' He said 'In the last three months since we started to work together, I've spent more time and exchanged more emails with Michael, our service engineer, than anyone in the company'.
"It's all about really straightforward honest exchange. You can't hide anything. If you hide something from your partner you are dead because that means you are hiding either one of your weaknesses or you don't want to speak of one of their weaknesses and it's done. We are at the level where any weaknesses will show up immediately. Even if you do that you are not guaranteed that will work. So it's very much all the time because that's nice on paper, but in theory it's to practice and to learn from each other."
Aston Martin made a solid start to their GTE Pro and GTE Am campaigns, taking third and second results for the No 95 and No 98 cars respectively. However, they will hope to go one better and convert a podium finish into class victory when they compete in the Six Hours of Spa-Francorchamps, the final race before June's Le Mans 24 Hours.
Register for free to continue reading
Registration is a free and easy way to support our truly independent journalism
By registering, you will also enjoy limited access to Premium articles, exclusive newsletters, commenting, and virtual events with our leading journalists
Already have an account? sign in
Join our new commenting forum
Join thought-provoking conversations, follow other Independent readers and see their replies