NFL free agency 2021: Kenny Golladay, Juju Smith-Schuster and the best players available
With the salary cap slashed due the Covid-19 pandemic, teams will look to navigate the free agent market to plug gaps ahead of the 2021 season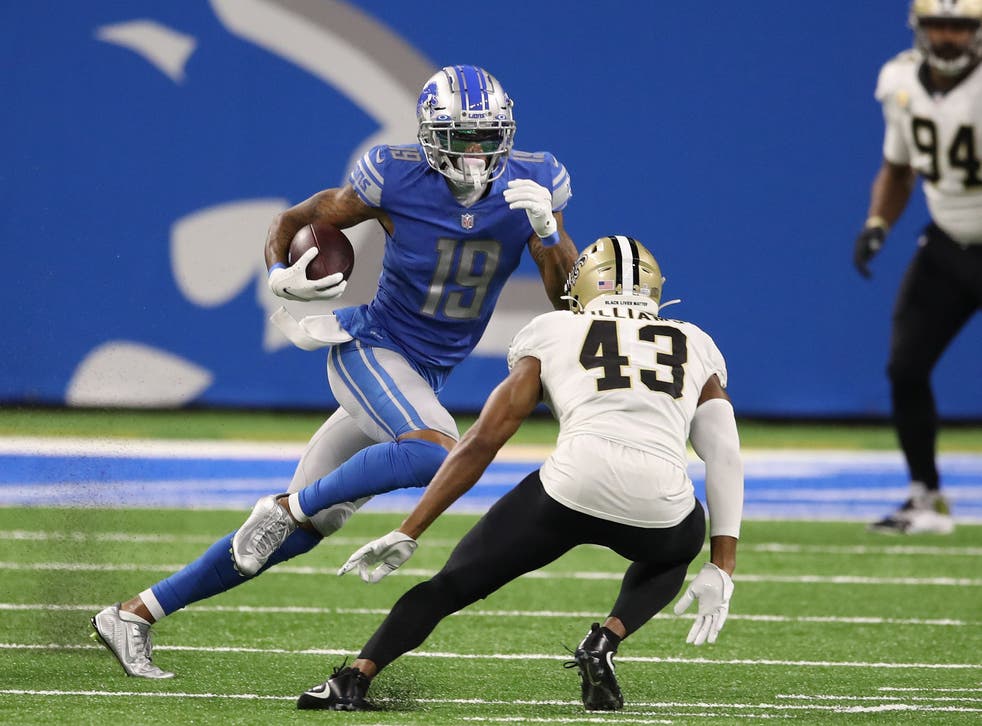 Nothing is guaranteed when it comes to free agency in the NFL, and 2021 is set to be no different.
For just the second time since 1994, the salary cap has fallen from the previous year.
Going into 2020, the salary cap was $198.2 million. For 2021, this has fallen to just $182.5 million and that difference of $16 million will be crucial to every team as they assemble their team this off-season.
Teams have been forced to release key players to get expensive contracts off their books ahead of March 17th. The Kansas City Chiefs let go of perennial All-Pro tackle Mitchell Schwartz while the New Orleans Saints released a number of productive players, including wide receiver Emmanuel Sanders. Trent Williams is staying in San Francisco after penning a monster contract to become the highest paid offensive lineman in NFL history, committing to a six-year deal worth $138 million.
There are plenty of quality veterans available, but franchises have less money to spend on them. Teams must be smart in 2021, and many will hope to pick up a bargain or two to become a contender for Super Bowl LVI.
With free agency making an unofficial start on Monday, many of the biggest names were claimed as Shaquil Barrett signed back with the Tampa Bay Buccaneers while the New England Patriots made a big splash in a bid to rebound from their losing record last season, as they signed Jonnu Smith, Matt Judon and Hunter Henry amongst others.
READ MORE:
EXCLUSIVE INTERVIEW: 'Walk through that door. You belong': Meet Sarah Thomas, the NFL's pioneering female official
Headlines will be made as talent is signed and traded with the official start to the league season. Who are the top players still available in 2021?
Kenny Golladay, WR
Across 47 matches in his career, Kenny Golladay has averaged 16.8 yards per catch and is one of the best at creating vertical separation thanks to his athleticism. With other top receivers – Chris Godwin and Allen Robinson – getting tagged by their respective franchises, Golladay will be able to command a more lucrative deal.
Plenty of teams need an offensive weapon like Golladay. TheNew England Patriots were touted as a potential landing spot, but they appear to have spent their money elsewhere in a frenetic splurge on Monday and Tuesday. However, with Zach Ertz potentially on his way out of Philadelphia, the Eagles would make sense for the 27-year-old to help new starting quarterback Jalen Hurts.
Juju Smith-Schuster, WR
The 24-year-old has struggled since Antonio Brown left, failing to perform as the number one wideout – he was also overshadowed by Chase Claypool and Diontae Johnson last term. After terrible quarterback play in 2019, Smith-Schuster performed well in 2020 as he put up 831 yards and nine touchdowns and he is a versatile receiver.
Smith-Schuster could land in the AFC East, but will he go to the Jets or the Dolphins? Both need a quality option and have money to spend.
Haason Reddick, LB
Reddick was elite down the stretch, and finished the season with 12.5 sacks – tied for fourth in the NFL – with five of those coming against the New York Giants. The 26-year-old is a hybrid linebacker and he could be a dream piece to play with for defensive coordinators.
The Indianapolis Colts are in the market for a linebacker presence to pair with Darius Leonard after Justin Houston's contract ran out. The Giants could also be interested in Reddick after witnessing first-hand what the former-Cardinal can do.
Anthony Harris, S
After a stunning in 2019, Harris had a tumultuous 2020 campaign. The safety struggled as the Vikings employed younger and more inexperienced defensive backs, and Harris was given more responsibility.
However, he is a reliable safety that can make key plays. The Las Vegas Raiders could do with that kind of consistent playmaker.
Honourable mentions
Jayon Brown, LB
Coming off a season-ending elbow injury, Jayon Brown should have a solid market due to his age. The 26-year-old can affect the opposition as he can blitz while also being effective in coverage, so Cleveland or Detroit could be destinations for Brown.
Will Fuller, WR
Fuller was having a career-best season, but his 2020 campaign ended prematurely after he was suspended for violating the league's performance-enhancing drugs policy. The Miami Dolphins could do with someone like Fuller, who is a big-play target and can stretch the field.
Eric Fisher, OT
The first pick in the 2013 NFL Draft, Fisher has 113 career starts and is a two-time Pro Bowler. However, he is coming off a torn Achilles injury sustained in the AFC Championship Game win over Buffalo – but there will still be a market for him.
Jadeveon Clowney, DE
Clowney's stock has plummeted since failing to muster even one sack in eight games with the Titans before having season-ending knee surgery. After losing Judon to the Patriots, the Ravens could go in for Clowney if the price is right.
Richard Sherman, CB
At 32, Sherman only played five matches in 2020 due to injury so expect him to receive a short, incentive-based deal. The Saints, where his former coach in Seattle, Kris Richard, currently works, and the Jets are among those interested.
Register for free to continue reading
Registration is a free and easy way to support our truly independent journalism
By registering, you will also enjoy limited access to Premium articles, exclusive newsletters, commenting, and virtual events with our leading journalists
Already have an account? sign in
Register for free to continue reading
Registration is a free and easy way to support our truly independent journalism
By registering, you will also enjoy limited access to Premium articles, exclusive newsletters, commenting, and virtual events with our leading journalists
Already have an account? sign in
Join our new commenting forum
Join thought-provoking conversations, follow other Independent readers and see their replies