Mock draft 1.0: Pat Mahomes the first QB, defensive buzz for the Dallas Cowboys and all 32 first-round picks
With three weeks to go, it's time to start getting excited about the draft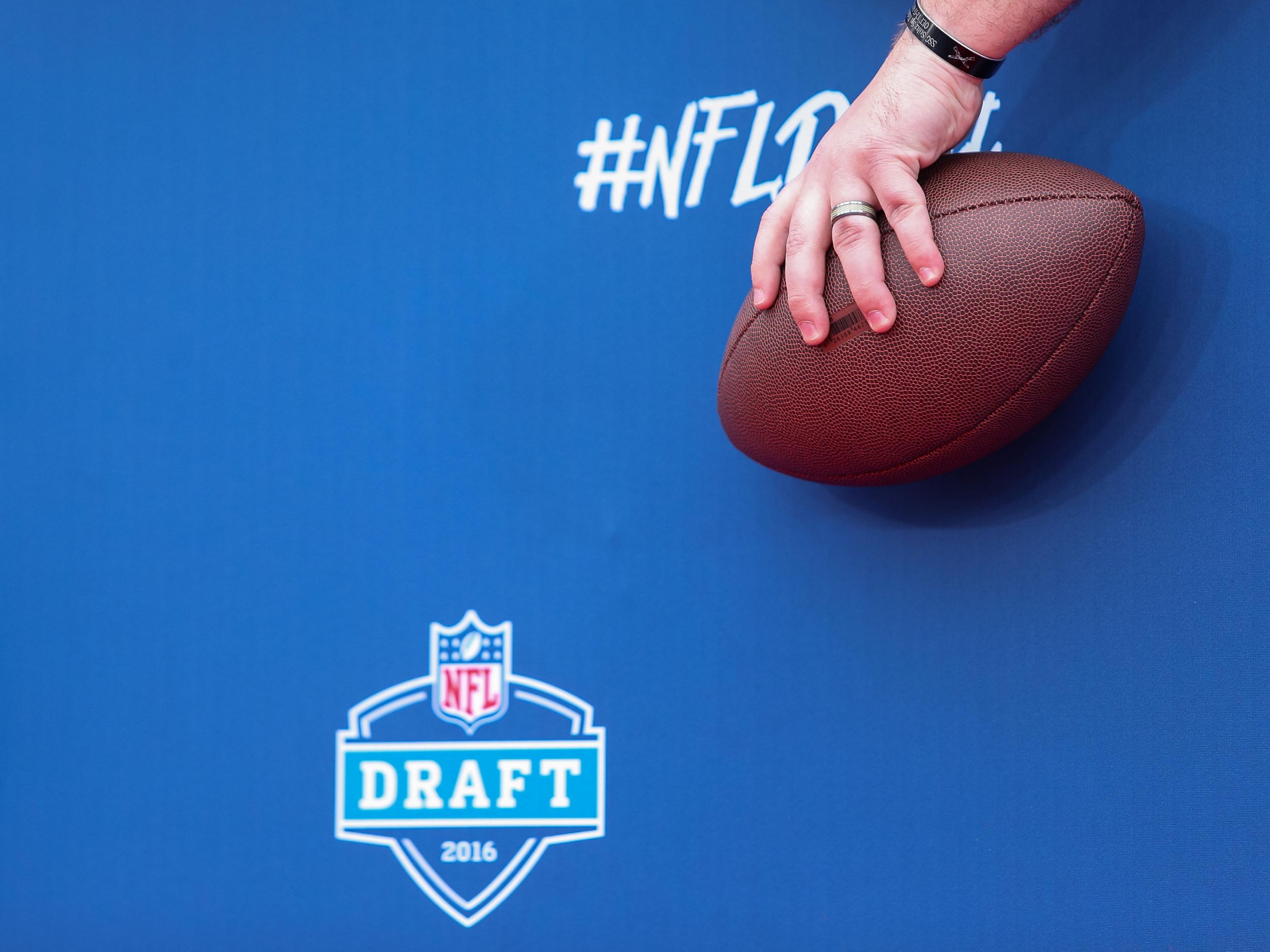 It's draft season, which means hundreds of college football's biggest and best will be heading for the NFL but, as of yet, none of them have a home.
By the end of the month, each of these freakishly-talented athletes will be plucked from the (relative) obscurity of unpaid ball and thrown into the glitzy multi-millions of the National Football League and their lives will never be the same.
But who will end up where? Who trades up? Who moves back to snaffle some mid-round sleepers? Who is going to take the chance on one of these quarterbacks?
Well we don't know, but we can have as educated a guess as most people out there and, after much deliberation, here is the first draft of the Independent Sport mock draft:
Pick 1: Cleveland Browns - Myles Garrett DE (Texas A&M)
Cleveland have two top-12 selections among their enviable glut of picks, but unlike last year they won't be trading out of an early position and instead will grab the best player of the 2017 draft.
Edge-rusher Garrett is the sort of player who can change the face of this defense, and will make opponents gameplan for his presence.
Young talent like Danny Shelton, Emmanuel Ogbah and Carl Nassib are already on board, and should all benefit from the presence of Garrett.
Pick 2: San Francisco 49ers - Jonathan Allen (Alabama)
The 49ers sound like they will make every effort to trade down, but may find it tricky in a year where there aren't any top-level quarterbacks and the positions with early first-round talent are also very deep.
If they stay put then it could feasibly be any of the top safeties, a cornerback like Marshon Lattimore or, should Kyle Shanahan fall in love, a quarterback.
With question marks disappearing over Jonathan Allen's shoulder, however, it would be no surprise to see him taken off the board in the top five but it may not be the 49ers, who sound keen to get out of this spot and acquire some more mid-round picks.
Pick 3: Chicago Bears - Marshon Lattimore CB (Ohio St)
The Bears would have loved to sort their quarterback riddle in the draft, but Ryan Pace is obviously not enamoured with any of the 2017 options and instead settled on an easy-exit free agent deal for Mike Glennon.
Much of their success depends on him, of course, but also turning a promising defense into a top-10 or top-5 unit.
Jamal Adams or Malik Hooker could help with that, and even after they added defensive backs in free agency they could still opt to draft either.
Cornerbacks aren't easy to come by, however, so the skills of Lattimore and then a later-round pick could fix their secondary issues.
Pick 4: Jacksonville Jaguars - Leonard Fournette RB (LSU)
One of the most talked-about running backs to come out in years, Fournette's bulldozing style would take the pressure off under-fire signal-called Blake Bortles and represent an enormous upgrade on Chris Ivory.
By drawing defenders to the box, Fournette would make things easier for Bortles and his stellar supporting cast to get the offense going.
After tooling up their defensive unit in free agency and the last two drafts, it is now time for the Jags to progress.
Pick 5: Tennessee Titans - Mike Williams WR (Clemson)
The Titans should take anyone here who could help their franchise QB, Marcus Mariota.
It could easily be Corey Davis or John Ross, although fifth overall sounds a bit rich for the former and they may try to move back and accrue more picks.
That said, Williams will be standing out and if you are in love with his game and ability to win at the catch point then the Clemson Tiger would become a perfect weapon for Mariota.
Pick 6: New York Jets - Jamal Adams S (LSU)
Barring a trade, this is the first position you'd realistically expect a quarterback to be taken.
Reaching for one of this year's crop would be very Jetsy, after drafting the inept Christian Hackenberg in the second round 12 months ago.
But you have to hope that, despite the hot air, GM Mike Maccagnan realises this team is in a full-blown rebuild and must go with the best player available - in this case, one of the best safeties to come out in years.
Pick 7: Los Angeles Chargers - Malik Hooker S (Ohio St)
The Chargers should never have let Eric Weddle depart and he has proved that with his performances in Baltimore.
They can remedy that ahead of their first season in LA by drafting Malik Hooker, an incredible athlete who can team up with their talented cornerback group to make a formidable secondary.
Pick 8: Carolina Panthers - Solomon Thomas DE (Stanford)
Carolina are a candidate to move up and take Solomon Thomas, as they are with Leonard Fournette.
It would take a franchise-altering deal to get both and if Dave Gettleman can sit tight here and get the edge-rush help he needs after Kony Ealy's departure, then it will still improve their roster.
Taking a running back later, given the strength of this class, should tool them up further.
Pick 9 - Cincinnati Bengals - Cam Robinson OT (Alabama)
Having seen the talent drain on their roster continue for a second successive off-season, the Bengals have a lot to do.
First and foremost they must address their offensive line deficiencies that have been exacerbated by the departures of Pro Bowl-level talents Kevin Zeitler and Andrew Whitworth.
Ryan Ramczyk of Wisconsin is a possibility, so is Garrett Bolles, but Cam Robinson is expected by most analysts to edge him out and be the first offensive lineman taken.
Pick 10: Buffalo Bills - Corey Davis WR (Western Michigan)
If they had an eye on their cap situation, they would look to O.J. Howard as a way to improve their receiving options and dump Charles Clay's hideous contract.
There's a chance they could go quarterback, with hapless GM Doug Whaley quite clearly not wedded to Tyrod Taylor despite the off-season's entente and Deshone Kizer an intriguing prospect for them.
But after Robert Woods' departure and with Sammy Watkins unable to stay on the field the most pressing issue is pass-catching numbers and Corey Davis would be a great fit.
Pick 11: New Orleans Saints - Christian McCaffrey RB (Stanford)
When the Saints traded away Brandin Cooks they admitted it was because they needed to improve their defensive unit and make the most of the minute crack left in Drew Brees' Super Bowl window.
But McCaffrey is a rare talent that Sean Payton would love to work with and one that certainly won't be around when they pick again at 32.
It could still be an edge rusher like Tak McKinley but their secondary is also in dire need. It will all come down to what Mickey Loomis has time to look at when he's not watching the Pelicans.
Pick 12: Cleveland Browns - O.J. Howard TE (Alabama)
This tight end class is stacked and O.J. Howard is the best of them.
Questions remain over why Alabama used him so sparingly but he has ticked every other box during the draft process and this pick would add a top-tier receiving option to the Browns' ranks for the next five seasons at least.
While Sashi Brown may still choose to trade out of this spot, escaping the first round wth the best tight end prospect in years and a potentially elite pass rusher would represent a great start to the draft - with a bunch of other picks to come.
Pick 13: Arizona Cardinals - Patrick Mahomes QB (Texas Tech)
The Cards might think that Carson Palmer could still win them a Super Bowl. If they do then they will likely add a pass-catching option here to perform opposite - and then succeed - Larry Fitzgerald as their WR1 before taking a quarterback like Davis Webb later on.
If they really like a QB in the first round, Bruce Arians may want the guy that looks the most talented but remains a little raw. Palmer would give him a season to sit, and Mahomes has the highest ceiling of all of them with franchise quarterback potential.
Pick 14: Philadelphia Eagles - Gareon Conley CB (Ohio St)
The Eagles look very likely to take a cornerback here and Sidney Jones' injury means they will get a worse one than expected.
Teez Tabor's off-the-field and attitude question marks persist, so they'll swerve him for the safer and more talented Conley.
Pick 15: Indianapolis Colts – Reuben Foster LB (Alabama)
Please take a defensive player. Please.
Andrew Luck deserves a defense and an offensive line that can help him compete. The Colts started to address the latter when Ryan Kelly arrived in the first round last year and there will be talent in later rounds this time round - especially Jermaine Eluemunor- so just go defense and try to become competitive again… please.
Foster is a top-five talent that new Colts GM Chris Ballard would be lucky to get so late in the round.
Pick 16: Baltimore Ravens – John Ross WR (Washington)
The Ravens could go defense here but they're also in need of skill position talent, with not much in the backfield and having lost their best wide receiver, Steve Smith Sr., to retirement.
John Ross would add a hell of a lot of speed and can't be ignored by opposing defences. He may not catch a lot of balls in his first year but he'll still play a valuable role wherever he lands. Joe Flacco's strong arm will hope that's in Baltimore.
Pick 17: Washington Redskins – Haason Reddick LB (Temple)
One of the draft process' big risers, the linebacker will help Washington re-tool their defensive unit as they look to begin recovering from a traumatic off-season.
If they fancy T.J. Watt then it could be him, but it feels a little early for the Wisconsin linebacker.
Pick 18: Tennessee Titans - Marlon Humphrey CB (Alabama)
After taking a pass-catcher with their first pick, you'd expect the Titans to strengthen the other side of the ball and Humphrey is the best defensive player left on the board.
Long and lean he's exactly what the Titans lack in their back end and will be an instant impact at the corner spot.
Pick 19: Tampa Bay Buccaneers - Dalvin Cook RB (Florida State)
A poor workout at the Combine saw Cook slide down draft boards but the raw materials remain and will surely intrigue any offensive-minded coach.
The Bucs could look to defense here too of course but with Doug Martin's future with the team - and in the league - very much up in the air Cook makes a tonne of sense.
Pick 20: Denver Broncos - Garett Bolles OT (Utah)
John Elway has built a championship-winning roster in the mile high city but don't let that fool you - he still has a number of holes to fill on draft day.
DeMarcus Ware's retirement leaves a gaping gap on the edge while the linebacking corps could do with freshening but O-line is a glaring need and Bolles could well be the best in the class.
Pick 21: Detroit Lions - Taco Charlton DE (Michigan)
The Lions aren't far away and after re-tooling their patchwork O-line in free agency will look to the other side of the ball in the first round later this month.
Michigan standout Charlton is a fearsome prospect off the edge and would give All Pro Ziggy Ansah the running mate he needs to add some more juice to a very beige pass rush.
Pick 22: Miami Dolphins - Jarrad Davis LB (Florida)
Despite inking Kiko Alonso to a fresh new deal in the offseason Miami's linebacking group need some oomph and Florida's Davis is a perfect fit.
Excellent in coverage and a true sideline-to-sideline demon Davis would be an instant upgrade on what the Dolphins already have at the position.
Pick 23: New York Giants - Mitch Trubisky QB (North Carolina)
In every draft there are pinch points that shape the way the dominoes fall - in 2017 the Giants at 23 feel like one. With needs on offense and defence the G-Men could one of several ways when they step up to hand their card in.
They need a genuine #1 running back, tight end remains a mystery and the O-line continues to be a work in progress in need of improvement. But I'm going to stick my neck out and say they swing for Eli Manning's successor instead.
Mitch Trubisky is your prototypical modern-day NFL QB who has the size, can sling it and can take off when needed. The lack of career starts is a knock - just 13 - but with Manning getting up there in years the Giants take a punt on finding their next signal caller.
Pick 24: Oakland Raiders - David Njoku TE (Miami)
Oakland are in that envied position of being able to truly take the best player available - and they do just that at 24 with Njoku out of Miami.
The uber-athletic tight end would be a match up nightmare for Derek Carr to play with and has an All Pro ceiling should he put it all together at the next level.
Pick 25: Houston Texans - Deshaun Watson QB (Clemson)
Despite pulling off a masterstroke trade to get Brock Osweiler - and his millions and millions of dollars - out the door the Texans have somewhat painted themselves into a corner ahead of this draft.
Tony Romo's shock retirement didn't help either but even before Dallas' former leading man rode off into the sunset Houston were always drafting a quarterback this year. Despite never doing so in the top three rounds for 11 years Rick Smith will this timer and the way the board shakes out here he goes for Watson.
A born-winner Watson did it all at the collegiate level with Clemson and despite having some kinks to iron out could end up being the best in this class.
Pick 26: Seattle Seahawks - Ryan Ramczyk OT (Wisconsin)
Sooner or later Seattle have to protect their prize asset and what better way to do that than with a Wisconsin lineman.
They could look at corner - and surely will do if they trade Richard Sherman out the door - but Ramczyk would be an instant starter in the Pacific northwest.
Pick 27: Kansas City Chiefs - Deshone Kizer QB (Notre Dame)
This may be a little early for Kizer after a below-bar 2016 season but with the QB board all but wiped out in this scenario it's a reach worth making for Andy Reid.
Alex Smith is good but he's not great and Reid may be intrigued by a young developmental player who could grow into the man to finally take the Chiefs over the hump.
Pick 28: Dallas Cowboys - Adoree' Jackson CB (USC)
Defense. Defense. Defense. Jerry Jones loves a shiny thing on draft day but even he must realise that he must resist his basic instincts and go nuts and bolts and defense this year.
With Brandon Carr and Morris Claiborne exiting in free agency cornerback is a big need. The ultra-athletic Jackson fills it and brings some electricity to the return game to boot.
Pick 29: Green Bay Packers - Derek Barnett DE (Tennessee)
Green Bay were decimated in free agency leaving GM Ted Thompson with plenty on his plate at the draft. Despite having a dearth of warm bodies at running back he should look across to D first and in this scenario Barnett is far too good to pass up.
A genuine sack artist Barnett enjoyed a stellar college career and projects to be a force off the edge in the pros too.
Pick 30: Pittsburgh Steelers - Jabrill Peppers LB (Michigan)
The Steelers excel at scooping up falling talent on draft day and they do it here again grabbing what could be the class' most intriguing prospect in Jabrill Peppers at 30.
A linebacker/safety/running back hybrid Peppers brings next level athleticism and instincts to the table. Add in a premium football IQ and you have a player Mike Tomlin and the Steel City will love. If he's too similar to Ryan Shazier then it might be Zach Cunningham out of Vanderbilt.
Pick 31: Atlanta Falcons - Forrest Lamp OT (Western Kentucky)
The Falcons are loaded in almost all areas but the line is in need of improvement and one of the class' best will do just that.
A tackle in college but perhaps a better projection as a guard in the NFL Lamp would help solidify the interior alongside the always excellent Alex Mack.
Pick 32: New Orleans Saints - Takkarist McKinley DE (UCLA)
With Brandin Cooks now in New England the Saints pick again here and having promised to go defense - and reneged on said promise earlier in the first round - they stick to it this time.
NOLA's defence has been a joke for too long and they need to look to bring back some of that edge, albeit within the rules of the game on this occasion.
McKinley is a real fastball and would add some much needed speed to a virtually non-existent pass rush. Don't rule out a trade back here either with Cal QB Davis Webb a possible target for a number of teams at the top of the second round.
Join our commenting forum
Join thought-provoking conversations, follow other Independent readers and see their replies