Trevor Lawrence leads 'dangerous' quarterback class primed to define the 2021 NFL Draft
Thursday night's spectacle offers fresh hope to those looking to replicate reigning Super Bowl champions Tampa Bay Buccaneers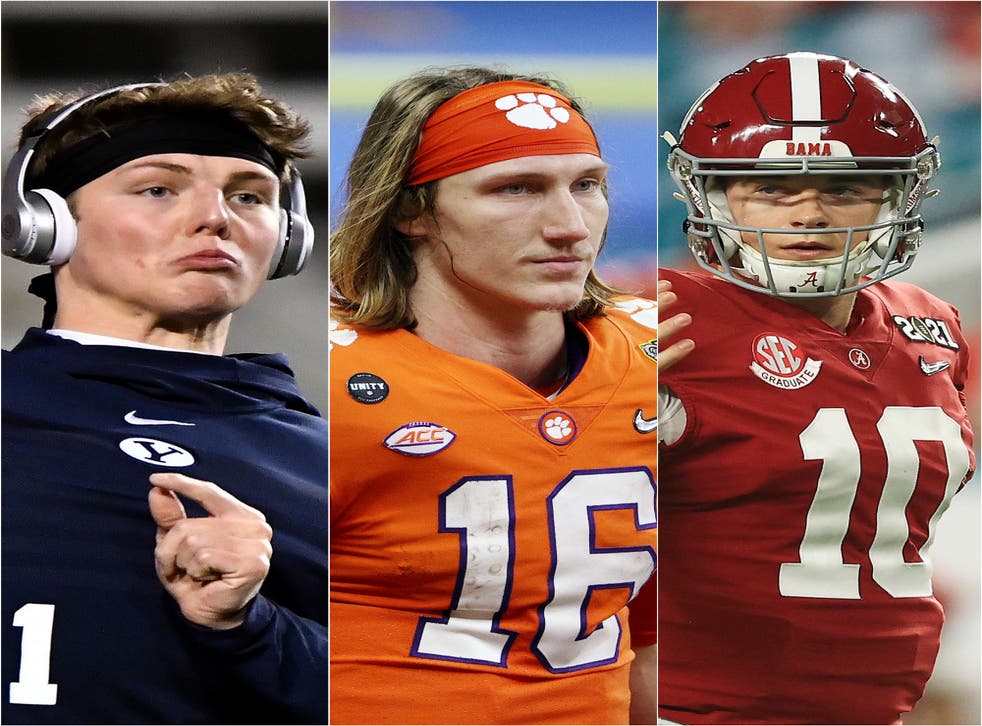 Hundreds of young players eagerly await their fate in Thursday's NFL draft as their professional careers begin. The array of talent, when assembled correctly, can frankly be "dangerous" on the field.
That's the view of Sky Sports NFL presenter Neil Reynolds, who shares the excitement among most about this year's quarterback class, with five enticing signal-callers destined to be taken inside the top 10: Trevor Lawrence, Zach Wilson, Justin Fields, Mac Jones and Trey Lance.
The dispute over who will be selected by the Jacksonville Jaguars with the first overall pick ended a long time ago due to Trevor Lawrence, the most well-rounded prospect in years.
"He is the complete package and can live up to the hype," Reynolds says. "Every time I look at draft comparisons for Trevor Lawrence, it's John Elway, Aaron Rodgers or Andrew Luck.
"He is used to the big stage – that's his biggest attribute. We've eagerly anticipated his arrival for six or seven years now, from top high school prospect to excellent college quarterback.
"We know what a generational or even franchise quarterback can do for a team, and Lawrence can turn the Jags around and contend for titles. I think he will be everything we expect him to be."
The Sky Sports presenter pointed out the pressure that comes with being selected so early.
If Pro Bowls or contending for Super Bowl championships do not come before their five-year rookie contract expires, the franchise may move on – something Zach Wilson needs to keep in mind.
The BYU quarterback appears to be heading to New York with the Jets, and Reynolds believes the 21-year-old has star potential.
Reynolds said: "It's very interesting to see how desperate teams are to find 'the one'. These young quarterbacks play sooner than ever, but they have to show what they've got quicker than ever as well.
"In 2018, the Jets took Sam Darnold third overall and within three years, they are about to take a quarterback second overall so it doesn't always pan out.
"This is a very dangerous comparison but one made to me last night by Josh McCown: [Wilson] is a Patrick Mahomes-type of player. He's very dynamic, can make throws off platform with different arm and body angles and he improvises well."
With the first two picks seemingly locked in, debate has raged regarding who the San Francisco 49ers will select with the third overall pick.
While Ohio State's Justin Fields or North Dakota State's Trey Lance may have more star power, Mac James of Alabama has been touted as the man to replace Jimmy Garoppolo in the Bay Area.
Reynolds said: "Jones is never going to give you the flash that you will see from [Justin] Fields, Trey Lance or [Zach] Wilson but he knows how to run an offence.
"He won a national championship and his numbers were outstanding. He completed 70% of his passes, so he can be that conductor of an orchestra.
"You need to live within 10 yards as an NFL quarterback and then take your 'home run' shots when you have to – it's not the other way around. Mac Jones has everything you need to move a team up and down the field."
Despite finding success with the Buckeyes, Fields – touted as the second-best quarterback in this class for years – is sliding down draft boards despite reaching the College Football National Championship in 2020.
Reynolds believes that Fields has what it takes to succeed and could see him doing so under Bill Belichick in Foxborough.
"[Fields] may fall and that may not be his doing – you just get these negative stories, but you don't know the truth unless you're in the building.
"New England dabbled with a mobile quarterback last year in Cam Newton, and I would be interested to see Justin Fields take the mantle as the long-term replacement for Tom Brady."
Trey Lance is also divisive as he impressed in 2019 and threw just one interception throughout his college career, but questions have been raised due to the lower competition at North Dakota State and the fact that Lance opted-out of last season.
He is viewed as more of project, and it begs the question: how many of these five quarterbacks will be expected to impact their franchise from day one?
Reynolds said: "It depends where they go – Trevor Lawrence and Zach Wilson will start from day one with the Jaguars and the Jets respectively.
"I think Mac Jones is going to go to San Francisco, and I think they start him. I don't think you trade up with three number firsts and a third to pick a guy that you're going to sit on the bench.
"If Fields is in New England for example, then he may sit behind Cam Newton for a few games but the owners will want to see him on the field – the clock is ticking towards a big contract the second you are drafted.
"The one who might wait the most would be Trey Lance, but if he rocks up in Denver there would be a competition with Drew Lock.
"These five quarterbacks that we are getting excited about now, three of them could be hits and the other two could be misses: we don't know which is which until they get on the field."
When it comes to succeeding with a franchise after being selected, it is not simply about talent and work ethic – there are numerous factors that play a part.
One of the biggest influences on a player's career is the stability of the organisation and the personnel around them.
Reynolds added: "Coaching is important, as is having talent around them, but it doesn't have to be all-encompassing.
"Cincinnati's offensive line was terrible last year and Joe Burrow was excellent before he got hurt – but he got hurt because he was behind a bad offensive line!
"Whoever gets taken third overall by the 49ers has it the best, as a healthy San Francisco can be one of the best teams in the NFL and that could be a really good situation for a rookie quarterback."
While the quarterbacks may be stealing most of the headlines, there are plenty of other talented players on offer.
Several top defensive players like Patrick Surtain II and Micah Parsons may be available later than expected as offensive talent could fly off the board early on.
"We may have 10 offensive players picked in the top 10, which has never happened before," Reynolds points out.
"Kyle Pitts looks like a big wide receiver but he's a tight end, which is a complete mismatch that will create all sorts of problems for a defence.
"The fascinating one for me is Devonta Smith because you're not supposed to play wide receiver in the NFL at 166lbs. If he can shake off the physical coverages and deal with the pounding, he looks exciting."
Ultimately, Covid impacted college football immensely as players opted-out and the combine was cancelled. Reynolds believes it has simply raised the pressure for all parties involved ahead of Thursday's draft.
"Scouts, general managers and coaches will be very nervous this year – this is more of a mystery and more of a lottery than ever before," he concludes. "The draft is so exciting and gives all fans hope."
Register for free to continue reading
Registration is a free and easy way to support our truly independent journalism
By registering, you will also enjoy limited access to Premium articles, exclusive newsletters, commenting, and virtual events with our leading journalists
Already have an account? sign in
Register for free to continue reading
Registration is a free and easy way to support our truly independent journalism
By registering, you will also enjoy limited access to Premium articles, exclusive newsletters, commenting, and virtual events with our leading journalists
Already have an account? sign in
Join our new commenting forum
Join thought-provoking conversations, follow other Independent readers and see their replies