Efe Obada on how he sacked Tom Brady and the key to victory at Super Bowl 2021
The Brit went on a run of three and a half sacks in four games during 2020, and even sacked future Hall of Fame quarterbacks Aaron Rodgers and Tom Brady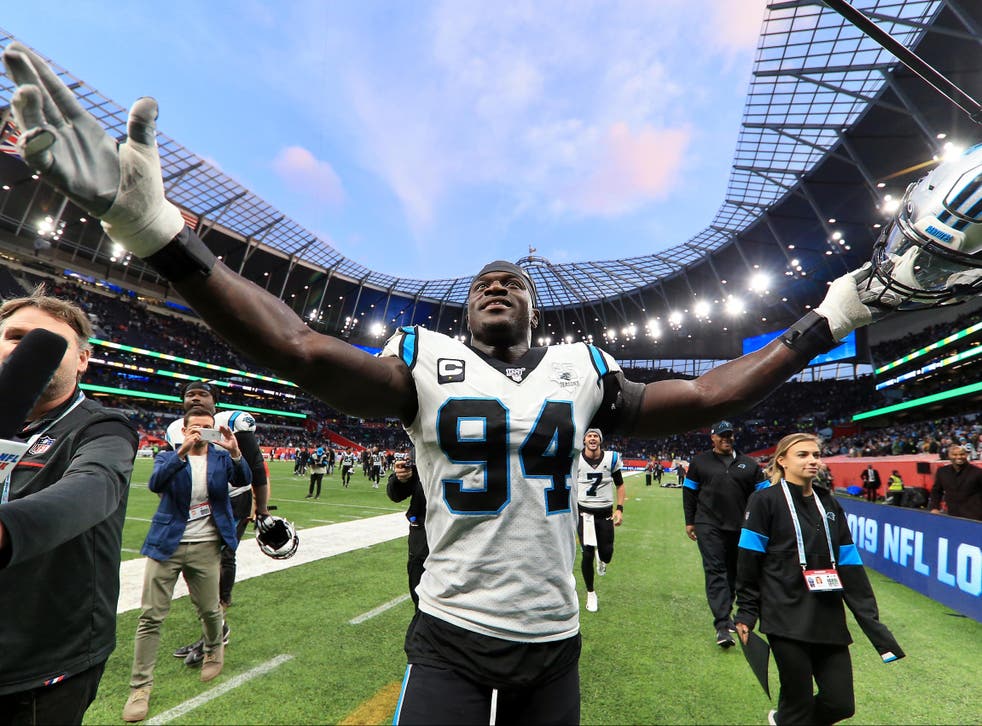 Efe Obada is a restricted free agent heading into the 2021 NFL season. As ever, the Brit is awaiting his uncertain future with glowing optimism after a breakout season in which he registered five and a half sacks.
"The sky is the limit. I've proven this year that I can play anywhere on the defensive line and be a contributing factor. No matter what happens next, teams know what they're going to get from me – the guy that comes out first and is the last to leave. It's exciting – whatever happens, happens."
When the defensive star was cut back in early September, there was an uproar – and not just in Carolina. He was signed back to the Panthers just a day later, with his reaction and response to the initial waiving showing just what type of player and person Obada is.
"When I got released, I didn't want to speak on it because I didn't want to be a distraction to the team. I don't approach the game with ego or entitlement. Everything I achieved I work my arse off for and earned, so I just accepted it as part of the business."
Obada used the ordeal to fuel a fire that burned brightly in 2020. The former-London Warrior reached a personal best in sacks and found form late in the season after overcoming a difficult year.
"I definitely had a chip on my shoulder. I've been on this team for four years now and played in three different defensive schemes, so I've had to adapt to be a contributing factor. There was a lot going on – Covid, the social injustice movement, being away from my wife – so my focus was making sure that I was in America on a mission."
While the 28-year-old was pursuing his NFL dream in Carolina, his wife fell ill with Covid and the news threatened to derail Obada's season and career. She selflessly assured the defensive lineman that she was okay in order to keep him focused on his professional goals.
"There was a part in the season where I wanted to quit and come home because you have to value what is important. She actually downplayed her symptoms so I could continue achieving my dreams and what I've been working hard for."
It was a good thing he remained in Carolina, as Obada found a spark that would ignite an explosion of form. The Brit went on a run of three and a half sacks in four games, and even sacked future Hall of Fame quarterbacks Aaron Rodgers and Tom Brady.
"Through grafting, learning, studying and changes to my playing style, I started seeing results and I'm very pleased with that. [Panthers head coach Matt Rhule] gave me the freedom to grow. I had to put on a lot of weight to make sure I could find my way inside and just plug the gaps. I feel like I can be an integral part on the defensive line and I proved that this year."
Looking ahead to Sunday's Super Bowl LV clash between Tom Brady and Patrick Mahomes, Obada was quick to point out that the success of the run game will go a long way to deciding the match.
"The run is fundamental. In order to get those third down opportunities, you have to stop the run. I think that's a bit overlooked because of who the quarterbacks and receiving personnel are."
When asked to pick a winner, Obada kept it simple.
"We've seen in previous Super Bowls that you can have the lead and one mistake loses it – you have to play to the last whistle. No matter how much you practice or what weapons you have, whoever plays the best on Sunday wins."
Super Bowl LV is live on BBC One and Sky Sports NFL and Main Event on Sunday, February 7, kick-off 11.30 p.m.
Join our new commenting forum
Join thought-provoking conversations, follow other Independent readers and see their replies