'I am the greatest athlete to live' boasts Usain Bolt after 200 metres victory
Robin Scott-Elliot
Friday 10 August 2012 10:33 Comments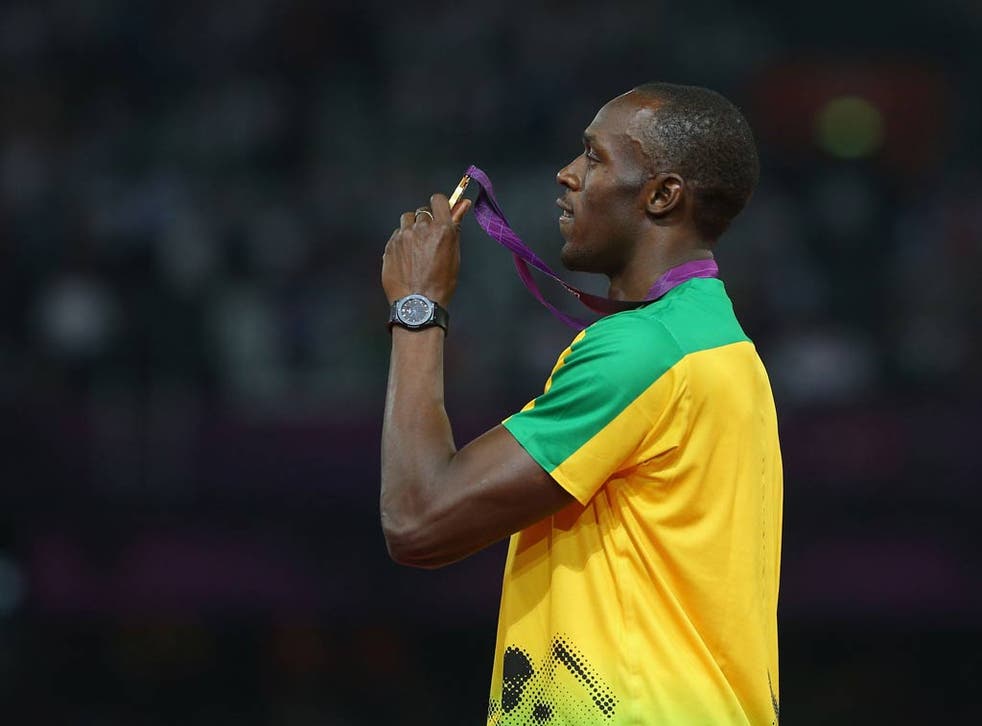 Having secured his historic double-double last night, Usain Bolt borrowed a leaf from Muhammad Ali's pocket book of sayings and declared himself not only a "legend" but also the "greatest athlete to live."
Bolt did not break the world record, as had been widely anticipated around a stadium where expectation had risen to feverish levels ahead of the race in the wake of David Rudisha's stunning 800m, and nor did he match his Olympic record time set in Beijing four years ago. Instead he matched the old world record set by Michael Johnson of 19.32, but he did destroy the doubters - putting an admonishing finger to his mouth as he crossed the line.
"I did what I wanted," said Bolt. "I came out of a rough season and it's what I came here to do. I'm now a legend, I'm also the greatest athlete to live. I am in the same category as Michael Johnson. I'm honoured. I grew up watching him break world records. He's a great athlete.
"The 200m was harder than I expected. I could feel the pressure coming off the bend and that's when I had to focus. I've got nothing left to prove. I've showed the world I'm the best. This is my moment. You can stop talking now, I'm a living legend."
The 25-year-old - he turns 26 in two weeks - believes there will be more moments to come too when he gets himself fully fit. Bolt has struggled all season to get himself in shape and his build-up to the Games was notably dogged by suspicions that he was carrying a back injury that was more serious than he or his coaching staff were prepared to let on.
He was beaten twice by Yohan Blake in the Jamaican trials, including in the only 200m he had run this season ahead of the Games. He described that as a "wake up call" and has run impressively throughout the 200 heats, semi-finals and last night, although he believes his fitness prevented him from targeting the world record
"I think it was possible," he said, "but I guess I wasn't fit enough. I was fast but I wasn't fit enough. I came off the corner, I could feel the strain on my back a little bit so I stopped running because I knew it wasn't going to be a world record. I didn't get a world record - I really wanted to do it in the 200m - but I'm happy."
Johnson said of Bolt: "How can you not love Usain Bolt? He is so great for the sport, so great for the Olympic sport. He is the man, he is such a phenomenal athlete. It is a fantastic time for Jamaica as a country."
The three medallists celebrated together around a raucous Olympic Stadium, each draped in the yellow, green and black of the Jamaican flag.
"It's a great honour to come here to do that and give people what they wanted," said Warren Weir, the bronze medallist. "The love in London is very, very good. One love, Jamaica."
Register for free to continue reading
Registration is a free and easy way to support our truly independent journalism
By registering, you will also enjoy limited access to Premium articles, exclusive newsletters, commenting, and virtual events with our leading journalists
Already have an account? sign in
Join our new commenting forum
Join thought-provoking conversations, follow other Independent readers and see their replies