Makhloufi's miracle 1500m win met with growing scepticism
'Injured' Algerian credits new coach as he comes from nowhere to take gold in emphatic style
Simon Turnbull
Wednesday 08 August 2012 23:08 Comments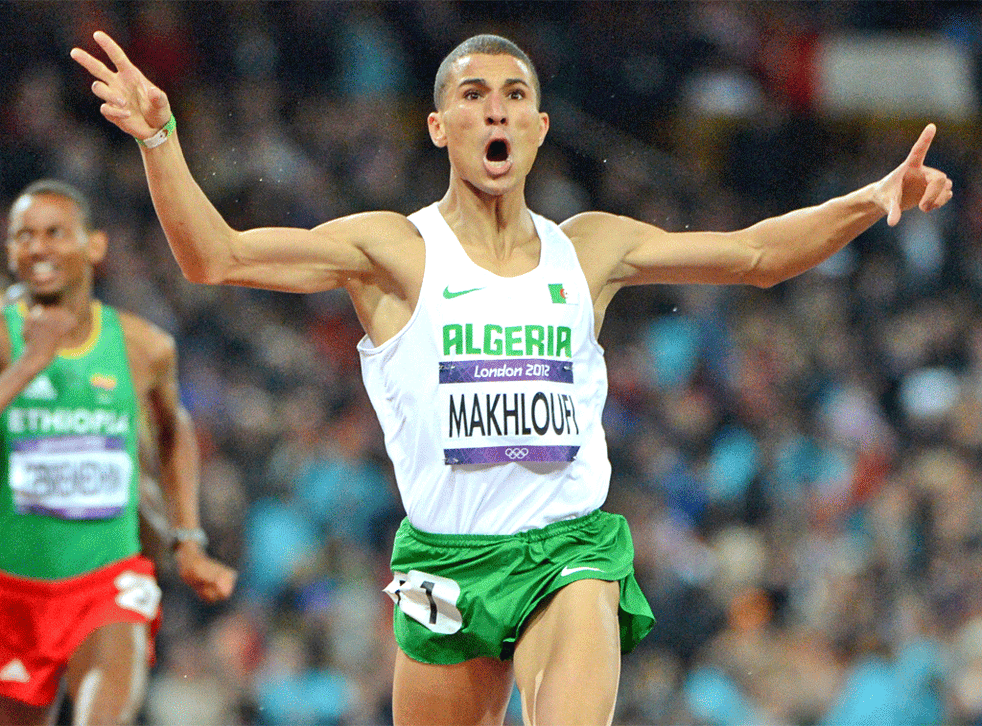 The doubt continues to linger. The day after Taoufik Makhloufi had performed his Lazarus impression at London 2012 – recovering from the knee injury that required medical certification to secure his reinstatement in the Games after his disqualification for lack of effort in the 800m heats on Monday – the track world was scratching its head and wondering just how the unheralded Algerian had managed to win the 1500m final in such emphatic fashion.
Twelve months ago Makhloufi was an also-ran at global level. At the World Championships in Daegu he failed to reach the final. He finished 2011 ranked 34th in the world.
And yet, in the Olympic final on Tuesday night – with two of the hallowed greats of middle distance running, Sebastian Coe and Sir Roger Bannister, looking down from the VIP seats – the 24-year-old did not just emerge an unheralded victor, he decimated the opposition in a manner that had eyebrows still raised yesterday.
Hitting the front with 300m to go, Makhloufi ran a devastating 12.6sec for the 100m stretch down the back straight. He eased off in the home straight but still won by 0.71sec, clocking 3min 34.08sec.
It was a stunning transformation – not just from the injured list but from the athlete who could only finish fifth in the 1500m at the Monaco Diamond League meeting just two and a half weeks ago. Not surprisingly, the whispering behind the scenes at the track yesterday was very much along the lines of those of the Chinese variety at the Aquatics Centre a week or so ago.
Makhloufi has knocked three and a half seconds off his best 1500m time this summer. His 800m personal best has come down by three seconds.
His sudden improvement, he insists, is down to hard work, dedication and a new coach. "At the beginning of the year, I had some difficult decisions," Makhloufi said.
"I changed my coach. For seven months I have not seen my family because I have been training in Europe and Africa. My family have only seen me on television.
"I have been working hard. You don't win anything easily. You need years of training. I started when I was 15. And you need a good coach. I've changed my coach a couple of times.
"In the name of God I am very happy to have won this race and I think I have given new hope for the Algerian people and for the Arab people in general. I thank God. I am very happy because I have worked hard and I have seen the results of the hard work."
Rashid Ramzi expressed much the same sentiment when he won the 2008 Olympic 1500m final in Beijing.
"The gold medal is a great honour to Bahrain and the Arabic world," he said. "It is not easy for an Arab to win an Olympic gold medal. It is hard to come by."
Ramzi, who was born and raised in Morocco, paraded around the Bird's Nest track as Bahrain's first Olympic champion in any sport. He stood proudly on top of the podium as the Bahraini anthem played at the medal ceremony and was fêted as a national hero on his return to the Gulf state.
It was not until the following spring, in April 2009, that news emerged that Ramzi had tested positive in Beijing for CERA – Continuous Erythropoietin Receptor Activator, a third-generation version of the banned blood-boosting drug EPO. It was not until July 2009 that his "B" sample was tested and found to be positive.
Only in November 2009 was Ramzi formally disqualified as Olympic champion and Asbel Kiprop of Kenya promoted from runner-up to gold medal winner.
It was only on 8 December last year, a full three years and four months after the Beijing Olympic final, that Kiprop was at last presented with the gold – in front of a handful of invited officials and journalists in a function room at the InterContinental Hotel in Nairobi.
"It has taken three years to get this medal, but justice has finally been done," Kiprop said. "It is not the way I wanted to be an Olympic gold medallist.
"It would have meant more to win on the track in the natural way, but I am happy because I have got what is mine."
Kiprop was in the 1500m final on Tuesday night. He was suffering from a hamstring problem and never featured, finishing 12th and last in 3min 43.83sec.
Behind the victorious Makhloufi, who performed a Lightning Bolt pose in celebration after crossing the line, Leo Manzano took the silver medal.
It was the first medal won by an American in the Olympic 1500m since Jim Ryun's silver in Mexico way back in 1968. "I know he won," the Mexican-born Manzano said, referring to Makhloufi, "but I feel like I won, too."
Register for free to continue reading
Registration is a free and easy way to support our truly independent journalism
By registering, you will also enjoy limited access to Premium articles, exclusive newsletters, commenting, and virtual events with our leading journalists
Already have an account? sign in
Join our new commenting forum
Join thought-provoking conversations, follow other Independent readers and see their replies