Brownlee brothers: Jonny 'doesn't want to be remembered as the guy who looked like a wobbly horse'
Alistair Brownlee hauled his brother Jonny to the finish line in a bid to win the ITU World Triathlon Championship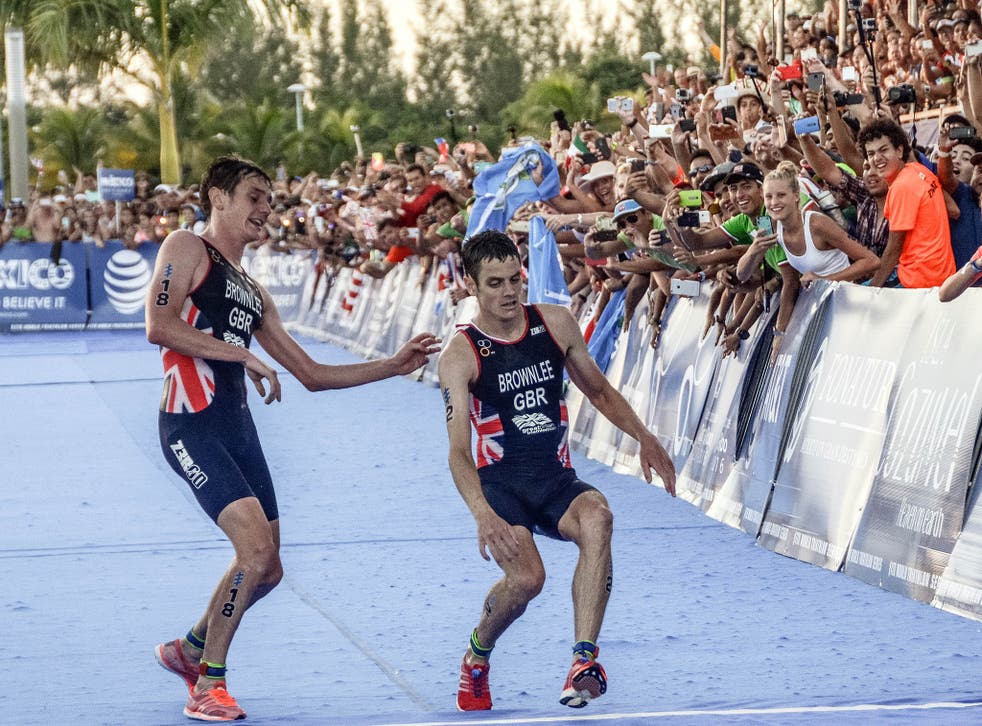 Jonny Brownlee says he will remember the remarkable gesture by his brother, Alistair, for the rest of his life, but stressed that he does not "want to be remembered as the guy who looked like a wobbly horse".
Jonny missed out on the ITU World Triathlon title on Sunday in the series finale in Mexico after he lost the lead of the race in the final 700m. As he approached the finish line, having set a blistering pace in 33-degrees Celsius heat, Jonny began to weave along the road with exhaustion taking its toll on the 26-year-old.
As he stopped at the side of the road and conceded the lead of the race to South African Henri Schoeman, Alistair rounded the penultimate corner not in a battle for the lead. Having won Olympic triathlon gold last month, Alistair would have been tipped to overhaul Schoeman to take the victory, but instead he instinctively grabbed Jonny and hauled him to the finish line with the title still on the line.
Unfortunately for Jonny, his Spanish rival Mario Mola finished in fifth, with second for Jonny not enough to secure him the championship.
"Alistair had the chance to win but threw that away to help me out," Jonny said in an interview with the BBC. "I'll be thankful for the rest of my life.
"Obviously it takes a very strong and good person to do that. Sometimes in sport we talk about winning being the most important thing in the world. A lot of times it is, but maybe helping a brother out was more important."
Alistair Brownlee helps brother Jonny across finish line
Alistair was critical of how Jonny managed the race as he failed to pace himself across the 10km run, but he drew on a past experience that saw him hit the same physical barrier that convinced him he had to help his brother.
"First I was just thinking: 'What an idiot'. He could have won this race so easily and he's been tactically so ridiculous. It serves him right really," Alistair said.
Team GB's Rio 2016 gold medals

Show all 26
"I didn't really think too much about what I did. I've been in that position before, in London maybe six years ago. I remember being in second trying to win the race and then waking up and being told I'd come 10th. I was like: 'Why didn't all those people who came past me help me out?'. So I didn't give it a second thought. I just had to help him."
Jonny added: "I remember it all very clearly. The whole race went very, very well until about 1.5km to go. And then it all kind of fell apart. I remember my legs going a little bit wobbly and thinking: 'I'm not going to make it to the finish line'.
"I remember Alistair coming past me and saying: 'You can make it'. And then my last memory is falling over the finish line and getting carried off. The last 200 metres seemed to take a long long time."
The Brownlee brothers have dominated the triathlon scene for a number of years, with Alistair taking Olympic gold at both London 2012 and Rio 2016, while Jonny stepped up from taking bronze four years ago to claim silver last month. Jonny hopes that once his career comes to an end, he will be remembered for his success on the track, and not for being the man that saw his world title chances go up in smoke in the final stages of a gruelling season.
"I don't want to be remembered as the guy who looked like a wobbly horse down the finishing line, but hopefully for what I've done in the Olympics and other good races," he said. "At the end of the day, I'm a competitor and I wanted to win the world championship.
"When you've been through what we've been through together you know someone's going to help you out and it shows true loyalty and respect for each other. I like to think I'd have done the same for Alistair."
Register for free to continue reading
Registration is a free and easy way to support our truly independent journalism
By registering, you will also enjoy limited access to Premium articles, exclusive newsletters, commenting, and virtual events with our leading journalists
Already have an account? sign in
Register for free to continue reading
Registration is a free and easy way to support our truly independent journalism
By registering, you will also enjoy limited access to Premium articles, exclusive newsletters, commenting, and virtual events with our leading journalists
Already have an account? sign in
Join our new commenting forum
Join thought-provoking conversations, follow other Independent readers and see their replies