James Lawton: Oscar Pistorius breaks the spell. The truth is these 'superhuman' athletes err like the rest of us
Pistorius elected himself judge and jury in laying down a level running track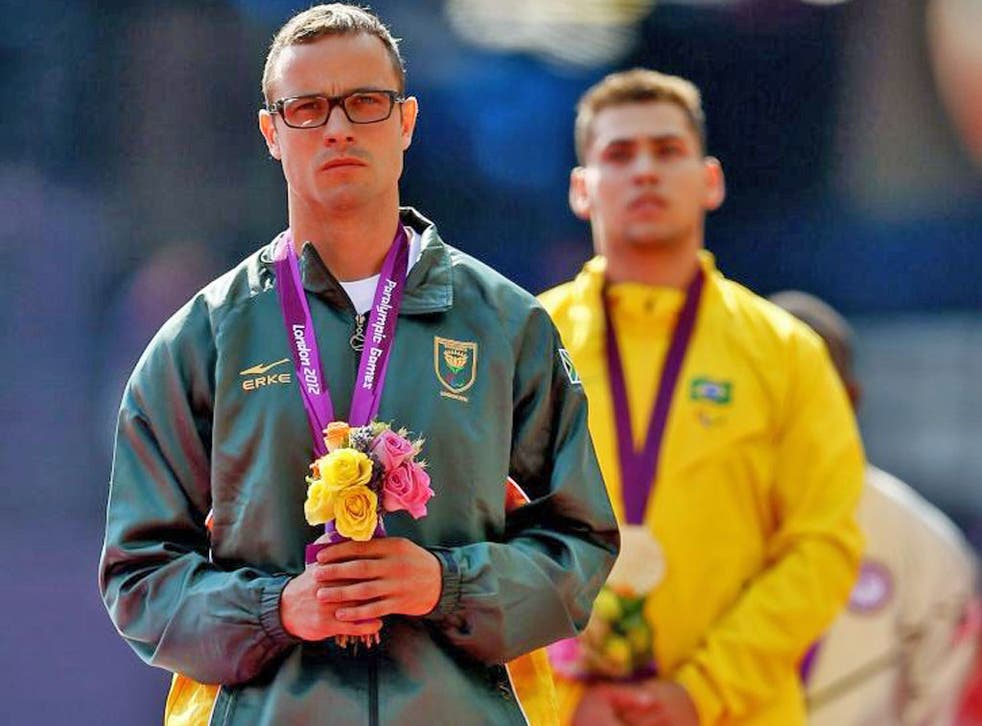 Sooner or later someone had to separate us from the slavish belief promulgated so hard these last few days. It is the one that says Paralympians are a separate and superior breed of sportsmen and women beyond any of the vices, including the conceits, of those who are able to compete with less conspicuous handicaps.
It is a view, dreamy and at the same time infinitely patronising that has, like it or not, created an emotional excess and pressure on individual success that have inevitably obscured what we might have imagined was the most compelling appeal of this huge festival of frequently brilliant endeavour.
That – if one remembers correctly – was to be the celebration of more than 4,000 cases of great defiance of randomly distributed adversity.
Heaven knows, there has been plenty of it, but increasingly it has been impossible to ignore the danger that a certain spell might be broken, one that was, miraculously enough, significantly unscathed when the 30th Olympics drew to a close earlier this month.
Strange, though, that the man who has done it quite irrevocably is someone who for so long has been seen as the ultimate hero of the Paralympic movement, a competitor complete with a whole set of Olympian ideals.
Oscar Pistorius was obviously filled with superb competitive spirit – and the highest ambition – when he fulfilled his dream of competing in both the Olympics and the Paralympics, but somewhere along the way he may have lost contact with an essential truth.
It is that if the Paralympics achieve another of his ideals, by relentless examination of the precise help provided by prosthetics and a mass of categories which are inevitably arbitrary and in some instances just plain convenient, a perfectly balanced contest, they will have flown beyond all previous understanding of the realities of sport.
Nature provides the great Usain Bolt with advantages utterly beyond the resources of science and its increasingly profit-hungry sponsors, the manufacturers of new and ever quicker artificial limbs, when it gives him a stride pattern long enough, and quick enough, to leave all other shorter, smaller, more muscular opponents trailing in his wake.
However, we have yet to hear his closest challenger Yohan Blake demanding a new handicapping system... or maybe special categories of the 100 metres dash based on some fine assessment of each sprinter's natural advantages.
Nature will never produce a set of identically gifted 100m finalists, and nor will science provide a similar service for the Paralympics short of a precisely standardised set of prosthetics.
Yesterday, Pistorius made a strategic retreat from his ferocious denouncement of the rules governing artificial limbs which, he contended, had given an unfair advantage to his surprise conqueror in the T44 200m final, Brazil's Alan Fonteles Oliveira. But his apology was merely to do with the timing of his protest in that it took away attention from a gold medal winner's moment of glory.
Undisturbed, though, was the unavoidable conclusion that Pistorius, who went to court with the winning contention that the scientifically imposed spring in his blades did not give him an unfair advantage over his Olympic opponents, has elected himself both judge and jury in the matter of how you lay down a perfectly level running track.
His first bitter claims might, when you considered all that had gone before, have been coming from another entirely subjective dimension, one in which all contenders had to be on an entirely equal footing despite the varying challenge of running on two artificial limbs or one.
Pistorius's statement was filled with indignation, declaring: "The International Paralympic Committee's regulations allow the athletes to make themselves unbelievably high. We tried to address the issue leading up to this but it fell on deaf ears. The guys are running ridiculous times. Alan is a great athlete but I run just over 10 metres per second so I don't know how you come back from eight metres behind after 100 metres to win. We're not running a fair race."
Who is the arbiter of the perfectly fair race? It is the self-appointed Pistorius, who has long occupied the top rank of the Paralympic reward system and, at the first suggestion that it might be under threat, has presented these hugely acclaimed Games with their first seriously uncomfortable moment. Yes, uncomfortable, because amid all the stories of magnificent resolution and stunning courage, we have surely felt a growing hunger for personal recognition to match almost anything we see across the whole spectrum of modern professional sport.
The raw anger of Britain's Jody Cundy, and its uncontrolled expression, when he was disqualified from the one-kilometre time trial also led to a personal apology but it was greeted by the Velodrome crowd with rapturous applause. Cundy had complained that no one could understand his frustration that he had been denied still another gold medal after four years of dedication – after a vigorously abused official made the kind of ruling for which he was appointed. Yet surely such appreciation has underpinned the massive and enthusiastic public response to these Paralympics.
It was why a large and enthusiastic crowd yesterday attended seven-a-side football at the Olympic Park featuring players suffering from cerebral palsy, while goalball, played by the visually impaired, has also acquired an enthusiastic following.
The Paralympics is an extraordinary combination of spirit and talent, but it is impossible to pretend that the kind of attention it is now receiving is simply about the level of spectacle it is providing. Yes, of course, much of it would be splendid in any context but a vital appeal is what it tells us about the resilience – and the pride – that is such an inspiring aspect of human nature.
Against this background, surely there is something discordant in the shriller cries of thwarted individuals who have, it has at times been hard not to believe, come to assume a personal right to the acclaim of an Olympic winner.
Beyond the grief and anger of Pistorius and Cundy, we have also heard from the leaders of the Great Britain team, and also the president of the IPC, about how imperative it is that the home team racks up a record number of medals. The more that go to Britain, we have been told, the more easily we will understand quite the wonder of the Paralympics. It is, at the very least, a questionable proposition.
It is not the gold of the podium but the flint of the instinct to compete that is surely the most engaging commodity of all.
Lee Pearson, Britain's leading Paralympic dressage star, has complained quite volubly that with more gold medals than Olympic cyclist Sir Chris Hoy he is just as entitled to a knighthood. Pearson, who is a Commander of the British Empire, said: "I haven't said I want a knighthood, or that I deserved a knighthood – all I said is that there is a huge discrepancy in the system, which I find quite strange. You've got a disability, life is more awkward and then you are not treated equally in the honours system. I could have been quiet about it – but that's not the way I felt."
No doubt supporters of such a view have swelled considerably over the last few days. They have been told, after all, that the Paralympics are not just an especially vital expression of the appeal – and the challenge – of sport but something to place automatically alongside, if not above, the spectacle of the Olympics. In this they are rather like Oscar Pistorius. They are unique and no doubt glorious, but not necessarily entitled to win it all.
Register for free to continue reading
Registration is a free and easy way to support our truly independent journalism
By registering, you will also enjoy limited access to Premium articles, exclusive newsletters, commenting, and virtual events with our leading journalists
Already have an account? sign in
Register for free to continue reading
Registration is a free and easy way to support our truly independent journalism
By registering, you will also enjoy limited access to Premium articles, exclusive newsletters, commenting, and virtual events with our leading journalists
Already have an account? sign in
Join our new commenting forum
Join thought-provoking conversations, follow other Independent readers and see their replies