Laurie Penny at the beach volleyball: 'Do you really need to ask why I'm here?'
Laurie Penny gains an insight into the corporate mindset as she mingles with the crowd at the beach volleyball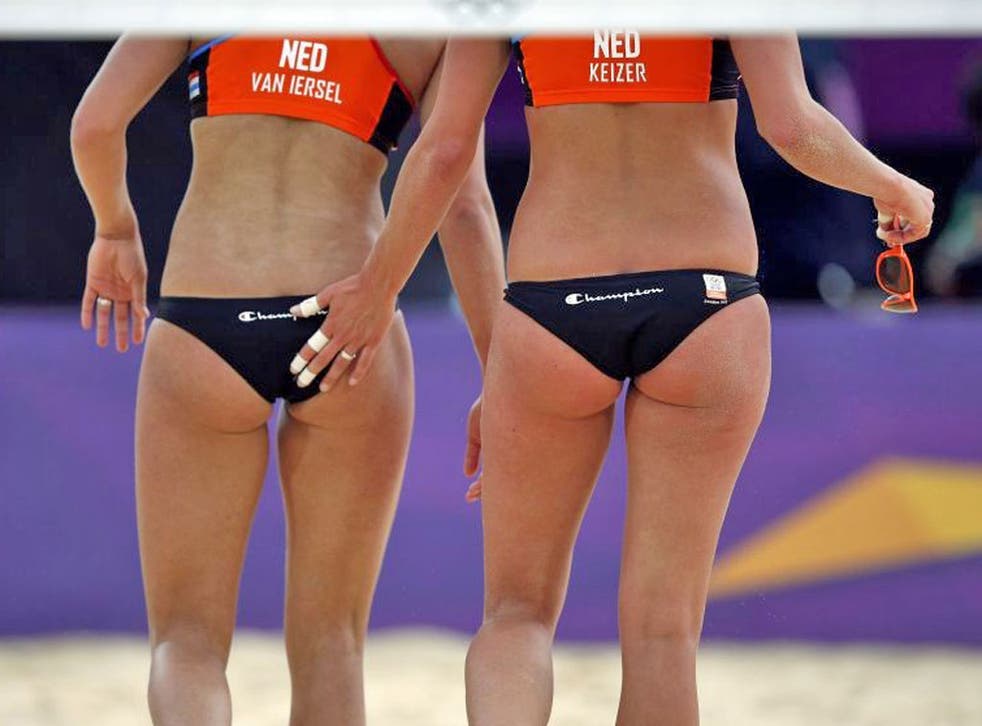 "It's a three-letter word. It's not complicated." David Hoskinson, a photographer who has been covering Olympic events for 20 years, has firm opinions on why women's beach volleyball is so popular with corporate sponsors. "You know this, you're a bright girl," he sniffs. "Sex sells."
Horse Guards Parade is crowded with families in expensive leisurewear and corporate guests in branded lanyards waiting for the beach volleyball. It's not a traditional British sport. However, of the Olympic events for which government officials and sponsors have been permitted to block-book tickets, women's beach volleyball is among the most popular – the Government bought 410 tickets at a cost of £26,000, compared to just 256 athletics tickets. The sport is also a hit with sponsors such as Visa and Coca-Cola.
Ministers insist that the popularity is pure coincidence because the matches are held at weekends, as if there was something inherent to beach volleyball that requires it to be played at times when the international business representatives, from whom the British government wishes to secure £4bn in new contracts over the course of the Games, are most likely to be free.
Shuffling into line for the next match is a large number of men with matching Coca-Cola backpacks. "The appeal is obviously fabulous bodies," says Hoskinson. "They're all tall, they're all athletic, they have hard bodies. Use your imagination." Most of us waiting outside will have to do just that. Sponsors have had no trouble filling all their spaces for the beach volleyball. Andrew Monk, 42, works for Coca-Cola. "I'm bringing a customer as part of our contact strategy, because we both wanted to come," he says. "That's how our businesses talk to each other – Coke as a corporate sponsor has had [these tickets] for years."
His guest, Richard Bailey, works for Orange and T-Mobile. He's here "just for the excitement and the atmosphere, soaking it all in". Many of the Coca-Cola guests are clutching beer in plastic pint-glasses as teenagers in branded jackets shepherd them in and out of the events. "It's just really about making sure that our businesses understand each other as much as possible," says Monk. "I'm possibly on thin ice here [talking to the press]. Any person who works for a big corporation is. So just put the happy stuff in."
Since it became an official Olympic sport in 1996, beach volleyball has, perhaps unfairly, been known more for the skimpiness of its costumes than the intricacies of its gameplay. Yes, costume size is expressly specified in the rules – this year, for the first time, athletes are permitted to wear shorts rather than bikini panties, to a maximum length of 3cm above the knee – but professional beach volleyball is a serious and gruelling sport. Playing it at international level involves years of dedicated training.
From the way beach volleyball is discussed you'd think that players were selected by submitting their bust-to-waist ratio and a statement of their willingness to bend over and show their buttocks to world leaders. This sort of assumption does a disservice to the players. Except, perhaps, to Misty May-Treanor, the American team member who in 2008 invited spectator and then-president George Bush to smack her on the bottom with the words "Mr President, want to?"
A few spectators are extremely clear on why they came to this event. "What do you mean, why?" says Chris Higgins. "Because of the women!" He and his friend Andy Naisbitt are both wearing T-shirts bearing the legend "Women's Beach Volleyball Coach", although Andy admits that he didn't know the rules at the start of the game. "But we did pick up a few of the terms, like spike and block and dig and other such." Andy and Chris have come from Basingstoke with matching Union Jack flags draped around their shoulders like capes, mirror shades, flip-flops and Union Jack boardshorts.
The sight of so many Englishmen in shorts must, by now, have been factored into Locog's global branding strategy as a possible source of national humiliation. "It was one of the best mornings of my life," says Andy, the fins of his Finding Nemo hat wobbling. "We managed to get right to the front, the stadium is just incredible." The best bit? "Probably the girls dancing."
The competitors are not in fact required to wiggle around with beach balls in their bikinis, so dancers and singers have been employed, an unusual practice for Olympic matches, but then, as spectator Damien Walter comments – "I'm not sure how much of a professional volleyball supporting crowd it was there."
Join our new commenting forum
Join thought-provoking conversations, follow other Independent readers and see their replies