Japan play for a draw to avoid switching from Cardiff base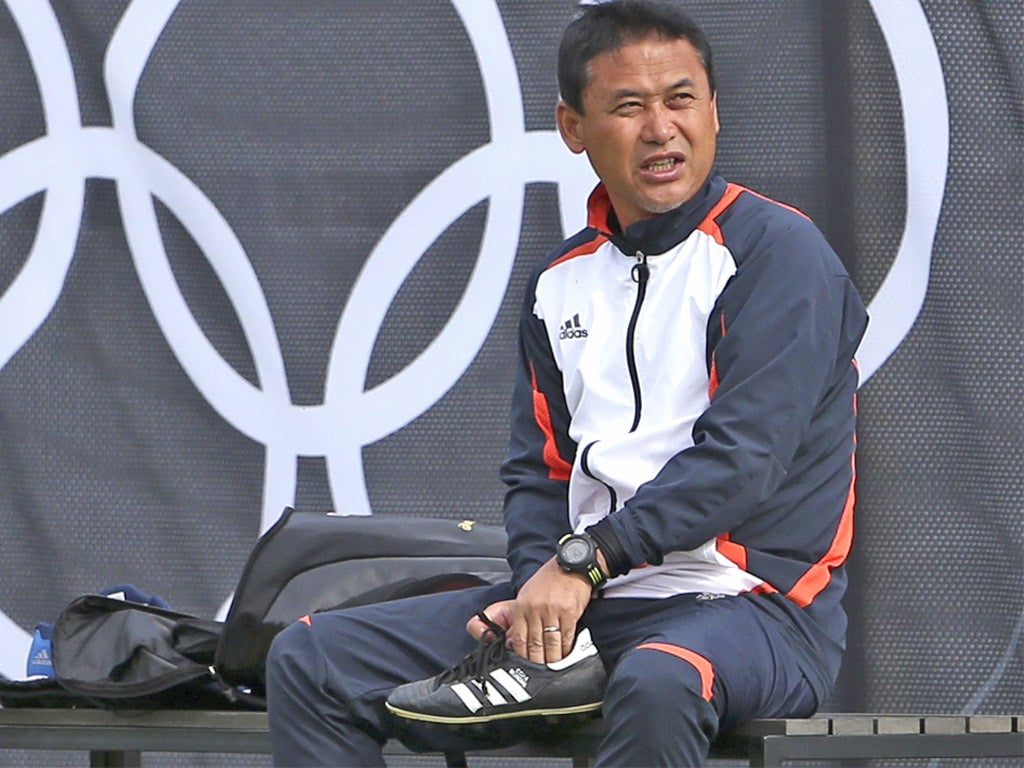 The Japan coach, Norio Sasaki, instructed his side not to push for a winner in their 0-0 draw against South Africa at the Millennium Stadium yesterday in order to stay in Cardiff for their next match.
The result gave South Africa their first Olympic point, while Japan finished second in Group F, meaning they remain in the Wales capital for their quarter-final on Friday. Sasaki said the draw had been an ideal result, as topping the group would have seen them play their next match in Glasgow.
Sasaki said: "We wanted to stay here in Cardiff for the next match. It was important not to move to Glasgow but to stay here and prepare for the next match. Before the game I did not tell the players to draw the match, but if we had a situation during the game –we might have some kind of an instruction to draw the game and it happened like that.
"It was a different way of playing compared to our usual game but I think the players were at the same stage and understood my instructions well.
"Now it is my turn to make preparations for the team to win the next match in order to get through to the semi-finals."
Had they won the group, Japan would have been set to play the runner-up in Group G, which includes the United States and France, at Hampden Park.
When challenged over his statement, the coach added: "I was thinking of the condition of the players. It takes a very long time to move to Glasgow from here.
"We are here to challenge for the gold medal and we are still a challenger. For us it is important to have good preparation for the next match.
"I feel sorry I couldn't show a more spectacular game but it is my responsibility why the game was like that today. Because of that, we would like to show our best performance in the quarter-final that will be played here."
A representative at the match from Fifa, the game's governing body, was unable to comment on the remarks from Sasaki.
In Group F's other match yesterday, Striker Melissa Tancredi scored twice as Canada came from behind to snatch a precious draw with Sweden.
John Herdman's side trailed 2-0 to goals from Marie Hammarstrom and Sofia Jakobsson as the Swedes got off to a flying start. But Tancredi reduced the deficit before half-time and then claimed a late equaliser to ensure that both teams go through to the quarter-finals.
Sweden, who finished top of the group, stamped their authority on the game early on, scoring twice inside the opening 16 minutes with a devastating salvo. Hammarstrom put them in front from Lina Nilsson's right-wing cross with just 14 minutes played, and then supplied the ammunition from the opposite flank to allow Jakobsson to double their advantage.
But Canada, who qualified as one of the two best placed third-placed teams, refused to throw in the towel and although the Swedes looked capable of adding to their tally, got themselves back into the game two minutes before half-time when Rhian Wilkinson played a one-two with skipper Christine Sinclair down the right and floated a cross to the far post for Tancredi to fire home her third goal of the tournament.
It took brave blocks by keeper Hedvig Lindahl and Nilsson to deny Tancredi and then Jonelle Filigno a 48th-minute equaliser, but Tancredi squared it seven minutes from time with a header from Sinclair's accurate cross.
Join our commenting forum
Join thought-provoking conversations, follow other Independent readers and see their replies