Golden girl just wants a burger with chips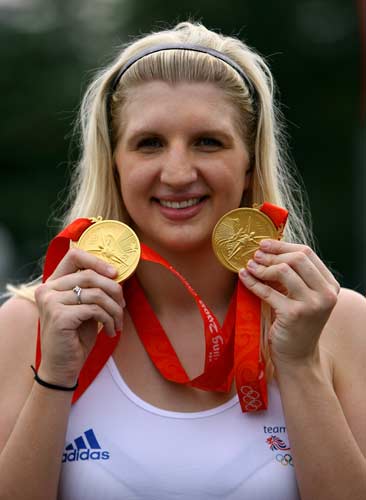 She won by miles, and shattered the world record. She took her second gold of the Games, to become the most successful British swimmer in a century.
Fellow swimmers were calling her Dame Becky yesterday, as Team GB headed for its best-ever Olympic weekend. So how would Rebecca Adlington celebrate? Like teetotal teenagers do.
"I'm going to go to McDonald's," she told The Independent on Sunday with a sheepish grin. "After all this hard work, and watching what I eat, I just fancy a burger and some chips."
The 19-year-old from Mansfield, Nottinghamshire, may not drink champagne, but she will be able to afford it now, as she is likely to be made a millionaire by sponsorship deals and endorsements. But Adlington said she was looking to mark her victories with something that meant more to her than money ... shoes. A pair of Jimmy Choos, to be precise, and some by Christian Louboutin.
The first were promised by her mum, Kay, who used them as an incentive to get her through all those hard mornings when she had to be up at 5am for training.
"Rebecca swims for shoes," Mrs Adlington joked last week... shortly after being emailed the internet link for the exact ones her daughter wanted.
The second pair will be a gift from the Mayor of Mansfield. The local baths where Adlington learned to swim will also be renamed in her honour when they reopen next month.
And the idea of her being named Dame Becky in a future honours list no longer looks like an Olympic Village in-joke. Although there were gold medals for Britain in cycling and rowing yesterday, with the hope of more to come today, it was Adlington who captured the most attention, after that unexpectedly glorious win in the 800m freestyle. She took two seconds off the longest-standing world record in her sport, set in 1989 – the year of her birth. She is still young enough to hope for even greater things in London in four years' time.
There is little danger of Adlington losing her focus on the event, because another of the little celebrations she has planned is to get a tattoo of the five Olympic rings. "Just on my lower back," she was keen to clarify.
Before that, the new champion will relax on a cruise around the Mediterranean – being careful to watch her step on deck. Astonishingly, the best British female swimmer for years is scared of the ocean. "I'm petrified of the sea," she admitted. "I can't do fish. I'm terrified of what might be underneath me."
She will holiday with her parents Kay, 48, and Steve, 50, who is the managing director of a steel manufacturing firm. The cruise was originally booked through an internet firm, which turned out to be a scam. But the £1,100 the family lost on that booking will be dwarfed by what she can expect to earn now.
Even before Adlington was dry after her first gold, the producers of the BBC quiz show A Question of Sport were on the phone to her team. Calls also started to come in from agents talking book and television deals, advertising and corporate work. While she won't want to be distracted from training for 2012, the extra income will help a great deal: despite being in the elite squad, she receives only up to £10,000 a year from Sport UK to help her survive as a full-time swimmer.
Adlington's parents were not in Beijing to see their daughter win the 400m last Monday, because she had not been expected to make the final. But they were there yesterday.
"I went over to see Mum and Dad in their seats afterwards and the crowd just mobbed me," Adlington said. "It was a bit weird. Everyone just went 'whoosh' towards me. It's not really sunk in. I spoke to one of my sisters [in Mansfield], and the press are already outside the house." Those two older sisters, Chloe, 24, and Laura, 21, provided the competition when Rebecca took up swimming seriously at an early age. She now does 70km per week in the pool, in 10 two-hour sessions, plus gym work.
Steve Adlington said: "I'm absolutely stunned at what Becky's done today. I can't believe what I've seen this week. Two gold medals and she's broken the world record by so much."
Her mother added: "It's totally unbelievable. I feel like someone is going to pinch me and I'll wake up."
The swimmer herself described how she coped with the jitters before yesterday's final. "I watched a bit of CSI Miami in the Olympic village to try to take my mind off the race," she said.
"My nerves were really bad when I got to the pool. I had to keep lying down because I thought I was going to be sick ... but as soon as you dive in, the only thing you think about is the strokes, consistency and telling yourself, 'Don't mess this up'."
Adlington's coach, Bill Furniss, is certain the success will not go to her head. "Not at all," he said. "She's a Mansfield girl and she'll stay a Mansfield girl."
Spoils of success
Rebecca Adlington could be on her way to earning her first £1m in sponsorship following her success.
she is the first British woman to win an Olympic swimming race in 50 years and the most successful British swimmer in a century.
Adlington "represents a fantastic opportunity [for brands]," said brand specialist Mark Borkowski. "She has become an over-night British figurehead."
Companies such as BP and BT could offer Adlington up to £100,000 a year each to endorse their brands.
"I predict she will endorse sportswear for the likes of Speedo," said Alan Pascoe, of specialists Fast Track.
Rebecca Adlington's win in the 800m freestyle took two seconds off the world record, the longest-standing in her sport, which was set in the year of her birth, 1989.
Join our commenting forum
Join thought-provoking conversations, follow other Independent readers and see their replies