'Write-off' Olympic medal targets should be a thing of the past, Great Britain's Eilidh Doyle claims
Chef de Mission Mark England says Team GB remain confident of exceeding their 2016 tally but Doyle doesn't buy into the numbers game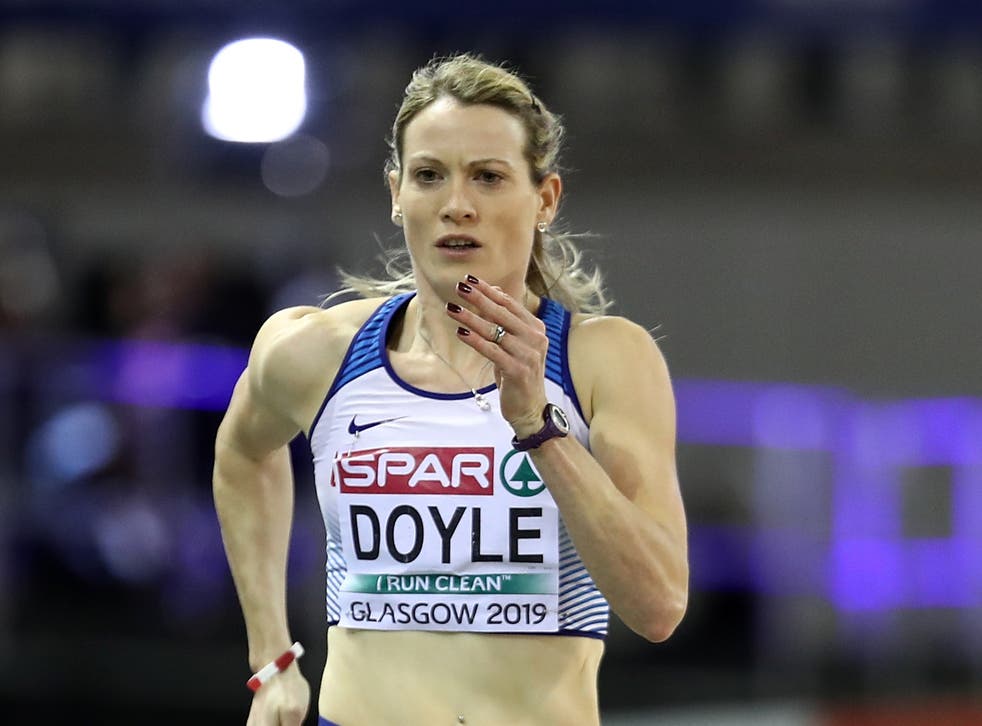 Eilidh Doyle wants Tokyo 2020 to herald the end of medal targets for Team GB.
Analysts Gracenote predict that British athletes will win 11 gold medals - down from 29 at London 2012 - and 36 overall, almost half the Rio total, at this summer's Games.
Chef de Mission Mark England says Team GB remain confident of exceeding their 2016 tally but Doyle doesn't buy into the numbers game.
"I've never been a fan of medal targets, they just take the shine off brilliant performances," said the 400m star, who is working with Purplebricks to encourage the nation to get behind Team GB on their journey to Tokyo.
"I captained Britain at the 2017 World Athletics Championships and I was constantly asked about why we weren't hitting the medal target - although we did in the end.
"I was looking at our performances, and you had people like Dina Asher-Smith finishing fourth (over 200m) having broken her foot a few months before.
"That result was perfect for Dina's progression. She didn't win a medal but that was what she needed to do at that point to go one better and look what she did in Doha.
"I've never liked these targets and at this Games, they're a write-off. There's going to be a lot of surprises this time."
An extra year has benefited Britain's track athletes more than most, with Doyle's fellow Scots Jake Wightman, Laura Muir and Jemma Reekie set to shine even brighter in 2021.
Yet it's far from a done deal that Doyle, Scotland's most bemedaled track & field athlete, will join them.
The 34-year-old gave birth to son Campbell in January 2020 and after a positive post-pregnancy experience, wanted to stick it to sceptics and make the original dates for the Games.
Postponement looked to have made that even easier until she tore her calf muscle in February and just as it was getting better, stubbed and broke her toe at home last month.
Still Doyle battles away - the relationship with husband Bryan, also her coach, has never been more important and little Campbell provides all the inspiration she needs.
"I've always said I'm in my sport because I love it, and part of the reason I love it is because I want to show Campbell that," said Doyle.
"Having the months in lockdown just being a mum was really special, but when the first lockdown ended, I really missed that regular training and routine.
"Bryan knows me better than anyone, and as my coach he knows when I've slept badly or had to be up all night and won't overdo training.
"He can also bring Campbell to the track and look after him so I don't have to worry!
"If I do make it to Tokyo, we will have done it as a family unit, and if I don't, I've got the perspective I need to come back better."
The offending toe is the first bone that the Perth native has broken, blissfully free of injury in a career that has encompassed five European and five World Championships.
Doyle has shelved her bid for an individual slot in the 400m hurdles and will now go all out on the flat to make the 4x400m relay, in which she won Olympic bronze in Rio.
Those vying for one of six Tokyo berths will be able to steal a march on her at the World Relays in Poland in May, but Doyle isn't shy in stating her case.
"Since 2013, I've been in 4x4 team at every major Championships and every team I've been in has won a medal," she said.
"That team is used to winning medals and everyone wants to be a part of that group. To have people like Jessie Knight coming through, it can only strengthen it.
"Emily (Diamond) and I could be the survivors from Rio and we bring that depth of experience. We'll be the only ones that have been to an Olympics and that's valuable."
Rarely a day goes by without new headlines around the fate of the Games, despite all possible indicators pointing to them opening on 23 July.
Doyle can point to her memories of the shadows that were cast over the build-up to London and Rio in expressing confidence that Tokyo will come together.
"It will be a different Olympics, but still an Olympics," she said.
"As soon as the sport actually starts, a lot will be forgotten. Once the medals start coming in and people start competing, I think all the focus will shift onto that.
"It was the same in London and Rio with all the problems in the build-up, and I just hope that happens again."
Eilidh Doyle, who is working with Purplebricks to encourage the nation to get behind Team GB on their journey to Tokyo, with the same amazing home support as London 2012. Visit @PurplebricksUK. To enter the draw to receive one of 2,020 limited edition prints, visit https://page.purplebricks.co.uk/teamgb_homesupport/
Join our new commenting forum
Join thought-provoking conversations, follow other Independent readers and see their replies