Heroics of Bradley Wiggins and Laura Trott ensure boom in cycling
Overall figures for those taking 'meaningful exercise' once a week on the increase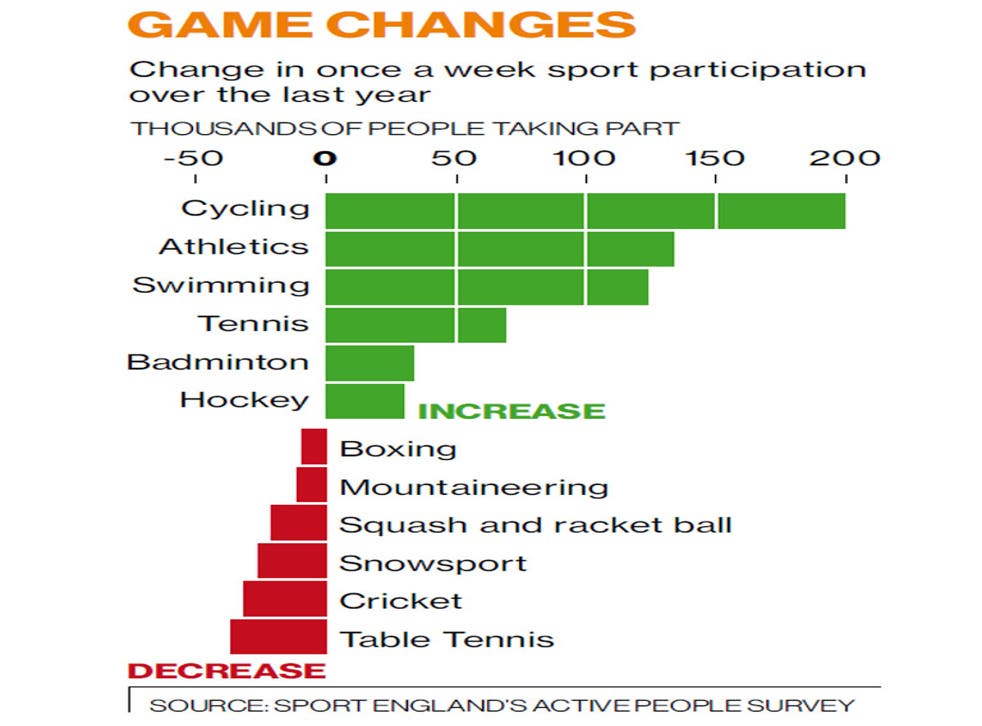 This afternoon amid the historic surrounds of the Tower of London, Britain's sport of the moment had further cause for celebration with Bradley Wiggins winning the first of what will no doubt prove a Christmas sackful of end-of-year awards, this one as the Sports Journalists Association's sportsman of the year. Yesterday morning cycling was revealed as the sport most people have turned to in the wake of this summer's London Olympics. There is no need for any Mark Cavendish-style single-fingered salutes, just V for victory signs – this is a British sport in the rudest of health.
The success of British cyclists has been the story of this sporting year, whether it was Wiggins making history in the Tour de France or Sir Chris Hoy doing likewise in the London Velodrome. Allied to this has been a grassroots expansion, one roused by the headline grabbing of its heroes but propelled by a governing body that has recognised it has a moment to seize. Lance Armstrong may have damaged the sport globally but in this country at least it appears enveloped in a burst-proof bubble.
Yesterday's publication of Sport England's first Active People survey since the Olympics was a significant moment for sport in England. Lord Coe promised the Games would inspire a generation as part of his rhetoric for bringing the Olympics to the capital – history shook its sage head: no host nation has ever experienced a lasting post-Games rise in participation.
Yesterday offered the first indication of whether history might be rewritten, and the overall figures are encouraging. A rise of 750,000 people taking meaningful exercise once a week since last year is a good start, particularly the rise of half a million among women. It was also a "moment of relief", as someone involved put it. If this survey, carried out in October, had not shown an upturn it would have been disastrous.
Even amid the flat-lining of the 16-25 age group numbers there is cause for optimism. There is anecdotal evidence of younger age groups having been moved to try sport because of the Games. Those will begin to show next year – if the sports have managed to retain their interest.
"I think there has been quite a big Olympic effect in terms of an appetite to try things," said Sue Tibballs, chief executive of the Women's Sport and Fitness Foundation. Post-Games polling by the WSSF found 30 per cent of women felt inspired to be more active because of the Olympics. "The big question is whether that can be sustained," said Tibballs.
That is the question that needs a positive answer if Coe is to be proved right and one that we will have a better indication of in a year's time when the Olympic glow has died down. Whether it can be sustained comes down in large part to individual governing bodies.
British Cycling has combined success at the higher level with continued expansion down below – if somebody is inspired to get on a bike by Hoy or Wiggins, there are programmes in place. "Breeze", female-led bike rides, is one: 63,000 more women have begun cycling over the past year.
"After Beijing, [we] set out to inspire a new audience to get involved in cycling at all levels," said Ian Drake, British Cycling's chief executive. "We have programmes for all ages and abilities – from families who want to cycle for fun, to young people aspiring to be the next Bradley Wiggins or Laura Trott. With almost two million people cycling once a week following a summer of unprecedented cycling success, this is our legacy in action."
While there is an Olympic effect – sailing enjoyed a surprise increase – it is not the be-all and end-all according to Jennie Price, chief executive of Sport England. "It's only part of the story," said Price. "The Games definitely helped cycling but they already had very solid plans."
There is life beyond the Olympics too, and beyond the mainstream. Netball offers a glowing example of how a grassroots programme should be run. In terms of numbers playing the game it has overtaken basketball – a sport that seems to have squandered its Olympic opportunity – and has three times as many participants as rugby league.
"Netball is a market leader in how you grow participation," said Price. "It has become sport of choice for young women."
Register for free to continue reading
Registration is a free and easy way to support our truly independent journalism
By registering, you will also enjoy limited access to Premium articles, exclusive newsletters, commenting, and virtual events with our leading journalists
Already have an account? sign in
Register for free to continue reading
Registration is a free and easy way to support our truly independent journalism
By registering, you will also enjoy limited access to Premium articles, exclusive newsletters, commenting, and virtual events with our leading journalists
Already have an account? sign in
Join our new commenting forum
Join thought-provoking conversations, follow other Independent readers and see their replies