Tokyo Olympics: Britain emerge from the bedlam to win hockey bronze against India
Team GB's women won a thriller with India to secure a medal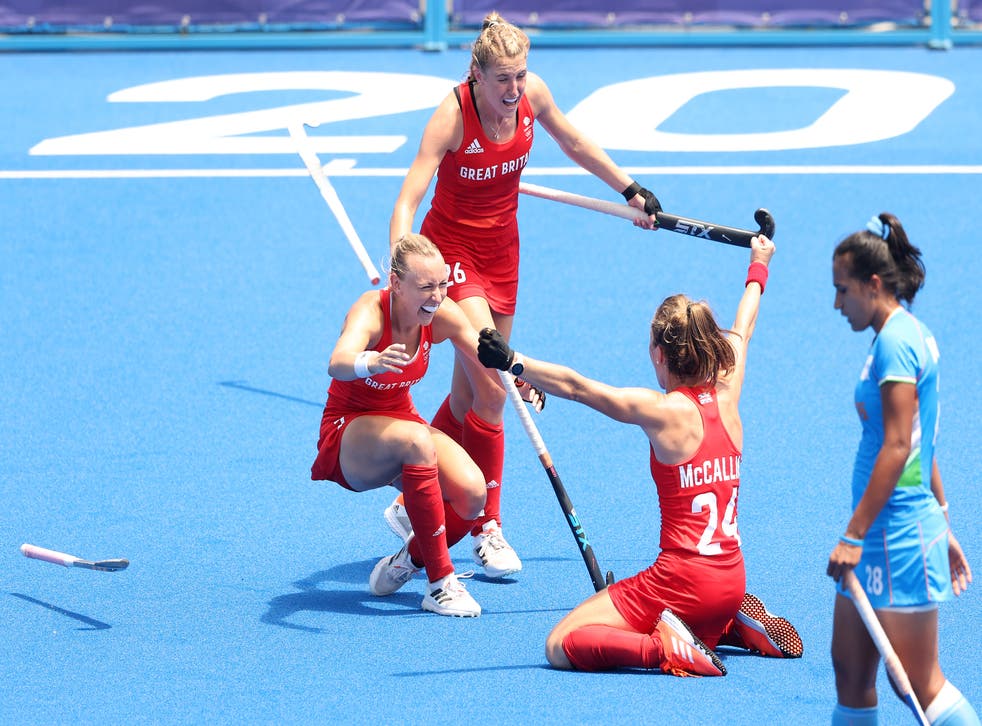 Great Britain's women won the bronze medal at Oi Hockey Stadium after beating India 4-3 in a thrilling clash at the Tokyo Olympics. Although the Rio 2016 champions relinquished their title following an emphatic semi-final loss to the Netherlands on Wednesday, they dug deep and secured a third successive Games podium finish.
Their sequence from London, Rio to Tokyo reads bronze, gold, bronze. And while that middle medal was no aberration, despite what the Dutch will tell you, it was never going to be the start of domination. The age profile of the core squad meant a refresh was always going to be needed for the next four years. Seven of the 16 gold medal squad retired. New blood was needed.
But the refresh looked more like a reset. A fifth-place finish in 2018's Champions Trophy was followed by finishing eighth in the Pro League, meaning an Olympic spot had to be earned through a qualifier against Chile. Meanwhile, England, who the majority of the players turn out for, failed to medal in the European Championships for the first time since 2003.
Yet here they are, deservingly on the podium, earning victory through the kind of pluck they had lacked a few years ago. A 13-minute period before halftime featured five goals, turning their 2-0 into a 3-2 India's way. A rollicking from head coach Mark Hager followed at half-time. Over the next 30 minutes, Team GB's greater quality wedded with endurance saw them score in each of the last two quarters. And, perhaps, being able to delve deep into the experience of the struggles across these last five years.
"Out of all the cycles I have been part of, this has been my most challenging and I think as a team it has been our most challenging," said Laura Unsworth, the first British hockey player to have three medals to their name. This, though, means as much as gold.
"To be honest, it probably is up there with the Rio gold medal. The things we have had to overcome as a team, people don't know about, as a squad, we stuck together. We've been resilient. We fight. And I think that was shown out on that pitch today. That was GB."
Hollie Pearne-Webb, one of the survivors of Rio, and scorer of the equaliser to make it 3-3, was open to talking about the doubts at the start of this group coming together. Convincing each other took time.
"There have definitely been times throughout this cycle where you have thought, 'Gosh, can we actually achieve what we want to achieve?'
"I think we definitely deserve to be on that podium. But there have been moments where there were seeds of doubt. We have the players and I think our greatest strength is how we rely on the whole team and not just individual players."
Sadly this proved a bridge too far for India's women. But fourth is reflective of their improvement since the bottom placing (12th) at Rio. And more importantly, this crop has shown that it is worth rallying against the caps placed on the potential of young Indian women, and the tempering of their expectations.
An emotional Sjoerd Marijne addressed his team at the end. The Indian head coach, from Holland, told them their tears could not be taken away. But he did offer them comfort that they have done so much more than earning personal pride for themselves. Since women's hockey became part of the Olympic programme in 1980, this is only the third time India have been involved.
He told his players: "We didn't win the medal, but I think we achieved something bigger, and it's inspiring a country and make the country proud."
Speaking in the mixed zone, he reiterated his and the collective pride in those who took to the pitch.
"I've shown many messages of people who were saying that, and I think the world have seen another Indian team, and I'm really proud of that. I feel so blessed to have been able to do this four and a half years for India. And I'm overwhelmed with reactions. And there will be a moment the girls will realise this, and I hope the country will embrace them and keep them in the heart."
Great Britain dominated the first quarter, shifting the ball around in front of India, dominating without ever threatening. They did not have to wait long for a deserved lead, scoring a minute after the restart. What they wouldn't have known is the bedlam that was to follow.
A bit of inspired stick-work from Ellie Rayer put the defending champions 1-0 up. It looked like she was running out of room as she ventured down the right wing and cut into the shooting circle. However, she decided to take the aerial route, scooping up of the ball, doing a few keep-ups and then putting in into the bodies in the middle where a deflection off an Indian stick deflected it home.
That was 2-0 eight minutes later, when Sarah Robertson tomahawked into the bottom corner beyond Savita Punia in the Indian goal. With that, the fear of a one-sided match began to take hold. But this India side are who and where they are because they simply do not accept fate determined by others.
However a brace of Gurjit Kaur penalty corners – one struck into the side-netting to Maddie Hinch's left, the other to the same corner but a little lower – squared matters in the space of a minute. The second was the product of a fantastic run from Salima Tete, who led a counterattack from just inside the GB half, picking up the infringement for her team within a yard of the opposition goal.
India were now thriving, charging at red shirts with renewed belief, opening them up with the odd bit of flair. But it was instinct that put them ahead when a couple of ricochets resulted in a tap-in for Vandana Katariya. Those involved with the Indian side on the stands cheered wildly as the GB contingent on the other side of the main grandstand fell silent.
The roles had reversed five minutes into the third quarter when Pearne-Webb made it 3-3. The 30-year-old reacted to a kind break of the ball, maintaining her composure to hit into the far corner from a touch further out from the penalty spot.
That was the only goal of those 15 minutes, though not for a lack of trying. A fine save from Hinch, keeping out a penalty corner that looked set to rustle the left side of her goal for a third time. Punia answered with one of her own, sprawling low to keep out a chance as the fourth quarter loomed.
Three minutes in, Team GB got that unanswered fourth. After missing six previous penalty corners, Grace Balsdon finally scored, opening her body to nail a precise flick.
Unfortunately, India could not quite summon that second-quarter energy to launch another comeback. Beyond a tantalising cross four yards out from goal that went unmet, Team GB are able to control how much of the ball India had and where they had it.
The final minute carried no jeopardy, as the ball found itself deep in India's half, shielded in both corners before the final klaxon went.
For Team GB, this is the end of what has been a challenging cycle. The pandemic was a struggle, but then perhaps it also gave this group of new blood another new to bed in and discover themselves as hockey players. Whatever the reason, they are now further along their journey than expected, with something to build upon ahead of a tilt towards Commonwealth gold in 2022 and regaining their crown at Paris 2024.
Join our new commenting forum
Join thought-provoking conversations, follow other Independent readers and see their replies