How Beijing used rockets to keep opening ceremony dry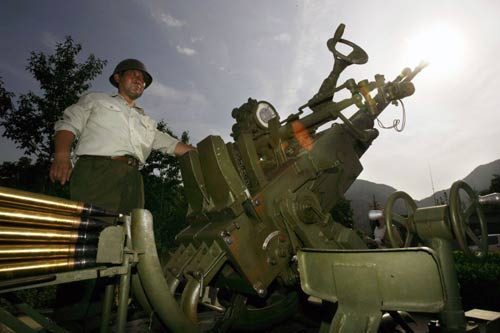 China's cunning multimillion-pound plan to manipulate the Olympic weather seems to be yielding results. While rain drenched the capital yesterday, the downpour that should have fallen on Friday night was averted; Olympic organisers fired a barrage of 1,110 rockets into the evening sky to make sure the 2008 Olympic opening ceremony was precipitation-free.
It has become a tradition in Beijing to seed the clouds before public holidays, such as National Day on 1 October, to make rain, disperse pollution and ensure clear skies on the day. But for the opening ceremony, the purpose was simply rain dispersal – bringing on a downpour but not on the Olympic stadium.
Friday saw the biggest effort yet, as the"weather changers" began firing rockets from a battery of artillery into the clouds above Beijing four hours before the opening ceremony and continued firing until 11.40pm, shortly before the finale.
The "Bird's Nest" Olympic stadium was originally intended to have a roof but it was removed from the design because of a sharp rise in steel prices a couple of years ago.
Zhang Qiang, the deputy director of the Beijing Weather Modification Office, insisted there was no environmental danger from using silver iodide to disperse rain and clouds, as only one gram of the chemical was released per square kilometre, a level safe for humans.
The rockets were fired from 21 sites in the city, intercepting a potentially disruptive rain belt and triggering premature showers before they reached the capital. Baoding city, south-west of Beijing, received about 100mm (4in) of precipitation on Friday night but in the capital the rain held off, even though August is the rainy season in normally tinder-dry Beijing.
Weather modification is an important government department, employing nearly 40,000 people, 3,000 of whom work with an arsenal of 7,000 cannon and 4,687 rocket launchers. They have a budget of around £50m, but money is no object when it comes to the Olympics.
Controlling the weather may also help to reduce air pollution during the Games – the organisers have plans to generate rain to clear smog if needed.
Making rain
How did it begin?
It may sound like science fiction, but cloud-seeding was developed in the 1940s by US chemist Vincent Schaefer.
What is cloud-seeding?
Particles injected into a cloud act as nuclei to which water vapour freezes. The resulting droplets fall as rain or snow.
How does it work?
Silver iodide is fired at the clouds from aircraft or artillery batteries.
Cloud ownership
Occasional rows break out between countries over who "owns" the rain from clouds.
The debate...
Some meteorologists say it can boost rainfall by up to 30 per cent. Others disagree.
Join our commenting forum
Join thought-provoking conversations, follow other Independent readers and see their replies