In 2012, they will struggle to catch the Pidgeon
Cheltenham high-flier has sights set on Olympic glory and there is big money riding on her – but she takes the pressure in her stride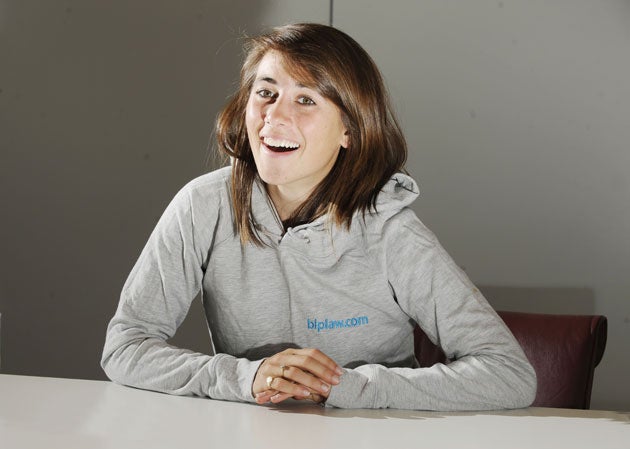 Cheltenham , renowned for its thoroughbreds, currently boasts a fleet-footed filly who is chasing not so much a Gold Cup as a gold medal. Although Emily Pidgeon has done her share of steeple-chasing, her forte is the flat, but she'll be the first to admit that in her early athletics career she had a few hurdles to overcome in her pursuit of being first past the post in the 2012 Olympic Stakes.
A product of Cheltenham Ladies College – her family home is in the Cotswolds spa town – she is earmarked by the bookies as a possible front-runner for the 10,000 metres after a local punter placed a sizeable bet on her at odds of 200-1 five years ago.
So, no pressure then for the psychology student who has emerged from a 13-year-old schoolgirl cross-country prodigy to become one of Britain's most precocious running talents, the lass tipped most likely to step into Paula Radcliffe's running shoes.
But pressure is something this fledgling Paula takes in her elegant stride. She has had it for much of a career pockmarked by an early fractious relationship with UK Athletics over their central contracts policy, which her father Stephen refused to allow her to sign – ruling her out of Lottery funding – and an acrimonious split with early coach John Farrow. "I thought long and hard about it and of course I was worried I might regret it. There were tears for a week or so but afterwards I felt a changed person. There are no regrets. I'm glad I did it."
That, she says, is all behind her now. There has been a rapprochement with the governing body – against whom the Pidgeons successfully fought a sex discrimination case when she was 13 and was refused entry to a 3,000m event when boys of that age were allowed. And things are going swimmingly at Loughborough University under her new coach, John Nuttall.
Her talents began to shine through at school. "I used to do sprints but I was hopeless, so it was obvious to me that cross-country was clearly my strength. When I ran as a 14-year-old for GB against Italy I came second against girls who were four or five years older. When I was 15, I went to the World Cross-Country Championships where I came 20th, which was pretty good, and from then on it got better and better."
Cross-country is not an Olympic event so she has been concentrating on the 5,000m (she was European junior champion in 2005) while also eyeing the 10,000 and eventually the marathon – à la Radcliffe. She has done three 10km runs on the road but never a marathon. "To run long distances is not only hard work but there is a lot of physiology involved and you also have to have it mentally. It's quite tough at the moment because I have so much work on at university and you have to be really disciplined but to be honest my running comes first. I do my other work around that."
Being compared to Radcliffe in her teens was "very flattering", she says, "but my parents kept me grounded". The youngest-ever distance runner to be picked for a GB representative team, she won the European junior 5,000m title and holds the British Under-15 and Under-17 3,000m records, as well as junior 2,000m and 3,000m steeplechase records. She was a bronze medallist in the 2007 Junior European Championships and finished 17th in the World Cross-Country Championships in 2007, the second-placed British and European runner. Last year she was a member of the victorious British cross-country team in the Junior European Championships.
Pidgeon, just 20, lists interests outside athletics as shopping and films. "I don't have that much of a social life as I am not really a normal student because of my running. In fact it seems to be all revision and running at the moment." She says in 2012 she plans to concentrate on the 10,000m but after that she will take the marathon route, following in Radcliffe's footsteps. Two years ago she went to South Africa and trained with Zola Budd. "We were able to compare notes because she had quite a difficult relationship with her old coach too. She's a lovely person, quite normal and unspoiled. She was very helpful with training tips and quite a lot of stuff I was doing was quite similar to her former routine."
But her undoubted icon is Radcliffe, who has tipped her to be a star. "No question about it. She's been great, helping me financially through her award scheme and emailing me advice. She also invited me to her house for tea but we avoided talking about athletics, it was just a good gossip. She is such an inspiration."
City law firm Berwin Leighton Paisner facilitates Pidgeon's overseas training and she's also now Lottery-funded. "You really need help in this sport. It's not just a question of getting a new pair of trainers every now and then."
To compete in 2012 "would be amazing", says the personable Pidgeon. But, as Steve Cram says of her: "Being a promising youngster is one thing, but to deliver when there is some expectation will determine whether she has got what it takes to be a big success." So she needs to be a stayer in the gallop for gold. Form horse or dark horse? The next three years will prove whether this Pidgeon really is a high flyer.
British Olympic Association
The British Olympic Association are the National Olympic Committee for GB and Northern Ireland. They lead the nation's athletes at the summer, winter and youth Olympic Games. The BOA also deliver elite-level support services to Britain's Olympic athletes. For further information, go to: www.olympics.org.uk
Join our commenting forum
Join thought-provoking conversations, follow other Independent readers and see their replies