Rio 2016: Jo Pavey calls Almaz Ayana's surprise record smash 'the craziest race I've ever been in'
'You hope not to get lapped at all, but to get lapped so early is really shocking. It was the craziest race I've ever been in.'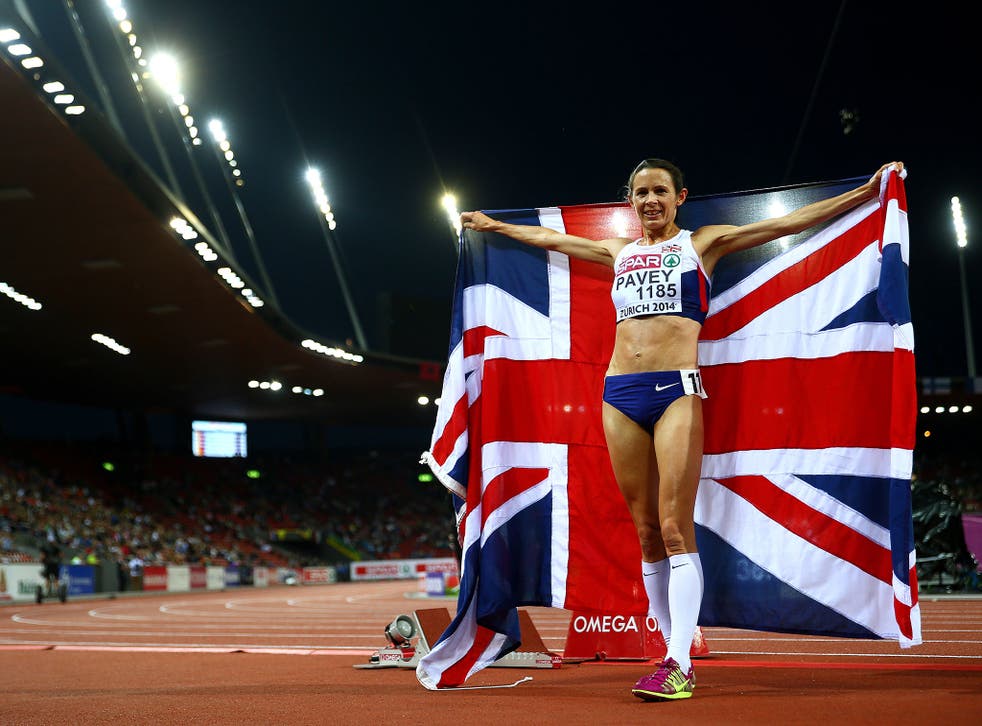 The Great British long-distance runner Jo Pavey was flabbergasted after the 10,000m race in which she was lapped and the world record, which has been held by one of China's "chemical sisters" Wang Junxia since 1993, was smashed by 14 seconds by Ethiopia's Almaz Ayana.
The record was obliterated when Ayana ran 29mins 17.45secs to win gold in the opening track event at the Olympic Stadium on Friday. Pavey finished 15th, one spot ahead of her British teammate, Jessica Andrews, but both were way off the incredible pacesetter.
"When I heard the times I just couldn't believe it," Pavey, 42, said. She was not alone with social media abuzz with incredulity. "It's so much faster than you could ever imagine anyone could run. I was aware how soon they lapped us. You hope not to get lapped at all, but to get lapped so early is really shocking. It was almost confusing. Everyone was running so fast you didn't know who was in which lap.
"It was the craziest race I've ever been in. It had 37 starters. I've never had that before. It was really surprising. I'm not going to be competitive with those times, even if I was younger."
The 10,000m record set by Wang, who was the subject of numerous doping allegations, had not even come close to being beaten before Friday, and Pavey admitted she thought it was pretty safe.
"I never thought the Chinese record would go," she said. "You don't think of them as records really. So you don't expect them to go.
"I don't know. She seemed like she was ill before the race, coughing and stuff. Obviously it didn't matter to her. I didn't think that someone would go from the gun. I thought someone would push it from early on but not to produce a time like that. It is unbelievable. I don't know whether to be pleased or not, to have been in that race."
Given the nature of the victory – and athletics' recent murky past – doping was mentioned in the post-race press conference. Ayana dismissed any suggestions. "I train specifically for the 10,000m," the 24-year-old said. "And the Lord is giving me everything. My doping is Jesus. Otherwise I am crystal clear."
Pavey was asked if she hoped the race was clean. "It's hard to know isn't it? You can't say anything unless you've got any proof. You've just got to admire performances until you know differently. Unfortunately the sport's had a lot of dark days. Hopefully we can come through this. It's great that we are providing a cleaner sport for the future. I can't be one to suspect performances unless you've got proof. It's a sad day when if anything good happens you have to suspect it.
"What's happened with the Russian athletes, it was the right decision with the scale of the state sponsored doping to not have them. It sends out a strong message. When there are amazing performances, until you know differently, you've got to be able to admire a performance. I've got no reason to say everyone who does well is cheating.
"You just have to hope you can believe what you are seeing. I'm not going to arouse suspicions. I have no reason to. I'm just pleased testing is becoming better because I feel that a lot of my career I missed out on moments I should have had – and I speak for many athletes. I hope we've come through those dark days."
Rio 2016 Olympics - in pictures

Show all 74
For Pavey, it is the end of an incredible Olympic story, although she has no plans to retire just yet. She wants to run in London next summer at the World Championships, by which time she will be 43. "I would have liked to have run a bit quicker but I gave it my best on the day," she said. "Realistically, I am getting very, very old. Even so, the way training has gone I would have liked to have gone a bit quicker than that.
"I'm so honoured to have been in a fifth Olympic Games. When I was a school girl dreaming of going to the Olympics I never imagined I'd be standing here having done five. It felt so special to be on that start line.
"It's been a great experience. I took a moment before the race to think how lucky I am, to really try and take it in. I remember being at my first Olympics and thinking if nothing else happens in my career all my dreams have come true: I've run in an Olympic Games. I would never have imagined that I'd become the first runner from our country to do five. I never thought I'd still be doing it at this age."
Join our new commenting forum
Join thought-provoking conversations, follow other Independent readers and see their replies