The Independent's journalism is supported by our readers. When you purchase through links on our site, we may earn commission.
As America succeeds at the Games, back home all the talk is about #NBCfail
Host Bob Costas made a series of jingoistic remarks, including a joke about Idi Amin when Uganda's team appeared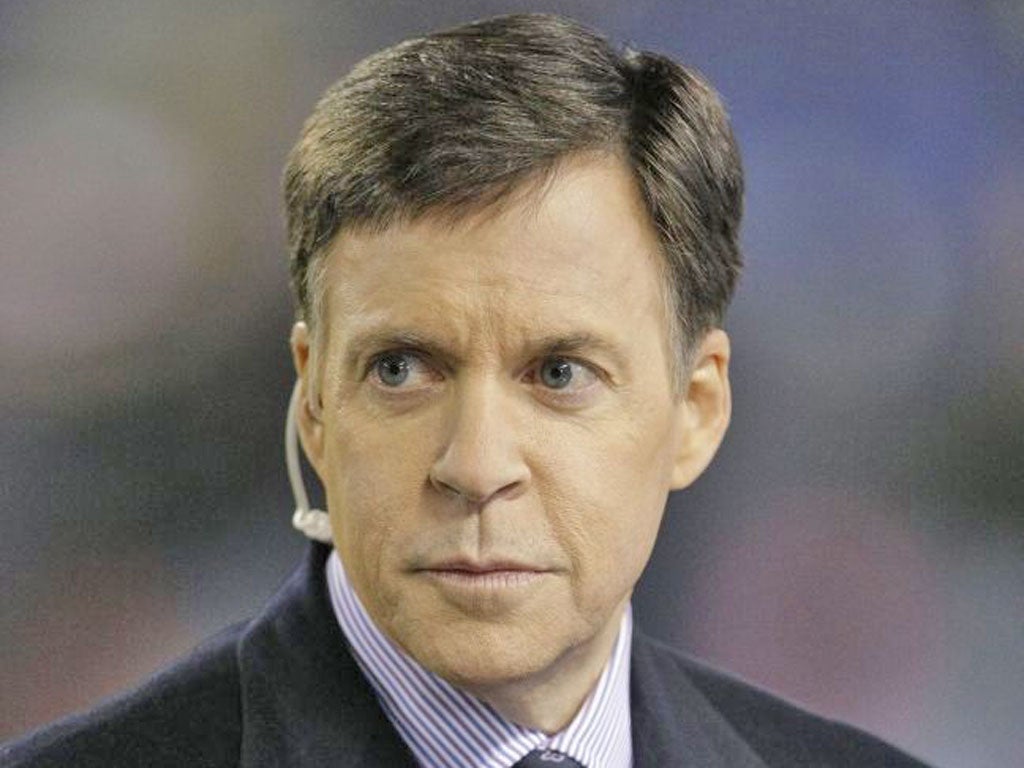 There was feverish anticipation for the debut of the USA men's basketball "dream team", who began their hugely hyped Olympic campaign yesterday afternoon. But you wouldn't have known it by turning on a television in their home country.
While Kobe Bryant and other big names in US sport were completing a 98 to 71-point victory, viewers of American network NBC were forced to watch edited highlights of a women's cycling race that had been completed several hours earlier.
It was the latest in a string of mis-takes by the broadcaster, whose coverage is sparking ridicule from TV critics and outrage from the US public. For most of the weekend, the phrase "NBC Fail" was trending on Twitter.
The broadcaster's nadir, however, perhaps occurred during the opening ceremony, which it refused to allow Americans to watch live.
When the event was screened, hours later, large portions were edited out to allow more time for commercial breaks. Yesterday, opening ceremony choreographer Akram Khan declared himself "horrified" that NBC had even decided to cut the event's tribute to victims of the 7/7 bombings.
At the centre of controversy was NBC's attempt to leverage maximum revenue from the Games, for which they paid almost a billion dollars, by foregoing live coverage of high-profile events. Instead, it intends to footage on time-delay during evening prime time, when brands will pay a premium to advertise.
The tactic may very well be the most lucrative for NBC, but it's the least satisfactory for viewers, and seems to blithely ignore the advent of the internet era.
It meant, for example, that Saturday's titanic swimming clash between Michael Phelps and Ryan Lochte wasn't broadcast in the USA until several hours after it took place. Adding insult to injury, NBC had already announced the result on its own evening news bulletin. While real-time footage is largely missing from free-to-air TV, some coverage (including the "dream team" basketball) can be found on NBC's cable channels, if you happen to pay for them. Other bits are supposedly being screened, to cable subscribers only, on a website – but it was suffering from "technical" difficulties for much of the weekend.
Even when they do find live sport, NBC viewers must suffer some of the most invasive advertising in the history of television: roughly 20 minutes during each hour is taken up by commercial breaks.
Critics have also rounded on the quality of NBC's commentary, which has been riddled with basic factual errors. They ranged from a cycling host's allegation that the Surrey countryside is full of "chateaus" to a map on NBC's website which describes Australia as "located in central Europe, bordered to the north by Germany and the Czech Republic, [and] to the west by Switzerland".
During the "parade of nations" in the opening ceremony, NBC host Bob Costas made a series of jingoistic comments about the alleged terrorist threat minor countries posed. He then joked about Idi Amin when Uganda's team appeared, and referred to the Sacha Baron Cohen character Borat when Kazakhstan emerged.
His colleagues, meanwhile, called Luxembourg "a small, central European country", said Djibouti's name "sounds funny", dismissed Australia as a "former penal colony", and admitted that they "haven't heard" of Tim Berners-Lee, the Briton who created the internet.
Join our commenting forum
Join thought-provoking conversations, follow other Independent readers and see their replies