Danny Boyle makes pledge on Olympic opening ceremony animals
Helen William
Thursday 05 July 2012 16:38 Comments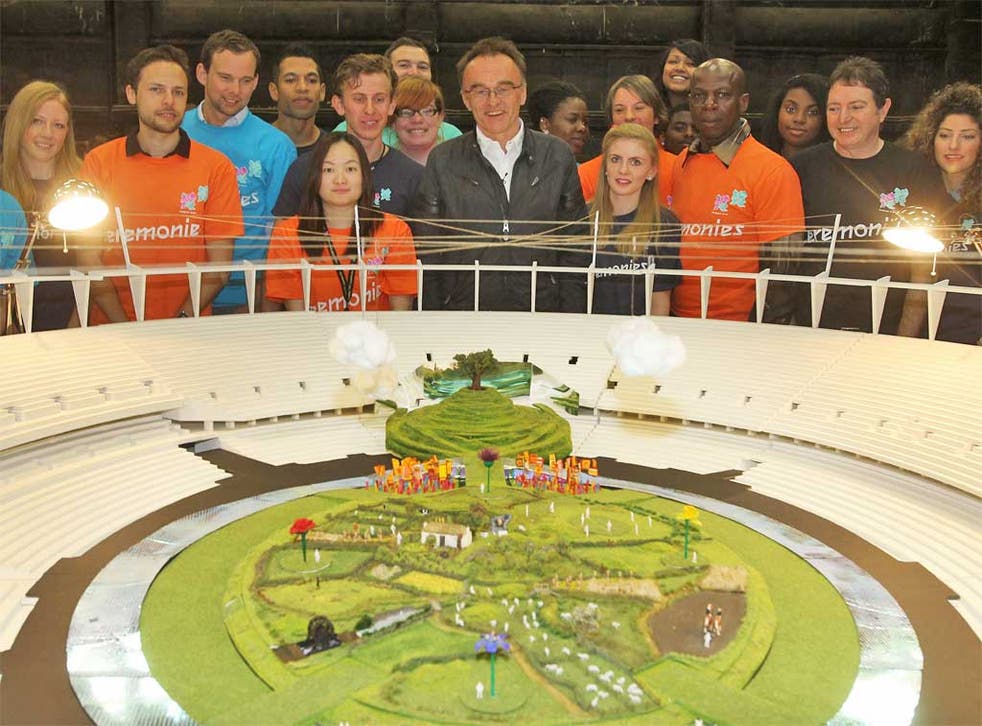 Danny Boyle, the artistic director of the opening ceremony for the London 2012 Olympics, has sent a hand-written letter to animal rights campaigners pledging that no harm will come to the animals used in the making of his show.
The Oscar winner wrote to Ingrid Newkirk, managing director of Peta (People for the Ethical Treatment of Animals), claiming "genuine care will be taken of the animals".
It was prompted by fears over the welfare of the creatures set to have a starring role in the £27 million curtain raiser at the Olympic Stadium on July 27.
Animals including 12 horses, three cows, two goats, 10 chickens, 10 ducks, nine geese, 70 sheep and three sheep dogs will appear in the event's opening scenes.
Noting Peta's concerns, Mr Boyle also claims he will "vigorously" look at whether the creatures can be retired to an animal sanctuary after the ceremony.
The venue in Stratford, east London, is being mocked up to look like a meadow dubbed by Mr Boyle as a green and pleasant land.
The audience of about 62,000 in the stadium and a billion people watching worldwide will see farmers tilling soil while animals graze.
Ms Newkirk wrote an "urgent letter" to Mr Boyle hoping he would accept that using live animals could trigger "serious problems" for the creatures such as stress and trauma.
Insisting it is not necessary, she wrote: "I would also like to urge you to consider using truly dazzling state-of-the-art animatronics instead of live animals, who are bound to be confused and stressed by the production. Please hear me out.
"There are inevitably serious problems involved when it comes to using live animals in productions, and I don't mean just aesthetically, with animals falling ill, defecating, urinating and so on.
"Animals become stressed and anxious when they are forced into unfamiliar or frightening situations, and stage sets - with their bright lights, heavy equipment and noisy crowds - are obviously traumatic environments for them.
"Then there is the transport to and from the venue, which also proves stressful as animals do not understand what is happening.
"And as for fireworks, clearly they frighten the bejesus out of animals. By contrast, the use of stunningly clever animatronics would create a show of Olympic proportions - without harming any living beings."
Ms Newkirk even offered to help Mr Boyle make contact with Peta's Los Angeles office if he needed a hand to locate studios which could "create jaw-dropping animatronics that would make your show both spectacular and animal-friendly".
She wrote: "Should you opt to use real animals - and we hope you do not - please do as the producer of Babe did and "pay them their wages" by making sure that they are retired to an animal sanctuary after the performance, rather than being sent back to farms and ultimately slaughtered.
"Your intent is to recreate our 'green and pleasant land' but real animals are not necessary to achieve this aspiration and, in fact, detract from it."
Mr Boyle replied: "In our attempt to present an inclusive, rounded picture of British life, including the countryside of which animals are such an important part, I fear we will never see eye to eye.
"All I can say is that genuine care will be taken of the animals, including judging how they react to the stadium environment.
"They will feature only in the beginning of the show during daylight hours and will leave the stadium shortly after 9pm and before any large effects or noisy sequences take place.
"I had not considered your point about the retirement of the animals but will now follow that up vigorously."
The hand-written letter is on paper which has the word Frankenstein in red running down the side of the page.
It seems to be written on stationary dating back to last year when the Oscar-winning director of Slumdog Millionaire was in charge of a stage version of Frankenstein at London's National Theatre.
Boyle starts his reply by apologising if Peta feels its fears have been treated in an "inconsiderate way".
He notes this is one of many different opinions, pressure groups and organisations which lobby the ceremony, making it impossible to personally respond to all of them.
There is also the added time pressure now the show is just weeks away, he notes.
Peta is still not happy with Mr Boyle's position.
A spokesman said: "Danny Boyle's reply does not fully address our concerns.
"We are satisfied that the animals won't now end up in an abattoir and that much more attention is now being paid to their welfare.
"But their transport and the stress of unfamiliar surroundings as well as their use as props rather than sentient, sensitive individuals have still not been addressed."
PA
Register for free to continue reading
Registration is a free and easy way to support our truly independent journalism
By registering, you will also enjoy limited access to Premium articles, exclusive newsletters, commenting, and virtual events with our leading journalists
Already have an account? sign in
Join our new commenting forum
Join thought-provoking conversations, follow other Independent readers and see their replies