London 2012: Jeremy Hunt dismisses claims Olympics has turned West End into ghost town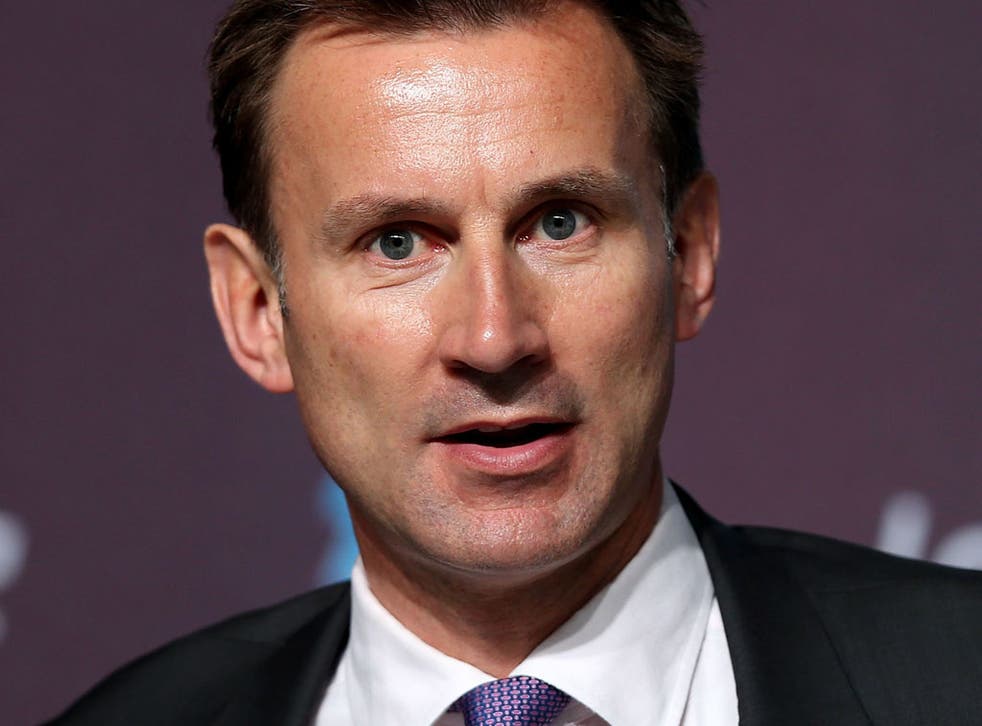 Culture Secretary Jeremy Hunt has rubbished claims that the Olympics has turned the West End into a ghost town, saying that it is "absolute nonsense".
Hunt said that hotels and other businesses who planned properly for the Games were doing well. He denied that visitor numbers to the West End were down on last year.
He risked outraging traders by saying: "Some West End businesses have done extremely well because they've marketed on the back of the Olympics.
"Some businesses have taken a hit, others are doing very well, but overall there is a big increase in business in the East of London." His message put ministers at odds with theatres, restaurants and retailers who say their takings have plummeted and tables are empty.
Mr Hunt said: "This is absolute nonsense and we have just got to knock this on the head." He cited official figures to claim 10.5 per cent more people are using transport than this time last year, that the number of West End visitors is unchanged, and that 40,000 more people were coming to the East End.
And Olympics Minister Hugh Robertson told BBC TV: "I would just say this to anyone involved in the retail sector or the hotel sector: this is hardly a surprise. It's not been a great secret. The Games were won seven years ago. There's been ample time to plan for it, to put in place marketing strategies."
Mr Hunt  predicted firms losing out today will reap benefits for years: "I think anyone who has a business anywhere in London is frankly quids in.
The Games has made London "iconic," he said, adding that experts were forecasting 4.5 million more tourists after the event, four fifths of whom would pass through London.
In a message to worried theatre bosses, he said: "The opening ceremony was the most magnificent display of British creativity, British culture, and British theatre that you could hope for. As a result of that, people will be wanting to come to the theatre in London for years to come.
"All this publicity in every corner of the planet can only help our restaurants and hotels and I think it is going to be a massive boost."
In response to a cabbie who tweeted that he was losing money, Mr Hunt said: "Talk to him next year."
Mr Hunt also denied the Government had gone too far in deterring commuters from central London: "People said it would be a nightmare at Heathrow, a nightmare on the Tubes, a nightmare on the roads. Actually the transport network has coped extremely well."
Mr Hunt has been attending the Government's Cobra meeting where security, transport and sport officials discuss problems. He said its latest issue was crowd control, with the athletics starting tomorrow. One plan is to ensure volunteers keep queues informed on delays. Big crowds will be diverted from Stratford station to West Ham.
He has watched events at a range of venues and said his favourite moment has been Britain's first gold, won by rowers Helen Glover and Heather Stanning, which he saw in his office. "There was whooping and cheering here, it was an incredible moment."
He believes 2012 will be "amazing for women's sport ... There's a big lesson here, because it is always a struggle to get broadcasters to take women's sports seriously — but we are all absolutely gripped, it's fantastic."
The Culture Secretary laughed off President François Hollande's jibes about Britain coming lower down the medals table than France, boldly saying: "My prediction is we will beat both France and Australia, and I think we are going to do really well."
He admitted he could not solve the problem of empty seats: "I want to be realistic about the extent you can crack it. Part of the deal when you host an Olympics is you have areas where people from national sports federations can come on a first-come, first-served basis."
At best, he suggested, reserved seats could be made less obvious. Despite concern about Twitter trolls, such as the 17-year-old arrested for sending threatening messages to diver Tom Daley, the Culture Secretary ruled out laws to curb tweets.
"We are incredibly proud of our democratic traditions of free speech. But with freedom comes responsibility. I would hope everyone using Twitter and Facebook understand their responsibilities to basic decency."
He said he spent £2,400 on tickets for the closing ceremony through the online ballot: "I said I'll take seats between £20 and £600, and I got four for £600 each. I thought to myself, the bastards have got me."
Register for free to continue reading
Registration is a free and easy way to support our truly independent journalism
By registering, you will also enjoy limited access to Premium articles, exclusive newsletters, commenting, and virtual events with our leading journalists
Already have an account? sign in
Register for free to continue reading
Registration is a free and easy way to support our truly independent journalism
By registering, you will also enjoy limited access to Premium articles, exclusive newsletters, commenting, and virtual events with our leading journalists
Already have an account? sign in
Join our new commenting forum
Join thought-provoking conversations, follow other Independent readers and see their replies