London 2012: Scandal rumbles on as spectators react with fury to empty seats during Roger Federer match on Wimbledon's Centre Court
Jenni Marsh
Monday 30 July 2012 17:58 Comments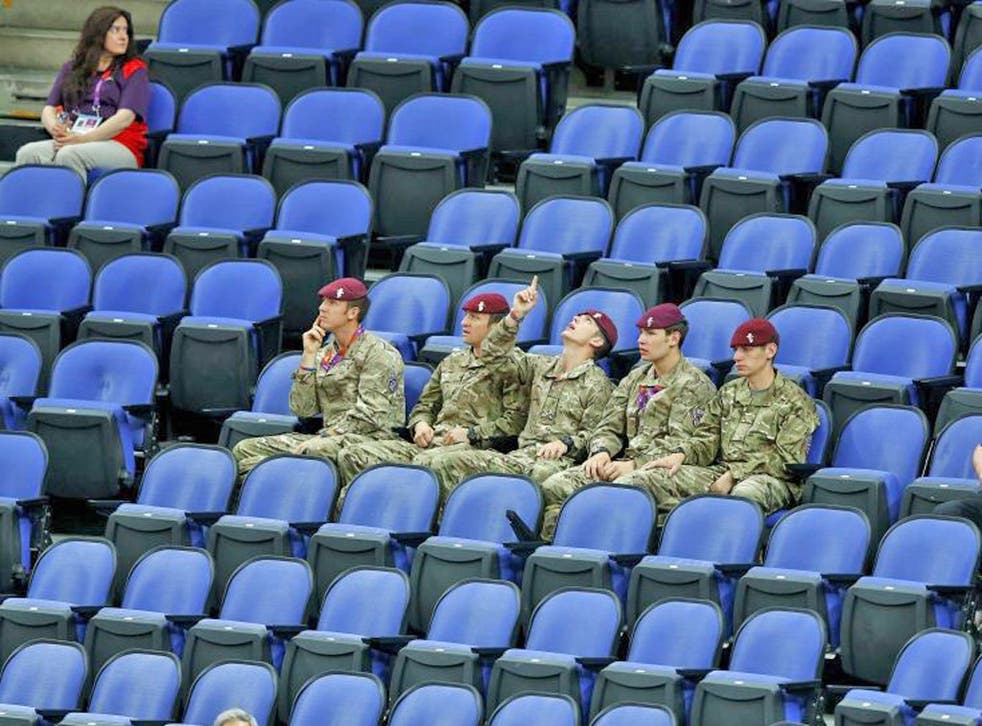 Olympic spectators reacted with fury today as hundreds of seats remained empty at Wimbledon's Centre Court while world number One Roger Federer played.
Tennis fans hit out at organisers, reporting that many of the seats were filled by Army troops and Wimbledon workers to mask the embarrassing turnout.
It comes on the day as Locog found itself under fire for too many ticket holders not turning up to events leaving many disappointed.
Lisa Novitt, 49, an investment banker from Loughton, Essex, said: "When Federer was on it was quiet, but when other players came on it got even worse. I feel sorry for the players.
"How did this happen? I wanted to go to athletics and gymnastics and now you watch the TV and it's empty. It's criminal really."
Her daughter student Charlotte Novitt, 21, said there was a lack lustre atmosphere in Centre Court.
She said: "Normally at Wimbledon there's clapping, but everyone is really spread out and there are points where no one claps or says anything. You could hear a pin drop.
"It's not what we expected. It's boring to watch and there's no atmosphere."
Wimbledon's Centre Court today saw top seed Roger Federer beat France's Julien Benneteau in two sets in less than an hour, while Argentine Del Potro took on Italy's Andreas Seppi. In the women's game Belarusian Victoria Azarenka faced Irina-Camelia Begu and Germany's Yanina Wickmayer took on Caroline Wozniacki.
On Twitter dismayed spectators expressed their anger.
Rayhan Haque wrote: "LOCOG please sort this madness. 60% seats empty on Court 2 at Wimbledon. Fans missing out #ticketshambles #olympics"
BBC 6 News Presenter Adrian Larkin wrote on the micro blogging site: "Look at all those empty seats at Wimbledon. No tickets and yet it's like a crypt in there to see two top seeds. Play ball @sebcoe"
Tony Dolce added: "#Olympictickets I am still confused over the tickets thing watching Wimbledon Tennis and Centre court looks 3/4 empty but no website."
Sarah Rathbone noted: "Wimbledon centre court - pricey good seats are mostly empty, cheap seats at the back are full."
Paul Masterton ·said: "The sight of so many empty seats at Wimbledonis actually heartbreaking for those of us who would have loved to be there :("
Senam Beheton wrote: "As a tennis fan, it makes me sick to see all these empty seats at #Olympics events on #Wimbledon grounds! Makes me wanna get on a plane now!"
Other fans questioned why Locog was not addressing the situation. Slodge suggested: "There's room for another few thousand in Wimbledon - court 2empty - they should sell ground passes on the day!"
Register for free to continue reading
Registration is a free and easy way to support our truly independent journalism
By registering, you will also enjoy limited access to Premium articles, exclusive newsletters, commenting, and virtual events with our leading journalists
Already have an account? sign in
Join our new commenting forum
Join thought-provoking conversations, follow other Independent readers and see their replies