Mo Farah seeks a peaceful haven as he prepares for second date with Olympic destiny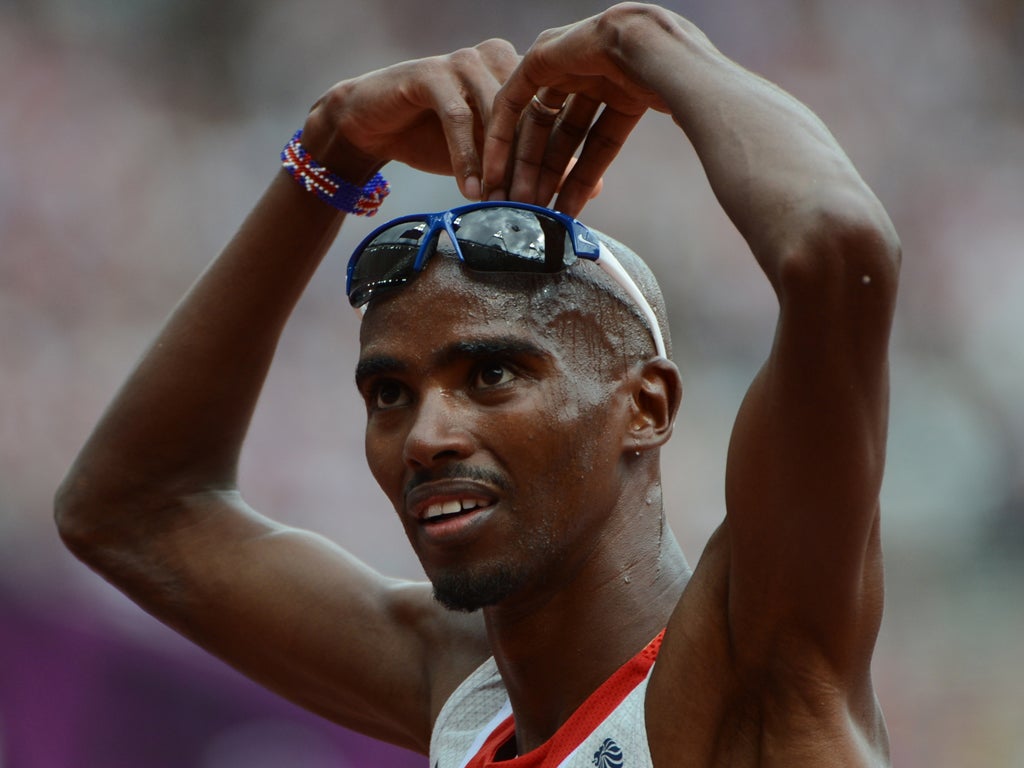 The Olympic Village is not far from the clamouring crowd that throngs London 2012. But for Mo Farah it is just far away enough to provide a haven in which he can prepare for his second date with destiny in a week.
The Olympic 10,000 metres champion has been using the athletes' enclave on the edge of the main park in Stratford as the base for his preparations for tomorrow's 5,000m final in between checking in with his wife, Tania, who is about to give birth to twins.
Farah's bid for twin gold ahead of double fatherhood is being masterminded by his coach, American Alberto Salazar, a renowned stickler for detail and preparation who fine-tuned the sprint "kick" that saw Mo power to gold in the Olympic Stadium seven days ago.
Tomorrow's race, with all its heady expectations in the host nation, takes place as Farah has given a rare interview about his Muslim faith.
The London-based athlete, whose success has also made him a poster boy for multicultural Britain, highlighted the importance of Islam in his approach to life and his preparations for the Games.
In an interview with Emel magazine, he said: "You've got to believe in God. Everything happens for a reason, so you shouldn't get wound up. I think the way I am, the way I'm chilled out, has a lot to do with being Muslim and having faith.
"It also says in the Qur'an that you must work hard in whatever you do, so I work hard in training and that's got a lot to do with being successful. It's doesn't just come overnight, you've got to train for itand believe in yourself; that's the most important thing."
Farah, who revealed that he had to wait in Canada with Tania and daughter Rihanna because the American authorities raised concerns about his Mogadishu birthplace as he travelled to Salazar's Oregon training base, revealed that his religion also plays a role in his preparations for a big race.
He said: "I normally pray before a race, I read dua [Islamic prayers or invocations] think about how hard I've worked and just go for it."
The 29-year-old Briton, who came to Britain from Somalia as an eight-year-old and can now expect to earn up to £10m from endorsements on the back of his triumph, has been riding a wave of national adulation ever since but has had to shut himself away to focus on his next gargantuan task.
A Team GB spokeswoman said: "He's been in the Athletes' Village and doing sessions with his coach. His focus is to recover from the 10,000 metres to be in the best position for the 5,000."
Those who know Farah warned yesterday that a repeat of Super Saturday's victory is far from a foregone conclusion, particularly since he faces world-class Kenyan and Ethiopian runners who have not suffered the strength-sapping exertions of the 10,000m.
Alan Watkinson, the former PE teacher who spotted and nurtured the gawky 11-year-old Farah's talent, said: "I'm not sure people realise how tall an order this is. He is facing fresh opponents and there is a reason you don't get many double gold medal winners at these distances. But he loves the crowd getting behind him and he will be very well prepared. If it is do-able, then Mo will do it."
Of the three gold medals won in the finest 45 minutes in the history of British athletics, Farah's triumph was perhaps the most emotive and significant. Along with Jessica Ennis, whose father is Jamaican, Farah is a totem for Britain's ethnic minorities.
But Farah also represents a new kind of national hero who came to London as an asylum seeker and worked his way up through the state school system. The skinny kid who arrived in Britain unable to speak English and once prided himself on jumping naked off a bridge in Richmond has the ear and attention of powerful. Among his tasks this weekend is a visit to Downing Street on Sunday to discuss relieving child hunger.
Abdi Kadir Ahmed, a Somali community worker in Camden, north London, said: "Mo Farah is incredibly important to Somalis in Britain. He shows what we can do, that we are integrating into British society and can achieve great things. It sends a very strong message to our youth that they don't have to be in the headlines because of crime or low achievement. It is a twisted image already and Mo helps us to counter that."
Join our commenting forum
Join thought-provoking conversations, follow other Independent readers and see their replies