Olympics legacy: Have the London 2012 Games helped Team GB develop a winning habit?
Team GB's successes in London 2012 prompted hopes of a golden legacy. But keeping the flame of elite achievement alive is harder than it sounds
Robin Scott-Elliot
Friday 19 July 2013 11:37 Comments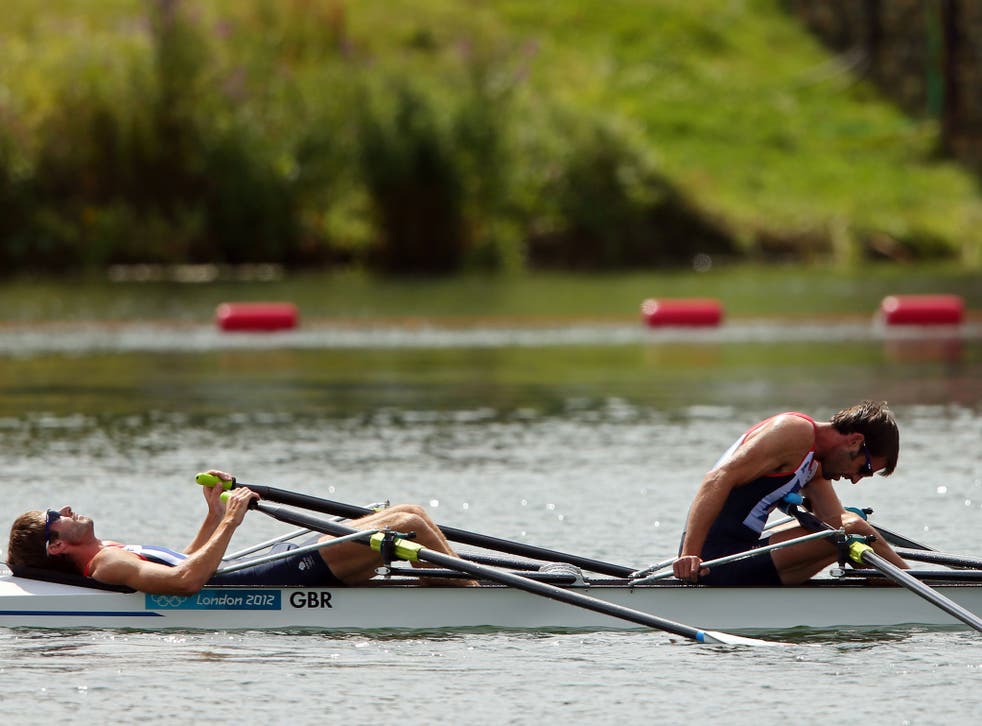 Taking up one wall of the conference room inside UK Sport's London headquarters is a chart that will trace in exhaustive detail every bump, hump, right and wrong turn as Britain's Olympic sports negotiate the road to Rio 2016.
It is a traffic light system. Red signals a problem, amber a warning and green suggests foot down all the way to a podium finish. By the end of the last Olympic journey – those in sport like speaking of journeys – the chart was bathed in gold and made for pretty reading for the body charged with distributing funding to elite sport.
The London Games would not have been greeted with such national acclaim had it not been awash with the most British medallists for more than a century; organising a universally enjoyed knees-up in an East-End brewery is only worth it if you can indulge too. It was a peak for elite sport in this country and one, simply in terms of the medal table – third behind the uncatchable US and China – that may not be scaled for another 100 years. But for all that elite Olympic sport – and it is the word elite that is key – has rarely been in a better place in Britain, and there has already been a seriously bold statement of intent as to what Team GB will achieve in Rio.
The athletes had barely packed their trunks and leotards and vacated the Olympic village last summer before British ambitions for 2016 were sketched out; the new tracker board was pinned in place and the first of a total of £355m lottery and Exchequer funding was handed out. It is more than was spent on preparing more athletes for London.
By Christmas, the ambition was set in stone, and was reiterated again last month by the body's new chair, Rod Carr. The aim for Rio is for Britain to win more medals than in 2012, in both Olympic and Paralympic Games – 66 and 121 respectively. No host nation has improved its medal return at the following Games.
"Do we think we can do it?" said Carr. "Yes, we do feel more medals are achievable. The board and I will have considered ourselves to have failed if we don't make those targets."
What drives such confidence, and ambition, is a system that is geared not towards taking part but winning. It has been operating since 2001 and is unashamedly elitist. Since its inception, as part of an overhaul of Olympic sport in the wake of the disastrous Atlanta Games, Britain has transformed the figures from the one gold and 36th place of 1996. Third in London followed fourth in Athens and 10th in Sydney.
UK Sport is proud of its "no compromise" approach. If a sport fails to meet its targets, funding is cut. Rowing did better than asked in London so will get £5.5m more towards Rio; swimming fell short and will get £4m less. It means team sports such as volleyball and handball – guaranteed a place in London without having to qualify – have been unceremoniously, and unapologetically, cut loose.
It is unlikely, and that is being kind, Britain would have earned a place in Rio in such sports. It led to accusations of squandering the Olympic legacy for those that offered something beyond the norm – an important means, their supporters argued, of encouraging wider participation. But that is not what UK Sport is about. This is about the elite. This is about winning medals. That is what UK Sport was set up to do and is still asked to do with the public money it receives; make Britain great on the global playing fields.
"It isn't about being popular, it's about making tough decisions about where public money goes at a time when we know the economy is under pressure," said Baroness Sue Campbell, who stepped down as UK Sport's chair after London. "You saw in the summer the power of the high performance system when we get it right. We will unapologetically continue with our athlete-centred, no compromise approach. It doesn't mean we are not compassionate to those who will find themselves on the wrong end but it is compassion without sentimentality. It has to be tough compassion if we are going to continue to improve."
There is confidence in the system – the stream of post-Olympic requests for visits and advice from overseas suggests an international confidence too – confidence that Britain will make 66 (or more) a pivotal number in this country's sporting history once again and confidence that medal hopes for Rio have already long been identified. Peter Keen, performance director at UK Sport until last year, said that internal forecasts of who would win medals made back in 2006 proved pretty close to the mark come 2012.
Names have been long identified for Rio – in cycling Becky James and Elinor Barker, Max Whitlock in gymnastics, Craig Benson in swimming, the heptathlete Katarina Johnson-Thompson to pluck a random selection worth keeping an eye on.
In all UK Sport have £508m – £3m less than London – to invest over the next Olympic cycle, a chunk going to attracting sporting events to the UK and a chunk going to the English Institute of Sport, which specialises in creating the right off-field environments and also uses sports science to find ingenious ways of helping athletes. Special leg warmers for cyclists – trialled on rugby sevens players – were acknowledged to have played a part in Britain's success in the Velodrome, helping prevent riders stiffening up between races.
The system is there plus the money that fuels it. Australia once had a sporting system that was the envy of the world – Britain learnt plenty from it and recruited plenty of Australian coaches. The Sydney Games in 2000 was a rousing success for the host nation much as last year was for Britain. But London 2012 was dire for Australia, their worst for 20 years. Funding rose when the Games were won and declined in the aftermath. A 2009 cut in Australian government funding was blamed for the poor show in London.
"Money is the difference between silver and gold," is how Kevin Gosper, a former Australian gold medallist and vice-president of the International Olympic Committee, put it.
If London had not hosted the Games, increased funding into Olympic sport would not have happened and Britain would not have enjoyed its 104-year high. The successes ensured a nation high on sport would applaud further cash, but come the 2015 spending review, as 2012 fades into memory and the sporting bandwagon sheds passengers, supporting sport will not seem so politically rewarding. The Australian experience stands as a warning that UK Sport is well aware of – sports have been told to expect a decline in funding post-Rio. That is when the durability of the British sporting system will be put to its sternest test.
There will be plenty of medals in Rio, although third in the medal table (on number of golds) will probably be out of reach, but it is not until at least 2020 that British sport will be able to truly judge if a home Games helped cement a lasting place among the world's sporting elite.
Case study: Good times
MARK HUNTER, rower Hunter, above, in the rear, was one of the unhappier faces of London 2012. He famously slumped into the arms of five-time Olympic gold medallist Sir Steve Redgrave after he and Zac Purchase came agonisingly close to winning the men's lightweight double sculls. Yet life since has treated the silver medallist well. He recently announced his retirement from the sport and has been part of the BBC's commentary team for World Cup events this year. "I've loved life since London," he says. "Finally being able to do what I want to, when I want to, to not worry about every morsel of food I eat or to have to miss a mate's wedding. London didn't bring the right result, but it was an unbelievable experience. I don't miss rowing one bit, not even while commentating. I'm more than happy moving on to other things."
Case study: Bad times
LIAM TANCOCK, swimmer The 28-year-old, from Exeter, was among Britain's leading medal contenders in the London Aquatics Centre, eventually finishing fifth in the 100m backstroke. Since then, things have taken a turn for the worse. A shoulder injury just before the World Championship trials meant he missed out on a team place.
"I had virtually no movement in my shoulder and the physio bent me into shape just so I could compete," he said. It wasn't enough. Now he has four hours of treatment a day. "It's akin to someone trying to break your arm but not quite doing it. There's definitely some choice words being shouted as my physio's doing it. I'd love to be in Barcelona, but it's not to be. I now have to concentrate on being fit for next year's Commonwealth Games."
Matt Majendie
Register for free to continue reading
Registration is a free and easy way to support our truly independent journalism
By registering, you will also enjoy limited access to Premium articles, exclusive newsletters, commenting, and virtual events with our leading journalists
Already have an account? sign in
Join our new commenting forum
Join thought-provoking conversations, follow other Independent readers and see their replies