Ryan Lochte dropped by Speedo after Rio 2016 'robbery' incident
Four brands have dropped the swimmer over the incident
Andrew Buncombe
New York
Monday 22 August 2016 16:30 Comments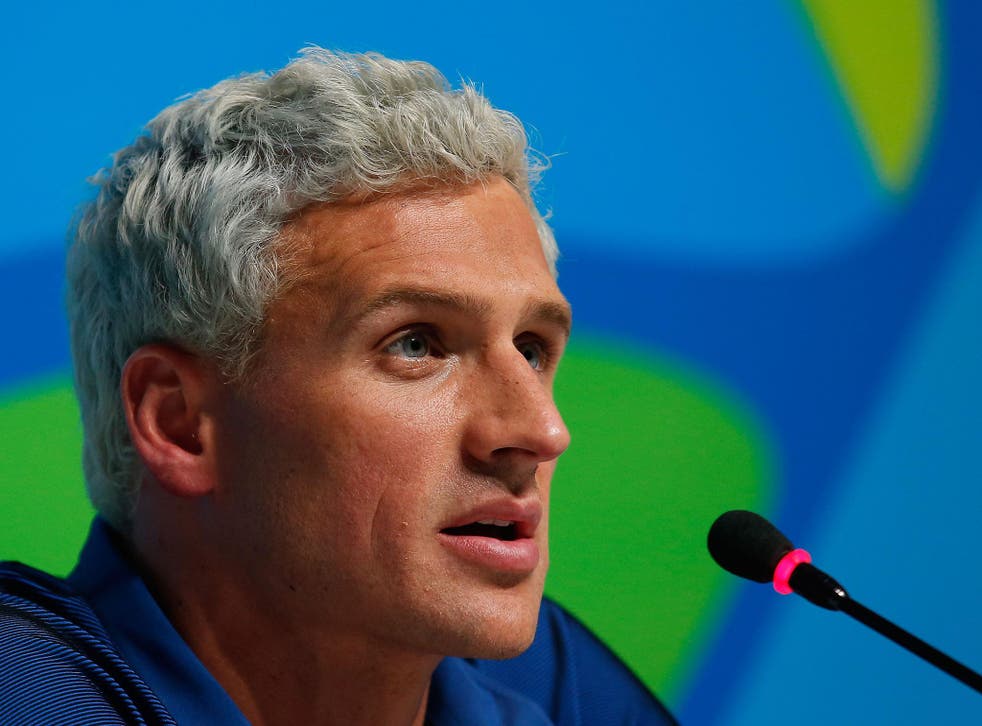 Speedo became the first sponsor to end its deal with Ryan Lochte on Monday after the disgraced swimmer admitted lying to police about being held up at gunpoint during the Rio 2016 Olympic Games.
The swimwear maker was swiftly followed by Ralph Lauren, dealing a major blow to a competitor whose sponsorship deals total more than $1m (£760,000), with more companies expected to follow suit. But from there it only got worse: skin-care firm Syneron-Candela and Japanese mattress maker Airweave followed suit, essentially wiping out Lochte's income away from the pool.
Lochte, 32, had offered a muted apology after police in Rio accused him and three other American swimmers of fabricating a claim that they had been robbed by armed officers during the 2016 Olympics. Releasing CCTV footage and the details of interviews with witnesses, police said the men had made the claim after vandalising a fuel station bathroom following a night out celebrating.
Lochte and the other swimmers – Jack Conger, Gunnar Bentz and Jimmy Feigen – left Brazil in disgrace after they admitted their claim had been false. The swimmers were able to do so after agreeing to make a payment.
In his apology, Lochte, who was accused by police of being intoxicated and who was reportedly accused of being the ringleader by his teammates, said: "I want to apologise for my behaviour last weekend – for not being more careful and candid in how I described the events of that early morning and for my role in taking the focus away from the many athletes fulfilling their dreams of participating in the Olympics," he said.
ESPN said last week that the gold medalist had various sponsorships, worth a total of $1m and that the various brands were waiting to see how the scandal played out.
Ryan Lochte CCTV released
The brands included Ralph Lauren, Syneron Medical, owner of Gentle Laser Hair Removal, Airweave mattress, Gatorade and Marriott. In a statement, Speedo, whose 10-year-old contract with the swimmer was due to expire this year, said it hoped the swimmer had learned from the incident.
"Speedo USA today announces the decision to end its sponsorship of Ryan Lochte. As part of this decision, Speedo USA will donate a $50,000 portion of Lochte's fee to Save The Children, a global charity partner of Speedo USA's parent company, for children in Brazil," the company said in a statement.
"While we have enjoyed a winning relationship with Ryan for over a decade and he has been an important member of the Speedo team, we cannot condone behavior that is counter to the values this brand has long stood for. We appreciate his many achievements and hope he moves forward and learns from this experience."
Motokuni Takaoka, founder of Airweave mattress, which signed Lochte in December, had earlier said in a statement: "We do not condone unlawful behavior and will continue to monitor the investigation closely."
A Ralph Lauren spokesman said its sponsorship of Lochte was specifically in support of the Rio Olympics and the contract will not be renewed.
Register for free to continue reading
Registration is a free and easy way to support our truly independent journalism
By registering, you will also enjoy limited access to Premium articles, exclusive newsletters, commenting, and virtual events with our leading journalists
Already have an account? sign in
Join our new commenting forum
Join thought-provoking conversations, follow other Independent readers and see their replies