So did London 2012 pass the Olympic test?
We were promised a lot by the London 2012 organising committee – and it seems that (mostly) the Olympics have lived up to the hype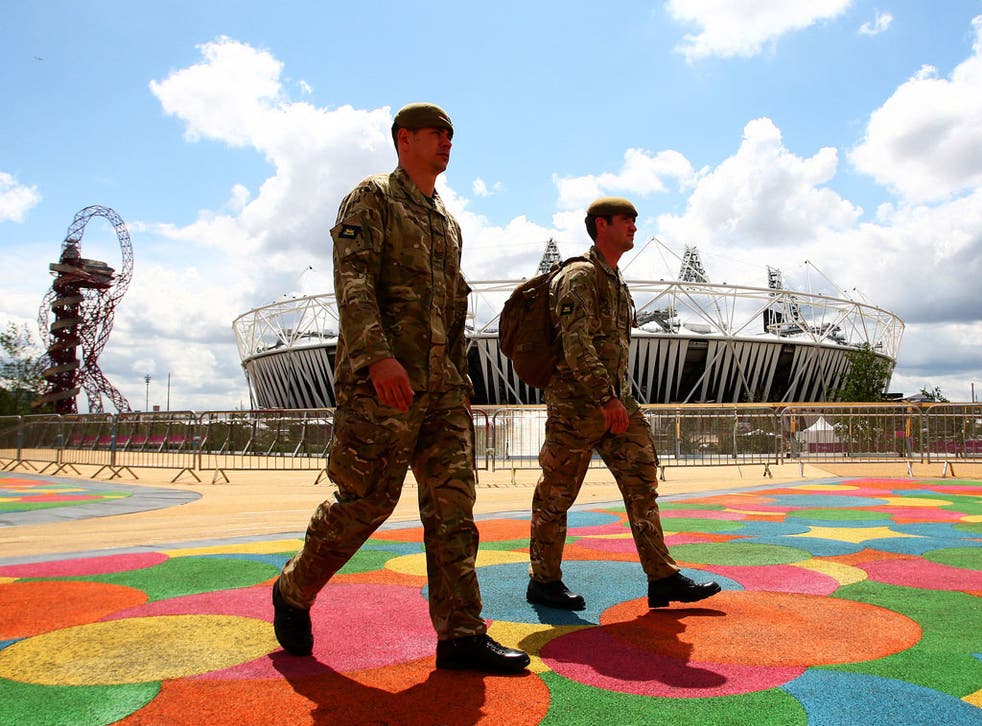 The London 2012 Games were supposed to inspire a generation, boost the economy, regenerate one side of the capital and deliver a sporting legacy – all within budget and by sustainable means. But did Lord Coe and his team deliver? The Independent looks at the promises to see if they lived up to the hype.
Security
What we were promised: The biggest peacetime security operation ever – it was to be the "prime focus" of the Games, said the organising committee, Locog. The plans envisioned police, military and the private sector securing venues and preventing any attack on the capital.
What we expected: The great fear was a terrorist attack, with the threat level from international terrorism rated as substantial – indicating that an attack was a strong possibility. Protests, aimed at taking advantage of the huge global reach of the Games, were anticipated, along with onerous security checks at venues.
What we got: An utter shambles from G4S, the private contractor who was supposed to supply 10,000 security staff but failed, leaving the military to step in with nearly 5,000 troops. G4S eventually supplied 7,000. There have been less than 200 arrests with more than half of those for ticket touting. One of the biggest security stories turned out to be a plastic bottle tossed on to the track before the start of the 100m final. In other words: security was a success.
Paul Peachey
Public Transport
What we were promised: The expansion of Heathrow airport and the London Underground, including upgrades to Stratford station. Temporary changes to the road network would see Olympic VIPs zip through London in dedicated lanes.
What we expected: Heathrow stretched to capacity, the Underground to grind to a halt, and the Olympics Park marooned miles from central London, where most people would be staying. In short, chaos.
What we got: The Tube has inevitably broken down a few times and there was an anti-Games Lane protest by taxi drivers, but the overriding story has been one of surprised Londoners and spectators finding their way around with remarkable ease. The high speed line from St Pancras in London to the Channel tunnel has made access from Europe easier and perhaps eased the pressure on Heathrow.
Kevin Rawlinson
Ticketing
What they promised: Fair access to tickets and a zero tolerance approach to touts. Of the 11 million tickets, 75 per cent were earmarked for the British public, with the rest going to national Olympics committees, sponsors, the IOC, sports federations, tour operators and hospitality providers.
What we expected: Fair ticketing and full stadiums.
What we got: Public ballots were massively over-subscribed, leaving many disappointed. Particularly egregious to some was that a few lucky people received lots of tickets while others received none. Stadia sold out, except for football. In the first days of the Games seating for Olympics officials and sponsors remained frustratingly empty. Locog re-sold them to the public, but demand far outweighed supply. Ticket touting and counterfeiting, however, were effectively curbed.
Martin Hickman
Budget
What we were promised: A Games that would cost no more than £2.4bn.
What we expected: Something considerably higher. Research has found host cities averaged a 179-per-cent cost overrun, based on public expenditures for all Games of the past 50 years.
What we got: A Games that is supposed to have come in "under budget" – it's just that the budget was repeatedly raised to get to £9.3bn. Whether that is a reliable estimate of the total cost is also open to debate, with some suggesting the real figure is £25bn. When the House of Commons Public Accounts Committee (PAC) put the figure at £11bn the organisers got cross and rejected the claim. So did the Government. Even if the PAC has got it right, the London Games will still be much cheaper than the £28bn estimated cost of the Beijing Olympics.
James Moore
Culture
What we were promised: The largest-ever Cultural Olympiad to run alongside an Olympic Games, transforming the attitude to the arts and changing the way the Games as a whole are viewed. The four-year programme was designed to attract artists from around the world, offer millions of tickets to thousands of events including nine major projects.
What we expected: A sprawling programme, some quirky works costing too much, and a struggle to understand what the point of the Cultural Olympiad really was.
What we got: The vast range of projects – there were 12,000 performances in the London 2012 Festival – inevitably meant that some works left punters bemused, but most were embraced. The extent of the cultural legacy will take time to become clear.
Nick Clark
Atmosphere
What we were promised: Lord Coe said: "We want to deliver a magical experience. An electrifying atmosphere ... to provide the uplifting spirit which distinguishes the Olympics from other events."
What we expected: British reserve to be further dampened by a summer of rain, "minority sports" played out in half-empty stadia, ticket-holders stranded on delayed Tubes while corporate guests snoozed through the most sought-after events.
What we got: After Locog attended to the empty seats fiasco, packed stadiums roared our athletes to greater heights. Athletes described the atmosphere as electric. A storming success.
Adam Sherwin
Regeneration
What we were promised: The bid team pledged "tens of thousands of lives would be improved" with new housing, jobs and sports venues in east London.
What we expected: Many worried the Olympic Park would become a ghost town, like the Sydney Olympic Park did before regeneration kicked in six years later.
What we got: 2,800 new homes in the Athletes' Village, which will open in less than a year. Some 11,000 more homes will be developed over the next 20 years, creating 2,500 construction jobs.
Charlie Cooper
Tourism
What they promised: Politicians made the Olympics sound like the best-ever get-rich-quick scheme.
What we expected: Despite these assurances, anyone in tourism who investigated previous comparable Olympiads – particularly Sydney 2000
"Has England ever been quite so foul with patriotism?" Morrissey not quite getting into the spirit of things and Athens 2004 – would have anticipated a slump in tourists and spending. The Independent predicted a hotel occupancy rate of 80 per cent.
What we got: The British Hospitality Association reports an occupancy rate of 82 per cent – twice the usual vacancies in a typical August in the capital. With far fewer "ordinary" tourists in town, everyone from open-top sightseeing firms to Madame Tussauds suffered.
Simon Calder
Sporting participation
What they promised: Give us the Games and we will inspire a generation, Seb Coe promised. The Labour Government said that hosting the Olympics would form a central part of its commitment to get a million adults playing sport by 2013.
What we expected: The present Government did not expect much. The one million figure was shelved after the Coalition came to power, and in the build-up to the Games cuts hit sport. Perhaps the most damaging has been Michael Gove's scrapping of the £162m-a-year School Sports Partnerships scheme, which was proving successful in getting more children active.
What we got: We won't know until next year. No Olympic Games has led to a rise in sporting participation in the host nation. The Government has promised extra funding at an elite level, but it is far below that benchmark that the problem lies. As Lord Coe said, children need to play competitive sport at primary school.
Robin Scott-Elliot
Sustainability
What we were promised: Real sustainability, which means a stadium and an Olympic Park with a very low-carbon footprint; an event with specific green strategies for energy, transport, food supply and waste management; and a very big emphasis on "legacy" – what happens to it all afterwards.
What we expected: We knew that the carbon footprint of the stadium would be comparatively low, because it had been monitored and publicised during its construction. There was some concern that transport would not be workable.
What we got: An event which seems to have run largely to its ambitious sustainability blueprint – although no figures are available yet. The public transport games have been a reality, and with waste, there has not been any significant litter problem. The wildflower meadows in the park itself are beautiful and much admired. In fact, the main complaint from someone closely involved with the sustainability agenda is that its success has hardly been publicised at all.
Michael McCarthy
Register for free to continue reading
Registration is a free and easy way to support our truly independent journalism
By registering, you will also enjoy limited access to Premium articles, exclusive newsletters, commenting, and virtual events with our leading journalists
Already have an account? sign in
Register for free to continue reading
Registration is a free and easy way to support our truly independent journalism
By registering, you will also enjoy limited access to Premium articles, exclusive newsletters, commenting, and virtual events with our leading journalists
Already have an account? sign in
Join our new commenting forum
Join thought-provoking conversations, follow other Independent readers and see their replies