Olympics 1948 & 2012: Two Games - 64 years, and worlds apart
With the 2012 Games' now only 208 days away, the IoS interviewed some of the surviving 1948 British Olympians...
Olympics 1948 & 2012: Two Games - 64 years, and worlds apart

Show all 6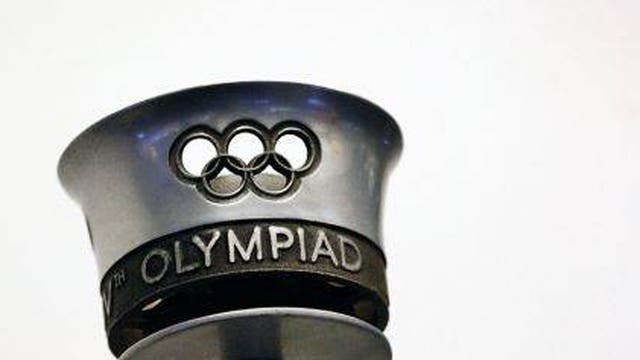 It was a momentous year. In 1948, the last time Britain hosted the Olympics, Polo, the mint with the hole, made its debut; Albert, the first chimp astronaut, blasted into space and Velcro was invented. Cinema audiences flocked to see Laurence Olivier in Hamlet and Alec Guinness as Fagin, while tunes from Kiss Me Kate and South Pacific set feet tapping.
Physicists first advocated the Big Bang theory; Berlin was blockaded; Israel and the NHS were born. While petrol and food rationing persisted, the battle with the bottle began with the creation of the UK's first Alcoholics Anonymous chapter. It also witnessed the rebirth of the Olympics after a 12-year hiatus caused by the Second World War.
Dubbed the "Hand-me-down" or "Austerity" Games, the 1948 event stands in striking contrast to this year's extravaganza. This year's multibillion-pound budget dwarfs that of the 1948 organisers, who were limited to just over £70,000. Competitors were housed in former RAF camps and schools, and competing nations were asked to donate equipment and supplies.
With the 2012 Games' now only 208 days away, The Independent on Sunday interviewed some of the surviving 1948 British Olympians, who had to make their own uniforms but received extra rations to improve their chances of winning a medal. Here are their memories.
John Fairgrieve, 85
Quarter-finalist in 200m athletics
The retired surgeon, of Slad, Gloucestershire, was as a medical student at the Middlesex Hospital in central London in 1948 and used to train in Victoria Park.
"The opening ceremony I remember well. It was [an] absolutely lovely...English summer day and the King and Queen and princesses came along. We had a parade of the nations with national flags, as they do today, and somebody unfortunately forgot to put the Union Jack in the car coming to the stadium so Roger Bannister - who wasn't actually in the Olympic team but was just on the verge of it that year – was dispatched to the car park to go and get the flag as quickly as he could...
There were a whole lot of hampers arranged around the rest of the track full of carrier pigeons and I think the hampers were manned by boy Scouts and at the given signal at the end of day, they released their pigeons. A couple of thousand pigeons rose into the sky and circulated the stadium twice to get their bearings and then they went off to where they had come from. But of course they had a lot of droppings on the way and the crowd were bombarded with droppings, which was quite entertaining!...
For the Games - for the competitors - rationing was abolished so you could go down to breakfast and have as much as you could eat. I personally didn't want to stuff myself with food.
There was no real dietary advice. We did get our food parcels donated by the dominions. Every month, if you were in the Olympic squad, you got a food parcel. Mine came from a place on South Island, New Zealand. You got this very nice parcel with corned beef or pork or whatever. If you open a 2lb can of pork you can't eat it all yourself so the family used to jump in, so these food parcels were popular with the family."
Gordon Thomas, 90
Team silver medal in the men's cycling road race
Mr Thomas, of Shipley, West Yorkshire, who is retired from running a wool business, went on to win the Tour of Britain in 1953.
"We were strictly amateur in those days whereas now they are doing it for money. It's a much different world. I'd been away in the War – I was just 18 when the War started. I was in North Africa and Italy [with the Royal Artillery] and then came back and started cycle racing. It was more than just pleasure, it was serious. I was working for a while for a wool merchant in Bradford selling wool to carpet manufacturers. We used to meet with others and go out training together, generally up towards to Bolton Abbey...
He's done very good things, [Mark] Cavendish. He's a sprint specialist and that's the thing that got me in the Games, is being a sprint specialist. I came back from the War and started racing and was winning the sprint finishes. It's bigger and more professional now; it's completely different. The bikes have changed but not so much. They are a bit lighter than they were but it doesn't matter if you are riding the same stuff at the same time...
I got to know one of the Italian professionals in Italy but I didn't do much riding. It was just a matter of waiting until I got back home after the War. I just happened to be in the same town and got to know Olympio Bizzi just by chance."
Audrey Beever, 78
Gymnastics team ninth
Mrs Beever, nee Rennard, of Baildon, West Yorkshire, was 15 when she competed in 1948. She later ran a hairdressing business and taught women's keep-fit classes and gymnastics in schools.
"It was exciting, and the fact we actually got a uniform because getting gymnastic tops was very difficult in those days. You had to improvise or get dressmakers to make clothes. There were no leotards in those days and footwear was a problem too...
What happened was because it was very economical and there was no money, because the training colleges in the London area were empty because of holidays, being July, we all went to live in various colleges throughout the area. They retained the staff to do the cooking and the cleaning. When I think about it, it's costing millions to build an Olympic village and accommodation for competitors. It was a very cheap way of doing it. They [2012 organisers] could have done it if they'd thought about it...
We were a bit envious of the Australians because they brought a lot of their own tinned fruit with them. We hadn't seen oranges or peaches all during the War of course...
The [gymnastics] venue was changed because, I think, there was bad rain storms. My mother and father had tickets but they couldn't stay...My father owned a mill and he had to get back to pay the wages. It's a shame because he died about two years after...
It [training] was quite intensive but nothing compared like it is now with Beth Tweddle. They are so dedicated. I don't think people realise just how well Beth Tweddle has done. It would be a major achievement is she won a medal this time. What they do on the beam now we couldn't even do on the floor. It just gives you an idea of the improvement."
Sir Peter Heatly, 87
Fifth in 10m highboard and 13th in the 3m springboard diving
Sir Peter, of Edinburgh, won three gold medals, one silver and one bronze medal at various Commonwealth Games and is a former chairman of the Commonwealth Games Federation. His grandson James, 14, is the current Scottish senior and junior champion in all three men's diving events.
"It was in Wembley in a pool they had before the War and it was brought back to function for the Olympic Games. I thoroughly enjoyed it. Every session was packed with people...
It was a great experience and of course the 1948 Olympics were probably different from any subsequent Olympics because it was the first after the War... It was a return, I suppose, to normality. I think that's why the 1948 Olympics had such a big effect at the time. I mean, there was a big gap between 1936 and 1948, and of course 1936 was in Berlin and of course not every memory of that was enjoyable: the Germans had made the Berlin Olympics a platform for expressing their importance...
I did most of my training at home but in the two years before the Olympics I was up and down to London on several occasions for events and training. There were forces at the naval base at Rosyth across the River Forth opposite Edinburgh. It was a naval base and I got permission to train there. It was mostly diving, going over to Rosyth about four times a week. They had a very substantial pool with depths of water and good spring boards...
There was a time when Sean Connery was an attendant at Portobello pool in Edinburgh. It was in the run-up to the Olympics. He was a life guard. He was very good. One of the problems of diving in a public pool is the number of swimmers hanging around just under the diving board. He was one of the few [life guards] who used to clear it for me."
Cathie Brown, 80
Bronze in 400m freestyle swimming
Mrs Brown, nee Gibson, of Fife, who was working as a clerk in 1948, had finished second in the 400m freestyle at the European Games in Monte Carlo in 1947.
"It [the 1948 Olympics] was the most wonderful experience of my life. It was just getting into the atmosphere of the Olympics. It was really good, I thoroughly enjoyed it.
I was training about eight hours a day in Motherwell swimming baths in a 25m swimming pool. The Olympics was a 50m pool. I had to work very hard at it, it was tiring but it wasn't bad at all...
It was lovely meeting all different people from all over the world...There would be about 20 people [in one dorm], all women, different sports...
When I arrived back from London on the train, there were big crowds at Motherwell station. They carried me shoulder high up to Motherwell swimming baths and more or less they celebrated that way with me...They gave me a reception at Motherwell swimming pool – that's all demolished now. It was a swimming day with all swimmers and all the people that were interested. I think they gave me a wee plaque or something. It was just a small town then. Everybody knew you."
Emmanuel McDonald Bailey, 91
Sixth in 100m athletics
Mr McDonald Bailey, now living in Port of Spain, Trinidad, set a World Record of 10.2 seconds for the 100m in 1951 and won bronze in the 100m at the Olympics in Helsinki in 1952. He won seven AAA titles and had a career in management and public relations after athletics.
"It was a great honour to represent Great Britain in 1948. I was the first Trinidadian to qualify in an Olympic final in the 100m. In the actual race, the conditions were less than perfect. I was in an outside lane and the cinder track was soggy from the rain. I came sixth and sustained a hamstring injury during the race.
A fond memory was being asked to say a prayer on behalf of the UK team at the opening service at St Paul's Cathedral.
Athletes now have the choice of training in warmer climates. The training itself has improved immensely, incorporating weight lifting and cross country running and other sports. Athletes no longer have to run on cinder tracks but fast Mondo tracks. Young athletes now have better training facilities. My favourite quote that I like to use when it comes to training is, 'building blocks before starting blocks'."
James Chandler, 87
Finished out of the medals in 50m prone rifle shooting
The retired chemist (known as John in 1948), of Royston, Hertfordshire, also competed in the World Championships in Stockholm in 1947 and Oslo in 1952.
"I think I came around about 12th or 15th. It's very competitive and the slightest sort of error and you can drop down, and go up. In 1948, things were very primitive; there was none of this hi-tech stuff, especially at Bisley: the scores were recorded on blackboards with chalk. Things have just changed dramatically...
There was a fellow club member to be selected to the Olympics. Our club, Twickenham Rifle Club, was in the top flight. That meant I would be shooting all Saturdays, Sundays, during the week. We were regularly shooting and then, I think, I went down to Bisley a week or so beforehand and just shot the course several times over...I have only just realised, of all the Olympic sports the one I chose was the only one where as far as I know, you do no physical expenditure at all. You have to remain absolutely still. When I see other people running marathons or sculling, or what have you, I take a deep breath and say, 'Not for me'!...
If I remember rightly, it was quite hot [for the opening ceremony] and at the appropriate time we were filed in and round the track and lined up. The people running the athletics were doing their nuts because everybody was trampling over their beautiful circuit at Wembley; and that was it and then we were bussed away again.
The major difference between now and then was the authorities then were absolutely paranoid of your amateur status. I don't think you can appreciate, there wasn't the slightest chance of anybody getting any money at all...It had to be fully amateur in the full spirit of 1896."
Elenor McKay, 78
Semi-finalist in 200m breaststroke swimming
Mrs McKay, nee Gordon, of Hamilton, was 15 in 1948. She swam in three Olympics for Britain - claiming bronze in the 200m breaststroke in Helsinki in 1952 – and two Commonwealth Games for Scotland – gaining three gold medals and a bronze.
"It was hard to make the ladies' team as there were 10 men for every woman in the team, and in the breaststroke the GB standard was very high: in the ladies' team of 11, three were in breaststroke.
My facilities at Hamilton baths were difficult as 90 per cent of the time [sessions] were men only and the pool was only 25 yards. Great for turns in the 200m event, but the '48 Olympic trials were in Scarborough's 110yd pool, with [a] cold weather, unheated pool and [the pool was] washed out by the sea and [we were] transferred to another [indoor] pool.
I had to train on my own as there were no other international swimmers in the club. Only because my father and coach worked at the baths allowed me to be sneaked in. I used to go in between sessions and get the pool to myself...
The change in sport from my time to present day is remarkable. For example, for the 1950 Commonwealth Games in New Zealand, I travelled six weeks on a liner with only a small canvas pool, shared with 100 other UK athletes who wanted to play or relax. The whole trip last three-and-a-half months...
All television fees, interviews etc went to the Scottish Amateur [Swimming] Association, so even after 10 years of three Olympics, two Commonwealth [Games]... when I announced my retirement on TV and kept the £5 fee, I was immediately branded a professional and the president of the Scottish ASA told me in public that I would not be welcome at receptions etc!"
Muriel Hearnshaw, 80
Fourth 4x100m relay athletics
Mrs Hearnshaw, nee Pletts, of Walkington, East Riding of Yorkshire, went on to work as a secretary and bookkeeper. Her daughter, Susan Hearnshaw, competed in the 1980 and 1984 Olympic Games, winning bronze in the long jump in Los Angeles in 1984.
"I was only 17 and was the only girl from the north of England in the athletics team. I was on the second leg. We finished fourth. We got a British record though. It was a bit daunting really in a way because it was just after the War and London was a big place, almost unknown, so it was a bit strange and of course it was strange also that I didn't know the other girls really. The only time I had met them was in the championships where our performances counted towards being selected...I felt like [the] odd one out really in a way. I don't suppose they meant it like that.
I suppose it was a close race. From the times we did in our heats, we should have finished third but we somehow got overtaken and finished fourth. Fanny Blankers-Koen was the star of the show...
There were one or two functions we went to. Hammersmith Palais we went to dancing one night. I didn't dance or know anything about it but we all went. A luncheon was interesting because sitting where I was sitting at the table were two members of the Lichtenstein team and one of them was a prince and the other was one of his bodyguards, who also competed.
I went most days and watched the competition. I think a Czech called [Emil] Zatopek stood out the most. He ran the 5,000m and 10,000m...The thing was, the whole stadium chanted his name when he was running. It was amazing to hear everybody calling his name. I didn't know who it was of course but obviously the people in the stadium who were older than me and followers of athletics did."
George Weedon, 91
About 28th in individual gymnastics; team finished out of the medals
The retired gymnastics instructor of Southwell, Nottinghamshire, had broken his back years earlier and had a kidney out 18 months before the Games. At the 1946 British Championships, he had become the first man to do the splits in competition and to wear shorts as opposed to long trousers. He is the star of film, Walk Tall, which premiered at the London Film Festival in 2011.
"It [the gymnastics] was actually supposed to take place at the Wembley stadium but it rained so everything was moved into Earl's Court, where they hold the exhibitions, and it was just a shambles...When they do the high bar work they have to put plates in the floor to secure the high bar. They had been doing it on the turf, then when they came to a new hall they had to do all this carpentry. Everything was so close together you were on top of each other...
On the night before, a message came through to say I have got to go to court in Wandsworth. I was going up a road on the motorbike and I caught up with a man in a car who was drunk and going all over the place and mounted the pavement and just missed a lady and a baby in a pram. I stopped a policeman and he said, 'Follow the car,' and I followed the car to Wandsworth council offices and it turned out to be a councillor. The policeman charged him and - I can't remember if it was on the day of the competition or the night before – I had a message to say you have got to go to court on the day I competed to give evidence, so I had an escort to take me there and a police escort to take me back to the competition...
I have been coaching up at [ex-Olympian] Barry Winch's gym [in Nottingham], the hall floor is covered with foam over it about six-inches thick; they have got three pits eight-foot deep full of polystyrene so when someone does a double-front somersault from the high bar and they go headfirst in [they are alright]. When I was doing it, I had to have three people standing by and I used to land on a coconut mat 6x4, three of them...The element of fear has gone; it's a good thing."
Faster, higher, stronger – and louder: an Olympian festival of culture
Don't worry if you haven't got tickets for the Olympics or have no interest in sport; there's another, even bigger Olympiad this year. And, unlike the running and jumping going on in the capital, it's happening nationwide and much of it is free. The Cultural Olympiad, a celebration of the arts' power to unite nations, includes events as diverse as bell-ringing, storytelling, poetry, light installations, films, concerts and choirs.
The Olympiad, which so far has funding of £97.6m, more than £70m of it in public money, had a rocky start. Led from its planning stage in 2005 by Jude Kelly, artistic director of London's Southbank Centre, it included her gloriously daft plan for a clipper called Olympic Friendship, "crewed by young sailors and accompanied by students, artists, scientists and ecologists...", to sail from a port near Beijing in 2008, reaching London in 2012. The idea was that the ship, dubbed "a slow boat from China", would "gather cultural bounty on its journey and sail home laden with the wealth of the world's ideas and partnerships". Kelly and her scheme were quietly jettisoned, although she remains on the Cultural Olympiad board.
Ruth Mackenzie, former artistic director of Scottish Opera and Nottingham Playhouse, took over in 2010 and is overseeing hundreds of events, most of them small scale and local, which start on Midsummer's Day. 21 June, and continue till the last day of the Paralympics on 9 September.
The largest event is the World Shakespeare Festival in which the Royal Shakespeare Company is collaborating with more than 50 arts organisations, nine UK theatres and amateur companies to celebrate our greatest playwright. Chief among the Bard-related activities is Globe to Globe, in which all 37 of Shakespeare's plays will be performed in 37 different languages at Shakespeare's Globe in London, while visitors to London may be accosted on the street or in cafés by Mark Rylance and other thespian pals offering them snippets from Shakespeare's work.
Some of the UK's most beautiful tourist spots have site-specific events. Les Commandos Perçu, a French street-arts company, are staging a spectacular of music and fire on the shores of Lake Windermere; the Argentinian choreographer Constanza Macras is creating a show inspired by the ancient folk stories of Mabinogion in the Rheidol Forest of north Wales; Arthur's Seat in Edinburgh is the setting for a light installation combining sport and art in Speed of Light; the Manhattan artists' collective YesYesNo is creating a massive art installation along the 84-mile length of Hadrian's Wall; the Giant's Causeway is the setting for German artist Hans Peter Kuhn's visual project Flags; the Australian company Circa's How Like an Angel combines choral voices and aerial choreography and will be performed in cathedrals across the UK; while in Coventry Cathedral, celebrating its golden jubilee in 2012, James MacMillan's new work Gloria will be performed.
Many events are being dovetailed into existing festivals, including the BBC Proms, the Edinburgh International Festival and Happy Days, the inaugural Enniskillen International Samuel Beckett Festival.
The highlight for classical music fans will be a four-day residency at Raploch in Stirling by Gusatvo Dudamel and the Simón Bolívar Symphony Orchestra, which culminates in an outdoor concert at Stirling Castle on midsummer's night; while theatre lovers will be able to see a rare appearance on the London stage by Cate Blanchett in Botho Strauss's Gross und Klein at the Barbican, and a collaboration between the Stephen Joseph Theatre in Scarborough and the Chichester Festival Theatre to celebrate our most performed living playwright, Alan Ayckbourn.
Fans of the eclectic, meanwhile, will be interested in Peace Camp, a coastal installation appearing from dusk to dawn on beaches and clifftops around Britain, devised by the theatre director Deborah Warner and actress Fiona Shaw. Elsewhere, the unfortunately named Rio Occupation London is a 30-day cross-cultural event featuring 30 artists from Brazil's contemporary cultural scene; while the team behind Doctor Who collaborate with the immersive theatre company Punchdrunk on The Crash of the Elysium, a live Doctor Who adventure.
And to mark the start of the Olympics on 27 July, the whole country is being encouraged to take part in Martin Creed's Work No 1197: All the bells in a country rung as quickly and loudly as possible for three minutes. For many, it is a once-in-a-lifetime chance to be part of a live artwork.
Join our new commenting forum
Join thought-provoking conversations, follow other Independent readers and see their replies