Sarah Stevenson: Finding strength in adversity
Taekwondo star Sarah Stevenson is dealing with the pain of losing both her parents. She tells Robin Scott-Elliot she will honour their memory in London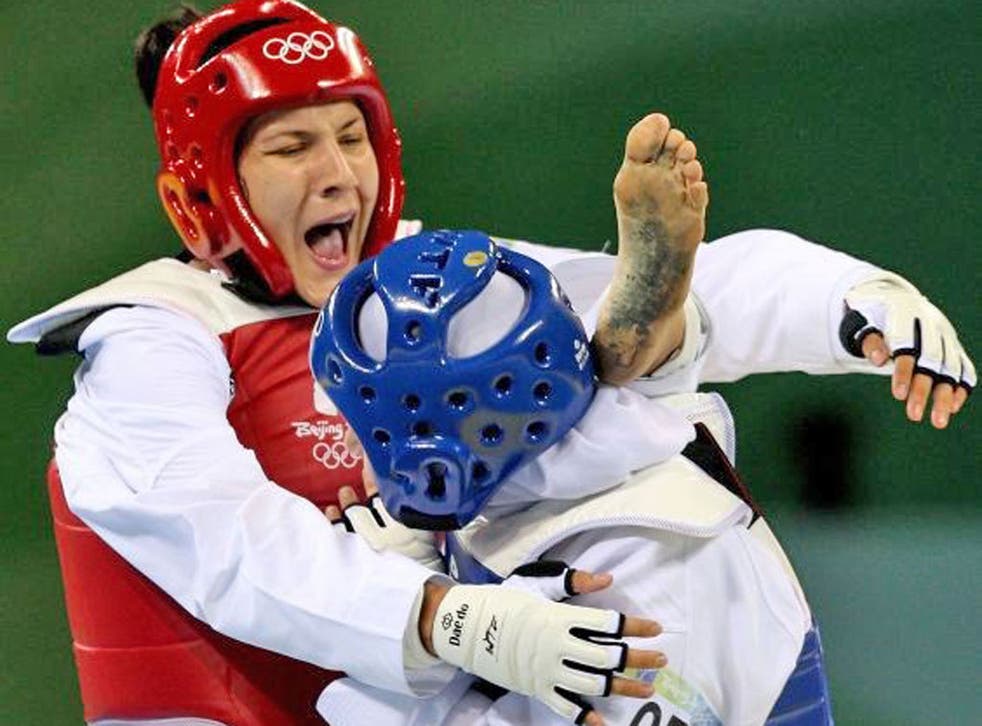 Sarah Stevenson is lying down. "Do you mind?" she says. She lifts her legs off the ground and rests both feet against the wall. A tattoo of the Olympic rings decorates one ankle. "I have to keep it elevated. It needs a bit of TLC," she explains.
"It" is her right knee, the one that has threatened to keep her out of the Olympic Games, a Games for which she has been favourite to win gold since she became world champion last year. The months since have been hard for Stevenson, hard enough to leave most people flat out and in need of an Olympic-sized load of TLC.
It was in May last year that Stevenson fought in Gyeongju in South Korea, taekwondo's heartland, to claim her world crown despite possessing the potentially crushing knowledge that both her parents had been diagnosed with life-threatening illnesses. Last July her father, Ray, died of a brain tumour. In November her mother, Diana, died of cancer. The Olympics assumed an almost curative presence in their daughter's life, and so when the injury came Stevenson refused to allow it to floor her ambitions.
"I was like, right, this is just a knee, it's not a death," she says. "Not once did I think I wasn't going to make it. We can do it – that's pretty much what's kept me going. I've not sat and thought 'Why me?' Stuff happens, doesn't it?
"It has been difficult, very, very difficult at times and then to have an injury like this as well… to have to deal with it, that's been tough. I think I've coped well but there is still a lot of coping to do after the Games – the Games has given me something to focus on. That's the blessing really, I've got a job to do. That's what keeps me going, whether that's right or wrong. It stops me wasting a day getting upset."
As with many practitioners from sports that spend much of their time divorced from the mainstream, the early years are a financial struggle – central funding only comes with success – hence the presence of supportive parents is crucial. Stevenson and her mother and father used to go on sponsored walks, runs, bike rides and hold garage sales to raise funds to enable her to compete first in Britain and then around the world. Ray and Diana Stevenson are part of the sporting story of where she is now, on the eve of a fourth Olympics, aged just 28. It means their death will be constantly referenced each time she speaks to the media, which as one of the host nation's leading medal prospects will be a regular duty over the coming weeks.
"I don't have a problem with people bringing it up because I want to talk about them," says Stevenson. "They were great people – if speaking about them upsets me I don't mind because they deserve to be talked about."
We are talking in the staff room of her old school, now the Don Valley Academy in Doncaster. Afterwards a teacher approaches her and offers congratulations on what she's achieved. "I've been watching you," says the teacher. Stevenson confesses to feeling bemused by the back-to-school experience. That morning she had spoken at assembly. "Weird!" she says, just as a bell rings. "The teacher was saying to them, 'This could be you one day', and I was thinking, 'Yes, actually it could because years ago I was sitting there. If I can do it, you can do it'."
Except by the time she left school she was already a world champion at junior level. Two years later she was an Olympian in Sydney, albeit a wide-eyed one. "I was probably a bit more of a fan at that stage, but then you realise you have the same right to be there," she says.
From three Games she has collected a mix of experiences, although not many fond ones. Hers has been a career littered with extremes. "I was rubbish in Athens," she says.
Then came Beijing. Stevenson came home with a bronze medal, Britain's first in the sport. Yet it was not a moment she cherishes. In the quarter-final a judging error led to her being beaten by China's Chen Zhong. Britain appealed and Stevenson was reinstated but had only minutes to prepare for her semi-final. She duly lost before winning the bronze-medal match. It did not bring any consolation. "The judges messed it up for me," says Stevenson. "If I'd fought my best and got a bronze that would have been fine. But it was awful, a dreadful day. The judges took away the happiness of getting a medal."
As world champion, Stevenson will be the one to beat in London, although the injury remains an unknown factor. "People are still going to be worried about me – I'm going there as a world champion. Everyone who knows they have got a realistic chance of gold will be upset if they don't get it. You dream about it, don't you? Anybody would and I've got a great chance."
Stevenson's event is not until the closing days of the Games and so she will remain at home in Manchester, where she trains under the guidance of her coach (and husband) Steve Jennings, until 6 August, 10 days after the opening ceremony.
"I will try to keep things as normal as I can. When you've gone through what I have, things do get put into perspective. Nothing really matters – pressure, a pain in your leg, whatever. There's pressure whatever the competition. The worst thing would be losing my first fight when everybody's watching, but then I think, 'Hang on, if that happens so what?' I'd still have my husband, my family would still love me. It's not the end of your life."
Sarah Stevenson is sponsored by Alfa Romeo. Visit www.alfaromeo.co.uk.
Register for free to continue reading
Registration is a free and easy way to support our truly independent journalism
By registering, you will also enjoy limited access to Premium articles, exclusive newsletters, commenting, and virtual events with our leading journalists
Already have an account? sign in
Register for free to continue reading
Registration is a free and easy way to support our truly independent journalism
By registering, you will also enjoy limited access to Premium articles, exclusive newsletters, commenting, and virtual events with our leading journalists
Already have an account? sign in
Join our new commenting forum
Join thought-provoking conversations, follow other Independent readers and see their replies