Worlds apart – but boxing and dressage deliver gold for Team GB
Victors enter spotlight as faces of two very different sports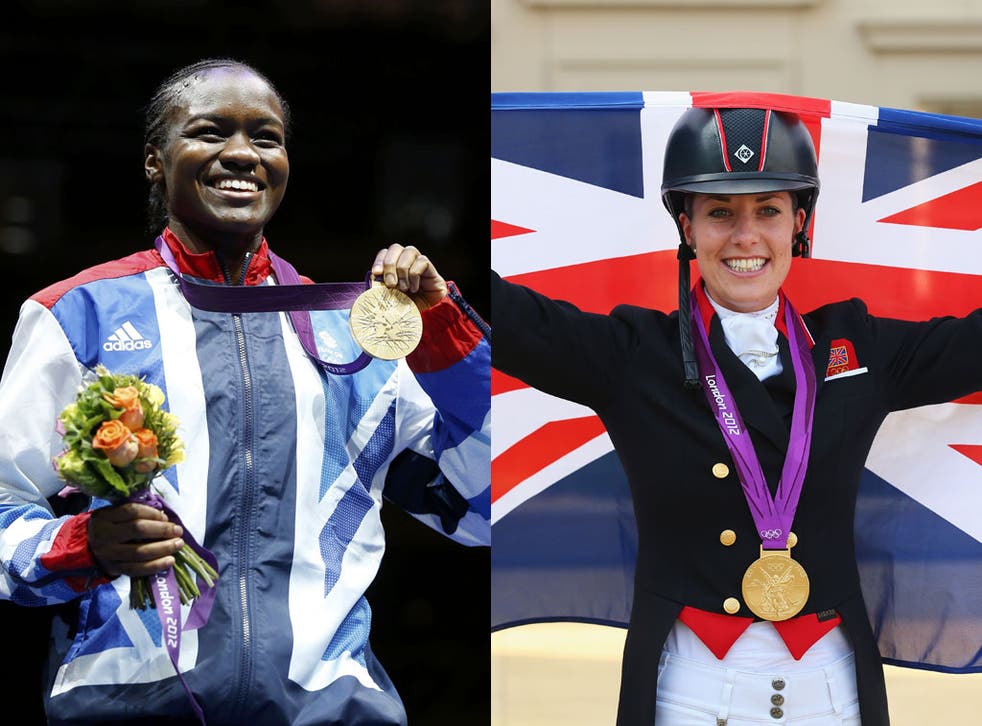 One was born on a housing estate and excelled at the roughest of sports. The other worked her way up from being a stable hand to compete in a more genteel discipline. Yesterday, both Nicola Adams and Charlotte Dujardin won gold for Britain.
Their stunning victories, which occurred within an hour of each other, may have been delivered in two very different sports. But they vividly illustrate how many of our best athletes have had to overco me enormous odds to excel at what they do best.
Even before she stepped into the ring yesterday Nicola Adams was already Britain's most decorated female boxer. Now the diminutive Leeds-born fighter can add a truly historical epithet to her trophy cabinet – the first woman to win a gold medal in boxing at the Olympics.
Over a devastating four rounds in London's Docklands, the 29-year-old toppled her arch-nemesis and three times world champion Ren Cancan from China in a dramatic climax to the first Olympic Games to feature women boxers. It was a sweet moment of revenge for Adams who was beaten by Cancan in the final of the world championships earlier this year.
Less than an hour earlier, Dujardin, who already had a world record and a team gold medal under her belt, swept to victory in the dressage final with a near perfect routine. Her victory tops off a remarkable week which has seen the Londoner go from relative obscurity to being one of the world's finest dressage riders.
The atmosphere at both events could hardly be more different. Adams came out to a roaring crowd of 10,000 spectators at the ExCel centre fuelled by beer and a surprise appearance from the rap star Tinchey Stryder. In leafy Greenwich, where the Pimm's and strawberry brigade are the more dominant set, Dujardin took her horse Valegro through a display of prancing, cantering and side-stepping to a backdrop of patriotic music that made the Last Night of the Proms looked restrained.
But while she wore the same pearls as the county set, the 25-year-old student is very far from the epitome of privilege. Her career in dressage only took off after her mother used her inheritance to buy her a horse, Fernandes, for £18,000 and until recently, Dujardin had been an aspiring jockey.
She had to start off as a stable hand before eventually persuading dressage veteran Carl Hester to take her on. But with just five years of dressage practice she has won two gold medals thanks in part, her team mates say, to her "telepathic" connection with her horse.
Dismounting after her victory, Dujardin said: "Valegro is unbelievable. I don't know what to say about him, because it makes me cry. He could not have had done any more."
Her sister Emma Jayne said the family now wished they could buy Valegro, which is expected to be sold by its owners following today's result. "It's very, very emotional for her because it could be the last ride on Valegro," she said. "We want to win the lottery and buy him for her."
No one could accuse Nicola Adams of having an easy ride either. Known as "Babyface" in her family for her slight build and young looks, the 29-year-old fighter struggled to get by as she made her way in the male dominated world of boxing.
At times it was almost impossible to find sponsors. She took jobs working as an extra in Coronation Street and EastEnders to make ends meet. But the hard work paid off as she became Britain's best woman boxer with a string of European and world medals.
But she almost never made it to the Olympics following a career-threatening injury in 2009 when she fell down a flight of stairs. Adams was bedridden for three months just at the time when Britain's women boxers were competing with each other to be chosen for the Olympic team. But she fought back, earning herself a spot in the 51kg flyweight division where she overcame Cancan and five-times world champion Mary Kom to take the gold. Afterwards, she said: "I have been dreaming about this since I was 12 years old."
Head to head: Boxing vs dressage
Dressage became an Olympic sport in 1912 but only commissioned officers in the armed forces could take part until 1952, from then on women and civilians were allowed to compete. Men and women now compete against each other as equals.
Women's boxing was banned in the UK until 1996. It was allowed as a demonstration sport at the 1908 Olympics but this is the first year it has been an officially recognised Olympic sport.
It costs an average of £3,105 a year to look after a horse in the UK, although a leading dressage horse can cost £1m. A pair of boxing gloves can be picked up for less than £25. Club membership can cost as little as £10 a year.
Join our new commenting forum
Join thought-provoking conversations, follow other Independent readers and see their replies