Alex Zanardi: Paralympic champion in serious but stable condition after handbike crash
Four-time Paralympic champion and former F1 driver was hit by a 'heavy vehicle' while competing on a handbike in Italy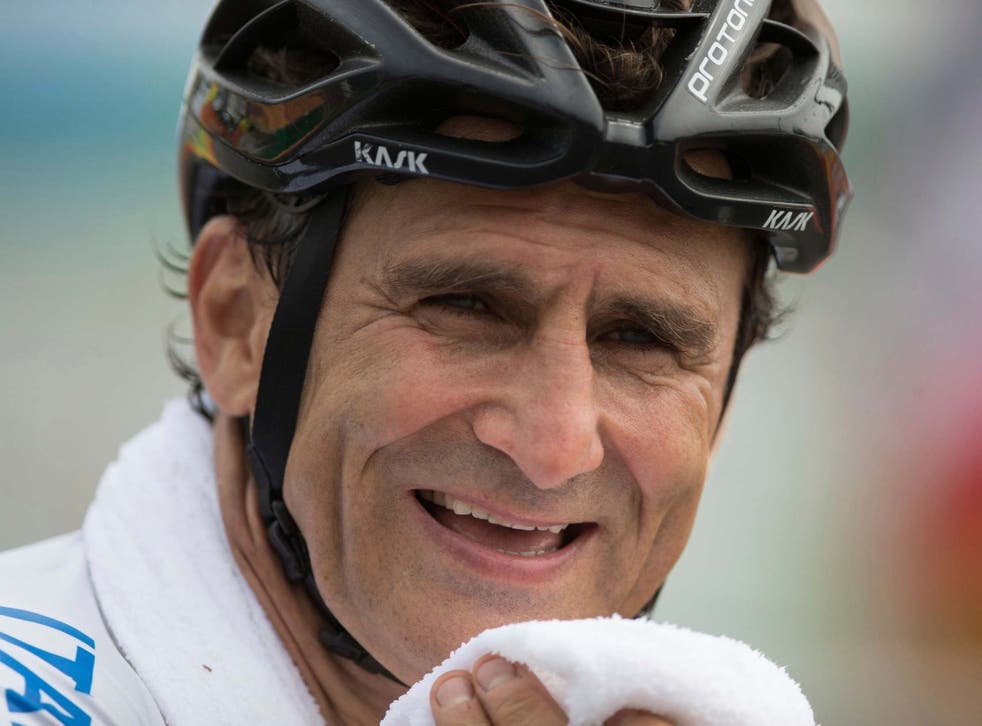 Alex Zanardi, the ex-Formula One driver-turned Paralympic champion who lost both legs in a motor racing accident 19 years ago, remains in a serious condition after being involved in a major crash during a handbike race on Friday.
The 53-year-old Italian was airlifted to a hospital in Siena, with police confirming that he was involved in a "serious accident" with a "heavy vehicle".
Zanardi is hooked up to an artificial ventilator and has "stable" blood flow while his neurological status "remains serious", the Santa Maria alle Scotte hospital in Siena said Saturday in a medical bulletin. The hospital said he underwent "a delicate neurosurgery operation" on Friday evening due to "severe cranial trauma".
Zanardi, a two-time Champ Car champion and 41-race F1 driver, was competing in the 'Obiettivo tricolore' national road race for paralympic athletes on handbikes on Friday when the accident occurred.
Italian newspaper La Repubblica reports that Zanardi was travelling on Highway 146 between Pienza and San Quirico at the time of the crash. According to Gazzetta dello Sport, Zanardi was descending down a hill when he lost control of his handbike and veered into oncoming traffic. Emergency services were able to attend the scene after his fellow competitors helped to raise the alarm of the accident.
Zanardi won the 1997 and 1998 CART Championship, which earned him a return to F1 with Williams in 1999, but following a disappointing season that included 10 retirements he returned to American open-wheel racing the following year. However, Zanardi had both of his legs amputated following a horrific crash during the 2001 American Memorial CART race at Lausitzring in Germany, though in 2005 he was able to resume his motorsports career in World Touring Cars and the Blancpain Endurance Series thanks to modified hand-controlled vehicles.
His finest sporting achievement came outside of motorsports though as he won four gold medals in handbike at the 2012 and 2016 Paralympics.
The Italian Olympic and Paralympic Committees made no immediate comment.
Messages of support and concern were quick to emerge on Twitter, with 1978 F1 world champion and friend Mario Andretti expressing his grave concern for his fellow driver.
"I am so anxious and frightened about Alex Zanardi that I'm holding my breath. I am his fan. I am his friend. Please do what I'm doing and pray for this wonderful man," Andretti wrote.
Current Alfa Romeo F1 driver Antonio Giovinazzi posted the praying emoji along with the message: "Forza Alex!"
Current IndyCar driver Graham Rahal said: "This is just too much. Prayers up for Alex. Truly one of the greatest inspirations and toughest men I've ever met. I hope once again Alex can rise above this latest challenge. Prayed to Alex and his family."
Register for free to continue reading
Registration is a free and easy way to support our truly independent journalism
By registering, you will also enjoy limited access to Premium articles, exclusive newsletters, commenting, and virtual events with our leading journalists
Already have an account? sign in
Register for free to continue reading
Registration is a free and easy way to support our truly independent journalism
By registering, you will also enjoy limited access to Premium articles, exclusive newsletters, commenting, and virtual events with our leading journalists
Already have an account? sign in
Join our new commenting forum
Join thought-provoking conversations, follow other Independent readers and see their replies