Paralympics: Andy Lapthorne 'still battling' after wheelchair tennis defeat
The quad king retained his Wimbledon doubles title in July but was left bitterly disappointed after defeat in the Paralympics singles quarter-finals against Niels Vink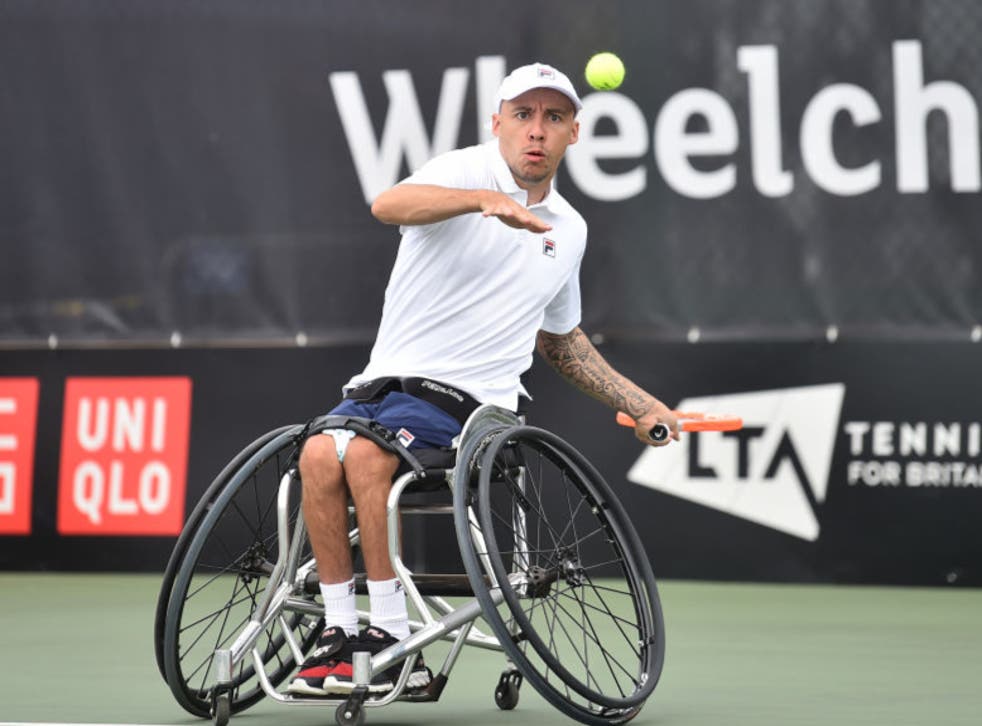 Andy Lapthorne is battling a lot more than his wheelchair tennis rivals right now.
He hasn't won yet, but he's on match point having taken the crucial first step, speaking out about serious mental health issues.
The quad king retained his Wimbledon doubles title in July, the 14th grand slam of his career, and still has a shot at a fourth Paralympic medal despite this singles defeat in Tokyo.
His biggest challenges come off the court, in challenging a negative spiral of loneliness from constant travel on tour, inflamed by Covid bubbles, at its roots a fear of vulnerability planted by his upbringing.
"I come from a background where you're taught to be very tough," Lapthorne said. "My dad is from east London, I'm a working-class London boy, you're taught to be very tough, to not show your opponent's you're weak.
"The pandemic has probably brought a lot of this stuff out because you're in the bubble. You have a lot of time to sit and think if you're losing matches and all you're doing is sitting in a hotel room with yourself. You've got a lot of time to think and it can provoke thoughts that you probably don't want to be thinking about.
"One of my thoughts was, 'I'm 30 years old now, I don't have kids, I'm not getting married, I'm just travelling the world playing tennis, am I doing the right thing here?' Am I going to be at the end of this with no wife, no kids, no life as such, with all my life being tennis? That was one of the things that came into my head."
The 30-year-old took time away from tennis after last year's French Open, where he reached the singles final but hit an all-time low emotionally.
That mental health break stemmed the time somewhat, but his singles exit to Niels Vink in Tokyo showed the demons are still at the door.
He was beaten 6-4 6-1 by a teenager who is tipped to dominate the global game in years to come – hardly a disgrace, apart for the man himself.
"I'm still battling with myself," said Lapthorne. "When you make mistakes on big points, it brings back some demons. It's very difficult to put yourself out in these big arenas, on live TV, and be able to execute.
"I came back from the mental health stuff that nearly knocked me out of the game, it's been very difficult in those moments to play good tennis. I just didn't execute on the big points and that's probably been the story of my past 18 months."
Tennis can be a brutal sport, with high rewards and equal risk, perfect for the introverted but also destructive to those, like Lapthorne, who have to set sky-high standards.
Andy Murray chose to battle his body at another US Open, and Lapthorne feels a sense of kinship with the great Scot's struggles.
"Some days I feel great, some days I feel terrible," said Lapthorne, a line that could have come out of Murray's mouth. "I try my best out there and sometimes it's not at the level that it once was. Maybe I'll never be at that level again.
"We've seen with Andy Murray, the guy's trying day in, day out, he trains next to me every day at the NTC and I see what he does. He's struggling to get past these top guys now.
"I don't know where I'm at now – I can relate to the struggle, I can relate to trying to bounce back and trying to get back to past glories."
Lapthorne still has a bronze medal chance in the quad doubles with Antony Cotterill, facing Japanese pair Mitsuteru Moroishi and Koji Sugeno.
Then it's off to New York, where the US Open are not running a bubble, but provide another example of the brutality of the sport's schedule.
The question facing Lapthorne is whether tennis is still truly worth it. If he can answer it, there can be no bigger victory.
"Antony and I have got the bronze-medal match, which is a massive match and probably one of the biggest matches of my career," he said. "Trying to come back and win a medal at a Paralympics is huge and for Anthony it would be absolutely massive and career-defining.
"Mentally, I'm trying to prepare for what will be a massive day and then we'll be flying to New York. I'll take some time off, reflect and see where I'm at. But I'm probably closer to the end than the start now."
Sainsbury's is a proud supporter of ParalympicsGB and a champion of inclusive sport for all. Sainsbury's commitment to helping customers to eat better has been at the heart of what we do since 1869. For more information on Sainsbury's visit www.sainsburys.co.uk/ and https://paralympics.org.uk/
Register for free to continue reading
Registration is a free and easy way to support our truly independent journalism
By registering, you will also enjoy limited access to Premium articles, exclusive newsletters, commenting, and virtual events with our leading journalists
Already have an account? sign in
Join our new commenting forum
Join thought-provoking conversations, follow other Independent readers and see their replies